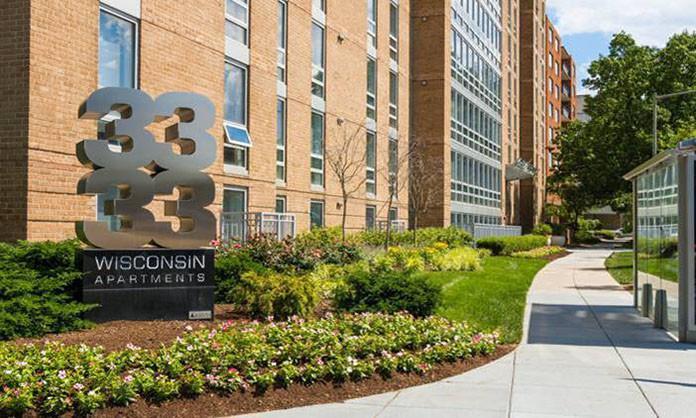 A venture led by Urban Investment Partners (UIP) of Washington DC has acquired 3333 Wisconsin Avenue NW, a 100-unit apartment building in the prestigious Cathedral Heights neighborhood of Washington, DC. The venture closed on the acquisition after the Four Threes Tenant Association selected UIP to acquire and redevelop the building.
Starting in the first quarter of 2019, UIP plans to undertake a million-dollar renovation program to upgrade the building's common areas and make modest improvements to individual apartments. UIP Property Management, Inc. has taken over the building's day-to-day management.
3333 Wisconsin is UIP's second Class A apartment building acquisition this year. In January, UIP acquired the 266-unit Onyx on First in the Capitol Riverfront neighborhood of Washington, DC for $95.5 million. Built in 2008 as a condominium building and later converted to rental, Onyx was the first new multifamily building in this rapidly redeveloping neighborhood that includes the Washington Navy Yard and the Nationals Park baseball stadium.
"3333 Wisconsin Avenue is another great example of UIP's ability to work with almost any tenant association in the city, under almost any circumstance, and deliver on our promises," said Pete Bonnell, UIP Principal. "We look forward to working with the Four Threes Tenant Association and residents in the months and years ahead."
3333 Wisconsin Avenue is located directly across the street from Cathedral Commons, a recently completed mixed-use development that catalyzed the transformation of the Cathedral Heights neighborhood. Cathedral Commons includes a Giant supermarket, CVS Pharmacy, restaurants, services, and fitness venues. Offering a wide variety of shopping, dining, recreational, and transportation options, Cathedral Heights is close to American University, Georgetown, and Tenleytown, where UIP owns several other properties.
Residents of 3333 Wisconsin Avenue enjoy a rooftop deck with breathtaking views of the Washington National Cathedral, US Capitol, and monuments. The individual studio, one-bedroom, and two-bedroom apartments boast floor-to-ceiling windows and hardwood floors. There is a large fitness center that includes a studio set up for spin, pilates, and yoga. The building also has a large clubroom with a bar and pool table, as well as an onsite Zipcar station.
The building was completely-renovated to Class A standards about ten years ago by W. C. Smith.
---
About Urban Investment Partners (UIP)
The UIP family of companies owns and manages more than 2,800 apartments in Washington, DC and its Maryland suburbs. This portfolio comprises over $800 million in assets under management. Over the last ten years, UIP has renovated, restored, and built more than 25 downtown apartment buildings and condominiums. UIP's specialties include "heavy lift" renovations of Depression-era apartment buildings, adaptive reuse of office and other buildings, and working with tenants in Washington, DC to help them exercise their TOPA (Tenant Opportunity to Purchase Act) rights. UIP also is active in entitling land and infill development.