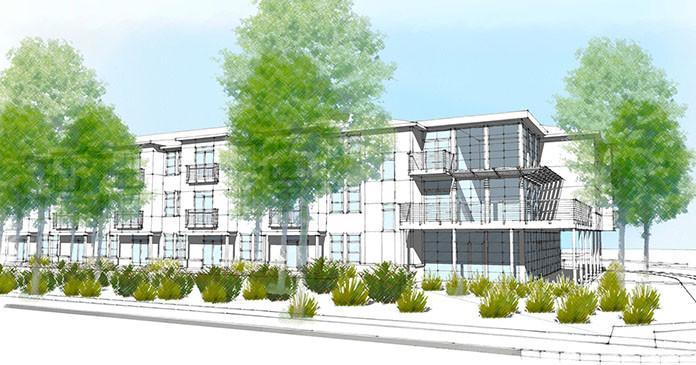 Walters Group has begun construction of Cornerstone At Stafford, consisting of 100 income-restricted apartments for seniors (55+). The community, located at 120 Campbell Blvd., Manahawkin, is part of the large-scale Stafford Park redevelopment accessible just off Exit 63 of the Garden State Parkway. The community is slated to open in the first quarter of 2019.
"As the number of seniors living in Monmouth and Ocean Counties continues to increase, so does the demand for high-quality affordable housing," said Joseph Del Duca, partner and general counsel for Walters Group. "This development is an exceptional housing option for seniors, offering high-end amenities as well as convenient access to the nearby Stafford Park retail shops and restaurants."
Twelve years ago, Walters Group took innovation to the next level when it began redeveloping a 370-acre parcel where the Stafford Park mixed-use complex stands today. The developer transformed a brownfield site in need of remediation into an attractive energy-efficient complex that encompasses a 400,000-square-foot mixed-use retail complex and residential neighborhood. The construction of Cornerstone at Stafford is the latest addition, addressing the substantial need for senior housing in Ocean County by offering an ideal location with access to the surrounding community.
Additionally, Cornerstone At Stafford will offer all of the modern design options of a new apartment building. The three-story building will consist of 91 one-bedroom and nine two-bedroom floor plans, ranging from 626 square feet to 1,086 square feet. Each unit will be equipped with an upgraded kitchen featuring granite countertops and a full  appliance package, washer and dryer, wood grain vinyl planking and emergency alarm system. The long list of amenities will include a community lounge, fitness area as well as resident activities and health and wellness seminars.
The Walters Group employs the latest green building practices in the design and construction of all residential and commercial projects, focusing on structuring its projects to meet the strict standards of ENERGY STAR® and LEED® (Leadership in Energy and Environmental Design). LEED is a voluntary rating tool for how buildings and communities are designed, built and operated.
"Cornerstone At Stafford is being designed as a sustainable development that will improve the health and wellbeing of residents while saving energy, environmental resources and money," said Del Duca.
Sandy-impacted residents get priority
In addition to meeting the needs of seniors, priority for residency in the development will be provided to Sandy-impacted individuals who have been displaced by or experienced major or severe storm damage from Superstorm Sandy during the first 90 days on the market. The project is being funded by nearly $7.5 million in federal funds distributed through the New Jersey Housing Mortgage Finance Agency to help build homes in the wake of the storm.
Increasing the inventory of affordable housing in Stafford Township will also help the town meet its affordable housing obligation under the state's Mount Laurel doctrine, a state Supreme Court decision that affirms a person's constitutional right to affordable housing.
---
About The Walters Group
The Walters Group is a leading residential and commercial real estate developer with offices in Barnegat and Haddonfield, N.J. Founded in 1984, the privately held company builds new single-family homes, multifamily housing, commercial and sustainable development.