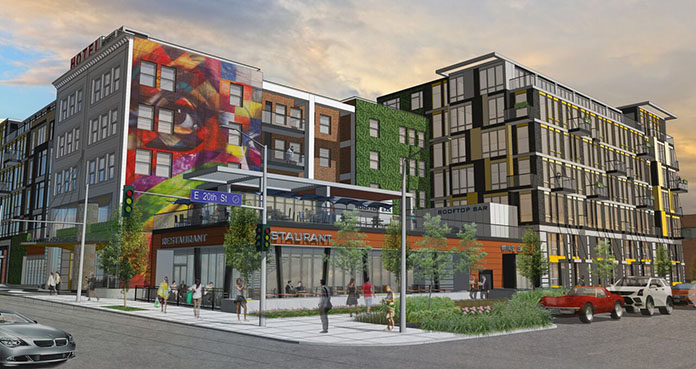 City Club Apartments (CCA), a nearly 100-year old company founded in Detroit in 1919, broke ground today on its City Club Apartments Crossroads urban apartment and mixed-use community. Mayor Sly James and City Club Apartments Chairman and CEO Jonathan Holtzman were among the speakers at the groundbreaking ceremony.
"On behalf of CCA and my partner Alan Greenberg, we are thrilled to be breaking ground in the Crossroads on this exciting mixed-use community," said Holtzman. "This is an important location along mass transit with great historical significance, and we intend to celebrate that by delivering international design, wellness, technology, resort amenities and time-saving services unlike anything else in the greater Kansas City market."
Located at the corner of Main and 20th, the seven-story City Club Apartments Crossroads will include 283 apartments, duplexes, townhouses, penthouses and furnished apartments with 50 distinct floor plans, balconies, terraces and bay windows, 9 to 20-foot ceilings, a rooftop pool, outdoor theater, and nearly 300 underground parking spaces. City Club Apartments has lease commitments with a local restaurant and wine bar with outdoor and rooftop dining, a specialty market and several local retailers expanding in the market.  Those tenants will be announced at a later date.
"Kansas City is proud to be home to the next exciting development from City Club Apartments," said Mayor James. "It's residential communities like this that help the Crossroads thrive, and make our city a great place to live for entrepreneurs and talented professionals from right here in KC and across the country."
"City Club Apartments Crossroads will combine the service and amenities of the finest five-star hotels with modern urban apartment living," said Holtzman. "The look and feel inside and out will reflect our progressive international design philosophy. Bright and bold colors. Patterns and textures. Depth and energy. Our attention to wellness and green will be evident in curated fitness and wellness centers, outdoor courtyard, Zen Garden, and bark park. We will integrate seamlessly with the highly dynamic 24/7 Crossroads' community."
City Club Apartment's second floor Sky Club will include a theater, a gourmet kitchen and lounge seating, and open up to the community's outdoor courtyard. The courtyard will consist of an outdoor theater, fire pits, bark park, beach, yoga and Zen Garden with a tranquility water feature.
These urban apartments, which are located along the Kansas City Streetcar mass transit route, range in size from studios to penthouses and will feature carefully curated and custom designed kitchens, cabinets, and fixtures. The apartments feature plank flooring, custom closets, granite countertops and movable islands, four distinct finishes, and sexy bathrooms.
City Club Apartments Crossroads' 24/7 boutique hotel style-lobby will include an engaging and comfortable lounge, business and conference center, indoor theater and concierge service. Construction began on City Club Apartments Crossroads in July 2018. Pre-leasing will begin Spring of 2019 with the first residents moving into the community in the Fall of 2019.
---
About City Club Apartments
Founded in 1919, City Club Apartments is the first true international apartment brand. City Club Apartments is an owner, developer, and manager of apartment, furnished short-term and penthouse mixed-use communities with a portfolio of approximately 10,000 apartments in 30 urban and suburban-urban apartment communities, $2 billion in real estate assets and $500 million under development, construction and lease-up in Cincinnati, Detroit, Chicago, Pittsburgh, Minneapolis, Kansas City, Louisville and the east coast. City Club Apartments is a disruptive company with five guiding principles that include customer-centric; international design driven; resort amenities; green and wellness; and leading technology. The company has offices in Detroit, Chicago, and Toronto.