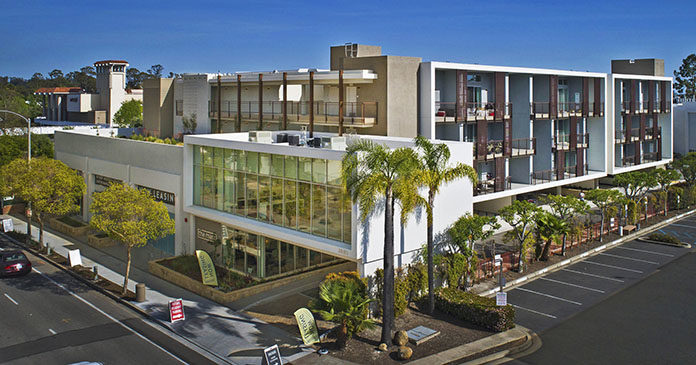 Institutional Property Advisors (IPA), a division of Marcus & Millichap, is the exclusive listing agent for The Marc, a new-construction, luxury 89-unit multifamily asset with a retail component in Santa Barbara, California. The price is open bid.
"The Marc is the only institutional-quality multifamily property built in Santa Barbara in the last 40 years, which makes it a scarce commodity in a highly sought-after but severely under-supplied city," says Greg Harris, IPA executive director. "The median price of a single-family home in Santa Barbara is about $2 million, which means there is a huge affordability gap between monthly mortgage payments and average in-place rents at The Marc."
Harris, Ron Harris, IPA executive director, and IPA senior directors Kevin Green and Joseph Grabiec are representing the sellers, a partnership between Los Angeles-based The Kor Group, REthink Development of Santa Barbara and several affiliates of Westport Capital Partners LLC.
"More than 60 percent of Santa Barbara's residents live in renter-occupied housing and The Marc attracts premier tenants," adds Ron Harris. "Over half of the residents report annual incomes of more than $150,000."
Built in 2017 on State Street, one of Santa Barbara's primary thoroughfares, The Marc is within walking distance of an array of retail amenities, dining options and boutique stores. It is proximate to employers in Greater Santa Barbara's medical, tech, aerospace and energy and environmental industries. Notable area employers include Santa Barbara Cottage Hospital, the University of California, Santa Barbara, Sonos, LinkedIn, Citrix Systems, Deckers Brands and Zodiac Aerospace.
"Santa Barbara residents' average annual household income of more than $100,000 make it the most affluent city in the county, and incomes are expected to grow 14 percent over the next five years," notes Green.
The 78,166-net-rentable-square-foot building has panoramic views of the Santa Ynez Mountains and 2,500 square feet of ground-floor retail. The Marc's California Green Building Standards Code-rated design includes dual-pane windows, tankless water heaters, drought-resistant gardens and landscaping, and a reflective, low-heat roof.
---
About Institutional Property Advisors
With a network of senior-level investment advisors located throughout the United States, Institutional Property Advisors (IPA) is qualified to meet the needs of institutional and major private investors. IPA's combination of real estate investment and capital markets expertise, industry-leading technology, superior support services and acclaimed research offer customized solutions for the acquisition and disposition of institutional properties and portfolios.
About Westport Capital Partners LLC
Westport Capital Partners LLC is a real estate investment firm focusing on adding value to real estate and "hands-on" solutions to complex situations. Westport provides domestic and international real estate related investment opportunities to institutional and private clients. Through its various funds, the firm invests in a wide variety of distressed, opportunistic and core plus real estate assets. The firm has offices in Los Angeles, California, Wilton, Connecticut, Bozeman, Montana and London, England.