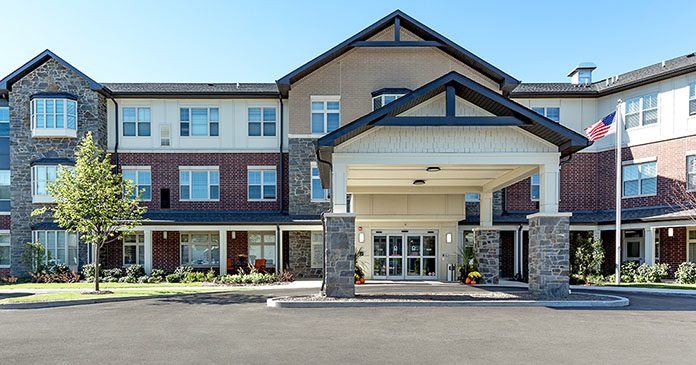 Pathway to Living, a Chicago-based developer, owner and operator of senior living communities, today announced it has completed its acquisition of Grandbrier of Prospect Heights, a 101-unit senior living community in Prospect Heights, Ill., a northwest suburb of Chicago.
Located at 708 N. Elmhurst Road, the property will be rebranded Aspired Living of Prospect Heights in October and continue to be managed by Pathway to Living, as it has been since opening in May 2017. Pathway to Living became the owner of the community after buying out its joint venture partner. The property includes a three-story, 69-unit independent and assisted living community, as well as a connecting single-story, 32-unit memory care neighborhood that wraps around a secure, outdoor courtyard.
"Pathway is intimately familiar with the design and operations of Aspired Living of Prospect Heights because we've been involved with it from the very beginning, fostering connections with the residents who call this community home," said Maria Oliva, chief operating officer at Pathway to Living. "As the newest addition to our Aspired Living brand family, it will continue to be synonymous with the highest levels of care, programming and design, empowering residents to live engaged, purposeful lives."
Independent and assisted living residences offer studio, one- and two-bedroom floor plans, all of which include in-unit laundry and eat-in kitchenettes with walnut cabinetry and granite countertops. Memory care studios feature special design elements to aid in cueing.
Residents benefit from Pathway to Living's person-centered care, which focuses on the seven dimensions of wellness, continued learning and volunteer opportunities, routine health and wellness monitoring, medical service coordination, medication management, wellness coaching and assistance with daily living activities. Those with Alzheimer's disease and other forms of dementia benefit from A Knew Day Memory Care, Pathway's signature program that has been proven to rehabilitate the brain through a process called rementia, which helps seniors with memory impairment become more engaged and communicative.
Shared independent and assisted living amenities include the Kennicott Bistro and Elmhurst Dining Room, which offers all-day, restaurant-style meals; outdoor courtyards with walking paths, a gazebo, fireplace and raised gardening boxes; an outdoor dining terrace; on-site movie theater; library with technology center; fitness center with pneumatic strength-training equipment tailored to active seniors; salon and spa with massage room; community life room with demonstration kitchen; and several lounge areas for gaming and other activities. Residents also have access to a wellness suite, complete with physician offices and a therapy gym.
The community's common areas are activated with Pathway to Living's award-winning VIVA! philosophy − which has been offered at the community since it opened and will continue under the Aspired Living brand − providing social, educational and recreational programs that are matched with residents' interests, skills and desires. For example, Art Path teaches techniques used by famed artists, sculptors and curators. Good Vibrations encourages self-expression and socialization through drum circles. Camp VIVA! provides daytime and overnight excursions during which residents can partake in various outdoor activities, such as fishing, swimming, archery and horseback riding.
"We don't believe in having team members 'entertain' residents simply for the sake of passing time; instead, our culture is about encouraging all residents to be engaged and active through programming tailored specifically to them," said Oliva. "For that reason, no two Pathway communities are exactly alike in terms of the programs that are offered. This is a huge shift from what many people think of when they imagine senior living, and we're proud to be a pioneer in this area, showing residents – and their loved ones – what they're truly capable of accomplishing at this stage of their lives."
---
About Pathway to Living
Founded in 1997, Pathway to Living (formerly Pathway Senior Living) is a Chicago-based developer, owner and operator of senior housing communities. The company's $436 million portfolio includes a wide range of community types – senior apartment, independent living, assisted living and memory care – spanning 32 owned or managed properties with more than 2,900 units in Illinois, Michigan, Minnesota and Wisconsin. Pathway to Living and its team members implement best practices to deliver person-centered care while maximizing returns on behalf of investors and third-party owners. Since its inception, the company has managed $480 million in total investments.