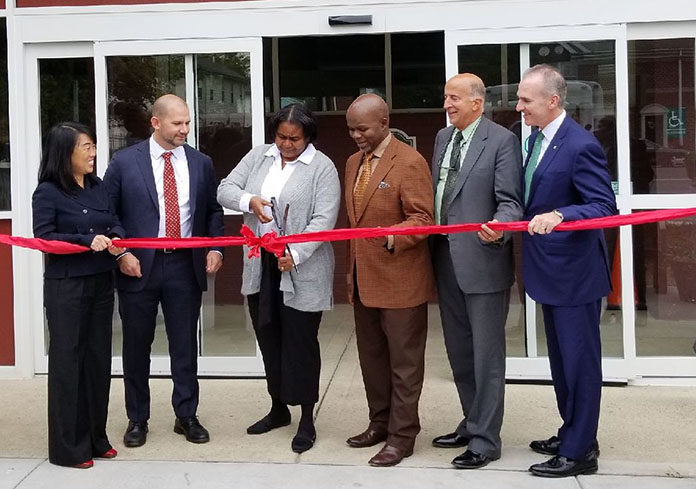 Executives from The Michaels Organization, The Philadelphia Housing Authority (PHA), and elected city officials gathered with residents of the Courtyard at Riverview apartment community on Friday, Oct. 26, to celebrate the completion of extensive renovations undertaken there during the last 18 months.
The ceremonial grand reopening, complete with ribbon-cutting, marks the rehabilitation and long-term preservation of a critically needed affordable housing resource for seniors and families in the Queens Village neighborhood of South Philadelphia.
Located on the former site of the Southwark public housing towers, Courtyard was originally built in the 1990s and includes a 165-unit high-rise designated for seniors as well as 305 low-rise homes for families. The kitchens of all 470 units were updated with new counters, and energy-saving appliances, and all baths were renovated with new fixtures and vanities. Individual units also received new flooring. Building repairs included roofing and window replacements, modernization of the elevators, and improvements to the heating and ventilation system.
"We thank our residents for their patience during the rehabilitation process, and the strong support of the Philadelphia Housing Authority and the city of Philadelphia, which made the modernization of Courtyard possible," said Andrew Davenport, Vice President of Michaels Development. Davenport also thanked that Philadelphia City Council for their leadership on affordable housing. Both Council-member Mark Squilla and Councilwoman-at-Large Helen Gym were keynote speakers at the ceremony.
"We are fortunate to have a like-minded partner in The Michaels Organization," said PHA President and CEO Kelvin A. Jeremiah. "Courtyard is the latest example of PHA's desire to work with private-sector partners who understand the importance and the need to preserve affordable housing, especially in areas of the city where rents are rising," Jeremiah said.
Jeremiah also credited an innovative program offered by the U.S. Department of Housing and Urban Development known as Rental Assistance Demonstration (RAD) that helps attract private capital to public housing modernization efforts. RAD allows private-sector owners to generate private capital for much-needed repairs and upgrades, which ensuring that the units remain permanently affordable to households with low-incomes.
Financing for the $83 million renovation came from private equity raised through the sale of Federal Low Income Housing Tax Credits, as well as tax-exempt bonds. The tax credits were syndicated by Riverside Capital, with both TD Bank and Citizens Bank as investors. Red Capital provided a first mortgage.
Michaels Construction (previously known as Prestige Building Co.) served as the General Contractor, and Michaels Management (formerly known as Interstate Realty Management) serves as the property manager, ensuring that Courtyard at Riverview will remain a long-term asset to the neighborhood.
---
About The Michaels Organization
The Michaels Organization is a national leader in residential real estate offering full-service capabilities in development, property management, finance and construction. Michaels brings comprehensive solutions to communities that jump-start housing, education, civic engagement and community prosperity, and is committed to creating communities that lift lives.
About Philadelphia Housing Authority
The Philadelphia Housing Authority was established in 1937 and is the nation's fourth largest housing authority. We house nearly 80,000 people in the City of Philadelphia and we employ 1,400 people to deliver services to our clients. Our budget totals approximately $400 million. PHA serves its customers without regard to race, color, religion, national origin, ancestry, age, sex, sexual orientation, having AIDS, physical handicap, or disability.