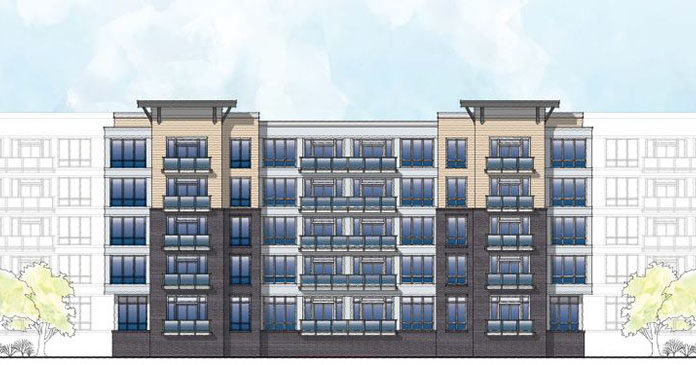 Meridian Capital Group, America's most active dealmaker, arranged $258 million in acquisition and construction financing for three multifamily developments in Bayonne. Linden and Raritan, NJ on behalf of Jack Klugmann and Accurate Builders & Developers.
The $258 million financing package, provided by Madison Realty Capital, was negotiated by Meridian Senior Managing Director, Shaya Ackerman, and Senior Vice President, Shaya Sonnenschein, who are both based in the company's New York City headquarters. "We are excited and proud to work with the Accurate team as they expand into these exciting New Jersey markets by constructing fully-amenitized multifamily rental products that will set the standard for other developments in the area," said Mr. Ackerman.
Harbor Station South, located at the intersection of Goldsborough Drive and Port Terminal Boulevard in Bayonne, NJ, will consist of 651 studio to two-bedroom units spread across two buildings. The property will feature amenities such as a concierge service and rooftop pool with unobstructed views of the New York City skyline and the Bayonne Golf Course. The property is situated just steps from the New Jersey Transit's 34th Street Station and the new ferry, offering quick access to Manhattan. Harbor Station South is also minutes from South Cove Commons, a retail center with a movie theatre, several grocery options, and a future Costco.
The Crossroads at Raritan, situated on a block bordered by First Avenue, Third Street, Second Avenue, and the New Jersey Transit railroad tracks in Raritan, NJ, will feature 276 units, including 20 affordable apartments, ranging from studios to two-bedrooms. Amenities include a bike-sharing program, virtual yoga studio, and community room. The Crossroads at Raritan is located near the Raritan Train Station and is in close proximity to local businesses including Johnson & Johnson's corporate headquarters.
The third property is located in Linden, NJ and will feature amenities such as a rooftop deck and pool and will conveniently located near the Linden Train Station and near the Linden Airport.
"Ultimately, we advised the client to move forward with Madison as they were able to provide a very attractive staged funding, and the flexibility required during construction, which is incredibly important with three properties under development at once. This is a testament to Madison's experience both as a lender and developer," added Mr. Ackerman.
"As we expand deeper into New Jersey, it was important to find a lender who truly understands our growth goals and could fully support these developments," said Jack Klugmann. "Meridian did an excellent job of sourcing a variety of financing options and then facilitating a smooth closing with the team at Madison."
The Ackerman Team's mission is to provide its clients with best-in-class service while advocating and adeptly negotiating on their behalves. With this approach, the team has closed hundreds of deals, aggregating to over $3 billion since it joined Meridian in the end of 2015. This accomplishment is a testament to the team's extensive capital markets knowledge, loyal lender and client relationships, and unparalleled professionalism. Specializing in all loan structures and all geographies, Ackerman prides himself on being engaged as an advisor on transactions in their entirety, rather than just the financing aspects of the deal.
---
About Accurate Builders & Developers
Accurate Builders & Developers was founded by Jack Klugmann in 2009 around the principle of providing quality construction to transform neighborhoods and the lives of those that live and work in the homes and buildings the company builds. Accurate's keen vision and creativity coupled with their attention to detail makes them a leader in the pack of New Jersey multifamily developers. Accurate has successfully constructed a number of high-density multifamily projects in both suburban and urban areas totaling more than 2,000 units. Accurate is both the developer and general contractor of all of its projects, managing project costs and construction timetables to maximize efficiency and allow projects to be completed ahead of schedule at or below budget. Looking to build upon its success in the residential development industry, the company has applied its same winning formula to developing commercial retail sites throughout the state and is looking forward to growing its brand and reputation as a quality construction and development company. With thousands more units in its pipeline, Accurate Builders & Developers is strategically positioning itself to become one of the premier multifamily developers on the east coast.
About Meridian Capital Group
Founded in 1991, Meridian Capital Group is America's most active dealmaker and one of the nation's leading commercial real estate finance, investment sales and retail leasing advisors. In 2017, Meridian closed over 3,000 transactions across more than 200 unique lenders and sold nearly $1 billion in commercial property. Meridian represents many of the world's leading real estate investors and developers and the company's expansive platform has specialized practices for a broad array of property types including office, retail, multifamily, hotel, mixed-use, industrial, and healthcare and senior housing properties. Meridian is headquartered in New York City with offices in New Jersey, Maryland, Illinois, Ohio, Florida, and California.