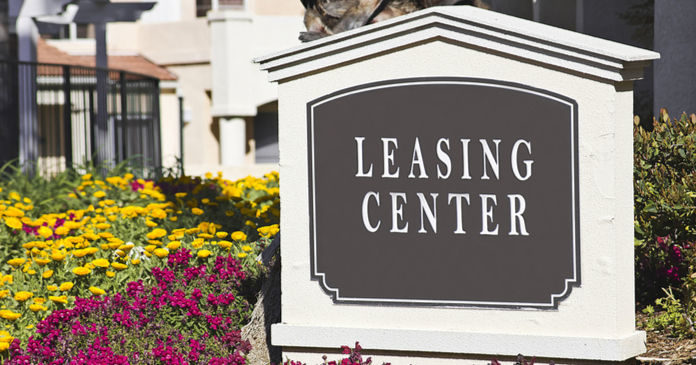 Rent growth remains moderate nationally, although significant variations were seen across different metro regions. This according to the Yardi Matrix Monthly Multifamily report for September.
After the typical summer run-up in rents, the average rent nationwide was nearly unchanged in September when compared to the month before. It declined by $1 to a value of $1412. This is consistent with the usual annual pattern where most of the increase in rents occurs between February and July. Rents are usually relatively stable between August and January. Also indicative of this pattern is that September rents were up 3.1 percent from January, 2018 but were up only 3.0 percent from September, 2017.
Note that the all-items consumer price index was up 2.7 percent on a year over year basis through August, so rents are increasing at a slightly faster pace than prices generally.
Despite 2018 being the fourth year in a row of very strong deliveries of new units, occupancy rates have risen recently, reaching 95.4 percent nationally.
Your results may vary
Of the 30 top rental markets, those with the highest year-over-year rent growth in September were Orlando, Las Vegas, Phoenix, Tampa and Inland Empire. Orlando managed a 6.1 percent increase while Las Vegas followed with 6.0 percent. The metro areas with the slowest rent growth were San Antonio, Baltimore, Nashville, Orange County and Raleigh.
The report breaks the market into a "renter-by-necessity" asset class and the "lifestyle" asset class. In general, there was stronger performance both in terms of rent growth and occupancy in the renter-by-necessity asset class.
Occupancy rises despite completions
Nashville, Austin and Denver had completions of 5 percent or more of existing stock. In each case the rate of completions in these markets outpaced their rates of job growth. In spite of this, occupancy was up in each of in these metros. Year-over-year rent growth in Nashville was 1.1 percent, in Austin it was 2.4 percent and in Denver it was 2.6 percent.
Taking the longer view
For most metros, the rate of rent growth peaked in 2015 or 2016 and has decreased since then. However, while remaining well below the peak, the charts show that the rate of rent growth has ticked up recently in many of those same metros. This is true for Boston, Las Vegas, Orlando, Phoenix, San Francisco and Tampa.