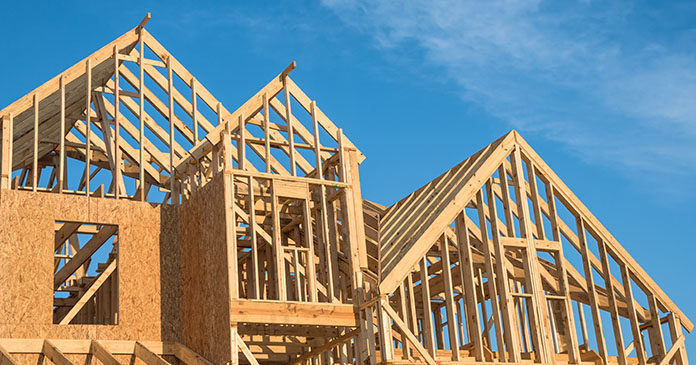 Led by a drop in multifamily production, total housing starts fell 5.3 percent in September to a seasonally adjusted annual rate of 1.2 million units, according to newly released data from the U.S. Department of Housing and Urban Development and the Commerce Department.
The September reading of 1.2 million is the number of housing units builders would start if they maintained this pace for the next 12 months. Within this overall number, single-family starts edged down 0.9 percent to 871,000 units. Meanwhile, multifamily starts—which includes apartment buildings and condos—fell 15.2 percent to 330,000.
Overall permits—which are an indicator of future housing production—registered a 0.6 percent drop in September, also due to multifamily softening. Multifamily permits decreased 7.6 percent to a 390,000 unit pace while single-family permits rose 2.9 percent to an annualized rate of 851,000.
"Housing starts are in line with builder sentiment, which shows that builders are overall confident in the housing market but continue to face supply-side challenges," said NAHB Chairman Randy Noel, a custom home builder from LaPlace, La. "Though lumber prices have declined recently, builders remain concerned about labor shortages, especially as the number of unfilled construction jobs has reached a post-recession high."
"This report is consistent with our forecast for gradual strengthening in the single-family sector of the housing market following the summer soft patch," said NAHB Chief Economist Robert Dietz. "A growing economy coupled with positive demographics for housing should keep the market moving forward at a modest pace in the months ahead."
Regionally in September, combined single-family and multifamily housing starts rose 29 percent in the Northeast and 6.6 percent in the West. Starts fell 13.7 percent in the South and 14 percent in the Midwest.
Permit issuance rose 11.1 percent in the West and 0.6 percent in the South. Permits were down 9.8 percent in the Northeast and 18.9 percent in the Midwest.
---
About NAHB
The National Association of Home Builders is a Washington-based trade association representing more than 140,000 members involved in home building, remodeling, multifamily construction, property management, subcontracting, design, housing finance, building product manufacturing and other aspects of residential and light commercial construction. NAHB is affiliated with 700 state and local home builders associations around the country. NAHB's builder members will construct about 80 percent of the new housing units projected for this year.