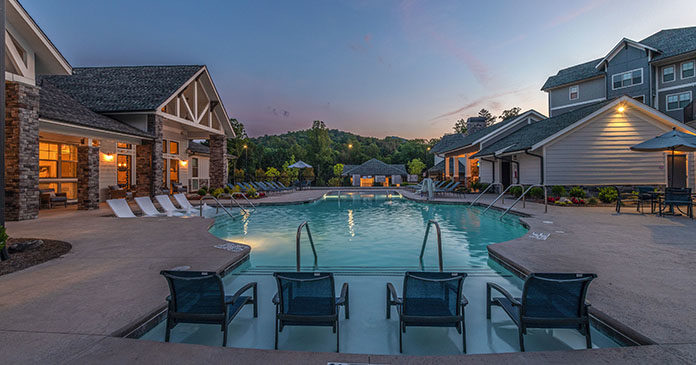 Passco Companies, a privately-held California-based real estate company that specializes in the investment, acquisition, development, and management of commercial properties throughout the U.S., has acquired Asheville Exchange, a 312-unit, Class A multifamily community in Asheville, North Carolina for $56.6 million.
This is Passco's first multifamily acquisition in Asheville and first North Carolina purchase in nearly five years. The firm was attracted to the market due to the city's strong and sustained population growth across age demographics and high quality of living, according to Colin Gillis, Vice President of Acquisitions, Southeast at Passco.
"Asheville's picturesque environment and near-perfect climate has made it an attractive vacation destination for several years, while the resident population has grown as well," explains Gillis. "The recent population surge has been driven primarily by the in-migration of both retirees and millennials, with more than 30,000 people moving to the area within the past five years."
Asheville's reputation as a hip, laidback town with a progressive culture, similar to cities like Austin, Texas, Portland, Oregon, and Boulder, Colorado, will continue to bring young professionals to the area and drive job growth, which has seen nearly a 20 percent increase in the last six years.
Gillis further points to the city's emergence as the 'Beer Capital of the East,' with hundreds of millions of dollars having been recently invested in new facilities for major Western-U.S. based breweries including Sierra Nevada and New Belgium. The craft-brewery scene has exploded in the Asheville over the last several years as the city boasts more breweries per capita than almost any other U.S. city, which has served as a nice complement to an already thriving tourism industry.
"The Asheville market has been on our radar for some time due to its unique attributes, high-occupancy rates, and above-average population growth trends with a shortage of luxury-rental options," continues Gillis. "The shortage of luxury multifamily housing in the market has allowed for properties like Asheville Exchange to experience near-record setting absorption rates and positions the property for continued growth. We are excited to have acquired Asheville Exchange, an exceptional asset that is one of the top multifamily communities in the market, featuring best-in-class amenities and unit features."
While a handful of prominent regional multifamily developers have recently shown interest in Asheville, it remains one of the lowest-vacancy markets in the country, with a relatively slow development pipeline due to high political and physical barriers to entry, Gillis notes.
Marc Robinson, Jordan McCarley, and Brooks Colquitt of Cushman & Wakefield represented both the buyer and the seller, Hathaway Development, in this transaction.
"Asheville Exchange is a thoughtfully developed Class A asset in one of the most vibrant destination cities in the Southeast," says McCarley. "The asset is primed for growth and should be a great addition to Passco's diverse portfolio in the region."
Asheville Exchange consists of one-, two-, and three-bedroom units with an expansive amenity package that includes energy-efficient appliances, granite kitchen countertops and tiled backsplash, wine racks, modern cabinetry, and full-size, front loading washer/dryers in select units.
The community also features bike and kayak storage, a clubhouse with Wi-Fi, controlled access gates, a car care center, a dog park and pet care station, an expansive state-of-the-art fitness center, game room with billiards, bocce ball court, outdoor lounge and grilling area, resident business center, saline swimming pool, tanning salon and massage room, and valet trash service.
Asheville Exchange is located off Interstate 26 and Brevard Road, offering easy access to Downtown and the greater region.
The immediate area surrounding the asset along Brevard Road has seen a massive influx of development recently, with hundreds of millions of dollars spent on new retail, commercial, hospitality and residential uses, as well as much-needed infrastructure expansions in the last two years alone, notes Gillis.
Completed in December 2017, Asheville Exchange is located at 105 Exchange Circle in Asheville, North Carolina.
Chris Black and Caleb Marten of KeyBank Real Estate Capital's Commercial Mortgage Group arranged acquisition financing on behalf of Passco Companies.
---
About Passco Companies, LLC
Celebrating our 20th Anniversary in 2018, Passco Companies, LLC is a nationally recognized market leader in the acquisition, development, and management of multifamily and commercial properties throughout the U.S. Passco offers a full set of real estate services including asset and property management, leasing, as well as property development and construction. Headquartered in Irvine, California, Passco currently has $2.6 billion assets under management and is involved with 52 properties in 18 states. Passco is actively growing its portfolio in primary and secondary markets throughout the nation.
About Cushman & Wakefield
Cushman & Wakefield is a leading global real estate services firm that delivers exceptional value by putting ideas into action for real estate occupiers and owners. Cushman & Wakefield is among the largest real estate services firms with 48,000 employees in approximately 400 offices and 70 countries. In 2017, the firm had revenue of $6.9 billion across core services of property, facilities and project management, leasing, capital markets, advisory and other services.