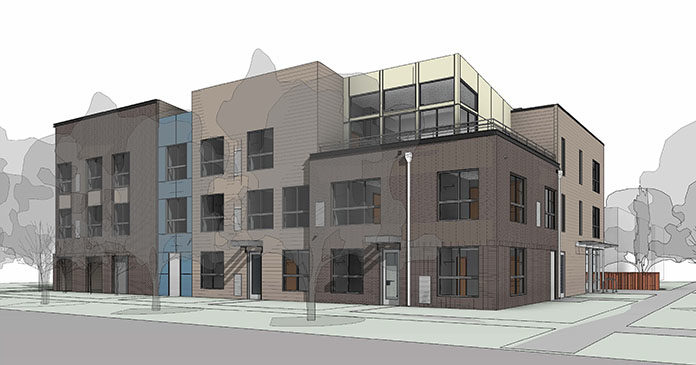 Riverside Capital, LLC ("Riverside") is pleased to announce an equity investment of $12.8 million in the acquisition and rehabilitation of an existing public housing development as well as the new construction of a residential building in the Curtis Park neighborhood of Denver, Colorado. The properties, which are known collectively as Platte Valley Homes ("PVH"), are being developed and managed by the Housing Authority of the City and County of Denver ("DHA").
The existing development was built in 1941 and the renovation calls for 6 of the existing buildings to be reconfigured into larger multifamily buildings totaling 50 units while the remaining buildings will be demolished. The rehabilitated units will target families under DHA's public housing program.
DHA will also build a new 18-unit residential building on a nearby parcel of land that will target residents with disabilities and seniors aged 62 years or older. All 68 units in the PVH project will benefit from rental subsidies designed to ensure that residents pay no more than 30 percent of their income towards rent.
In the near future, DHA plans to construct affordable, for-sale, single family homes where the demolished buildings stood. The proceeds from the sale of these parcels will be reinvested back into DHA's affordable housing program.
"This is one of the older housing sites in our portfolio," said Ryan Tobin, DHA's Real Estate Development Director, "and this is ensuring that they'll be there for the long term and they'll serve mid- to low-income families for the near and foreseeable future."
Milender White Construction Company will serve as the general contractor and Humphries Poli Architects is the architect on this $15.7 million construction project. Work began at both sites in late August 2018 and is expected to be complete towards the end of 2019.
"The investment in PVH demonstrates Riverside's continued commitment to addressing the affordable housing shortage in the greater Denver area," said Sebastian Corradino, President, Riverside. "DHA is a leader among housing authorities nationwide and is known for their transformative work. We are proud to partner with DHA as their work on PVH continues this trend of developing creative, sustainable, and innovative housing solution."
PVH is being financed with federal and state low-income housing tax credits issued by Colorado Housing and Finance Authority, a construction to permanent loan from ANB Bank, several capital sources from DHA, a Housing Development Grant from the State of Colorado Department of Local Affairs and a Denver Office of Economic Development loan.
---
About Riverside Capital, LLC (Riverside)
Riverside Capital, LLC, a joint venture of Berkadia and The Michaels Organization, is a full-service tax credit investment company offering capital solutions to developers of high-quality affordable housing. National in scope and serving both for-profit and nonprofit developers, Riverside has guided the financing and syndication for more than 7,700 affordable apartment homes across the country, representing $1 billion of equity capital. With a network of strong investor relationships and a focus on transparency, competitive pricing, and long-term value creation, Riverside is committed to providing financial solutions for affordable housing communities and that lift the lives of the residents who call those communities home.