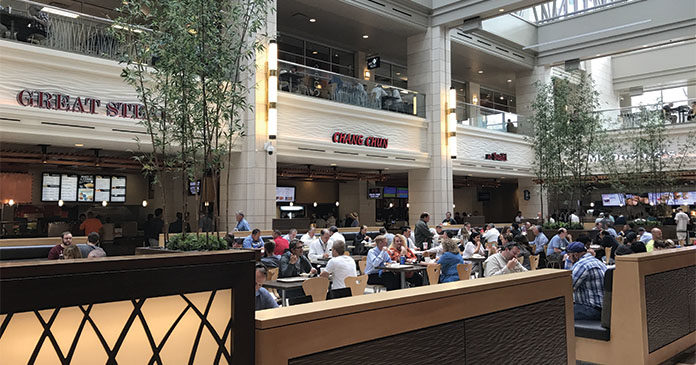 As developers know, the higher the unit, the higher the rent. From the top down, a typical floor plate for a new multifamily development allocates a roof deck, penthouse units on the top floors, apartment units, a lower-level amenity deck, the next floors for parking and the first floor for retail and a lobby. Views command a premium, and as the floor number gets lower, so does the rent.
And what about the first floor? Space historically filled with traditional retail and large parking garages face a dilemma: online shopping has changed the demand for physical storefronts, and ride-share has reduced the need for high parking ratios. This is the "podium problem": The lowest floors of a building aren't bringing in the revenue they used to.
But there are a few creative ways multifamily developers can reimagine the first few floors of multifamily assets to improve their renters' experience and increase revenue.
Pop-ups are popping up
Instead of a 10-year retail lease, which can be daunting for many smaller retailers, there are new concepts available that offer more flexible uses of retail space. Similar to co-working spaces and Airbnb, some companies offer short-term retail space rentals. Some providers allow tenants to directly rent vacant retail, like renting a unit on Airbnb, while others would have a master lease and coordinate with vendors looking to host a pop-up, meeting, photoshoot or whatever was requested of the space.
Owners should consider looking into companies like Storefront, Breather, Peerspace and similar offerings for a different take on retail leases. A rotating selection of pop-ups, mediated through these companies, will provide a seasonally changing amenity to residents. And, when one of these pop-ups eventually takes the neighborhood by storm, it could look to sign a more permanent lease.
Package receiving, last-mile delivery
Consumers spent $453.46 billion on online retail purchases in 2017, up 16 percent over some $390 billion spent in 2016. And almost 25 percent of consumers are willing to pay substantially for same-day or instant delivery options, according to a McKinsey survey. E-commerce sales are not slowing down. The need for larger, more organized ways to handle packages at a multifamily property requires more dedicated space.
One idea is to convert empty retail space to package storage and distribution centers. This can be used not only to deliver traditional packages but to store groceries, meals and necessities for distribution at the highest speeds. Today's luxury renters not only need a place for their packages, they need a secure one. Grocery and meal delivery services will be aided by temperature-controlled storage. From packages to food, residents have more delivery needs than ever before, and these needs will only increase as subscription services continue to boom.
Less parking, more flexible space
The renter's relationship with the car has evolved: Cities want fewer vehicles on the road, and resident preferences have matched this decline due to ride-hailing. This opens even more space for developers to utilize in creative ways. Whether it's hosting a monthly pop-up market in vacant portions of the parking structure, offering car2go or other rental vehicle spaces, or providing Lime or Bird scooter charging docks, there are virtually endless ways to repurpose extra parking and add additional revenue.
Residents in more extreme environments will appreciate indoor playgrounds and dog parks. If a property has an outdoor parking lot, then the space could be repurposed into a community garden. Especially as unit sizes trend smaller, sections of a parking structure could be partitioned into additional storage space that can be rented. These could also morph into "maker's spaces" for renters to work on projects, from performing bicycle maintenance to creating art.
Building design is also changing to provide flat floor plates for parking so that there more options in the future. Traditional multilevel parking is sloped, which would make adaptive reuse challenging. Flat plates are less efficient for the number of spaces they can hold, but they help to future-proof the space so that it can be easily reimagined for alternative use.
With changing consumer preferences (from shopping to parking to unit size), developers need to adapt in order to prevent significant revenue loss in their buildings. The podium problem can be reimagined with creative solutions for retail and parking space. The lowest floors of a building don't have to be a loss leader.
Author: Susan Tjarksen is the principal and managing Broker at KIG CRE.