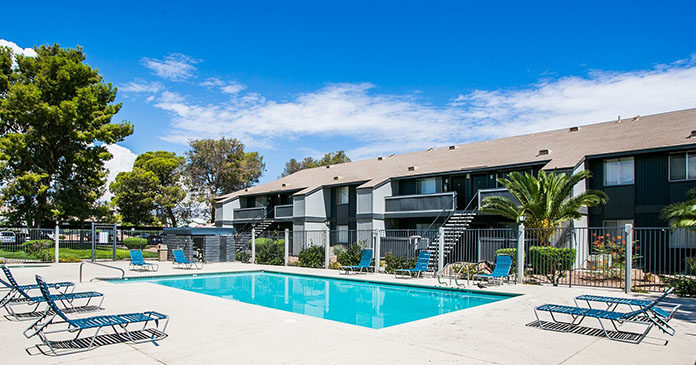 San Diego-based Tower 16 Capital Partners, in a joint venture with Henley USA, has acquired Cornerstone Crossing Apartments, a 540-unit multifamily project in northwest Las Vegas, for $49.75 million. Tower 16 will oversee $6.5 million in renovations and upgrades to the project.
"Cornerstone Crossing is another great acquisition for Tower 16 as we implement our investment strategy in the Las Vegas market," said Tower 16 Principal Tyler Pruett. "As of this closing, we will have acquired 1,280 units in Vegas this year which is in-line with our plan to build a significant portfolio of multifamily housing communities catering to working-class individuals and families in the Las Vegas market."
The community is located at 6666 West Washington Avenue in Las Vegas, easily accessible to I-95, public transportation, shopping, entertainment and the Las Vegas Strip. The two-story building features studios and one-, two- and three-bedroom apartments ranging from 440 to 1,000 square feet with oversized private patios and balconies.
Built in 1984, Cornerstone Crossing features acres of landscaped courtyards, three pools and spas, barbecue area, business center, fitness center, basketball courts and sports court.
"We look forward to taking an already great property and adding several new amenities including a kid's play area, dog park, enhanced gym and other outdoor amenity areas for the tenants," said Tower 16 Principal Mike Farley. "We take great pride in making investments in workforce housing where we can make meaningful improvements to a project and, in many cases, the entire neighborhood through our improvements. This is good for the tenants, the neighborhood and the entire city."
This is Tower 16's third acquisition in Las Vegas. Earlier this year, the company acquired Altura on Duneville, a 228-unit property currently undergoing significant upgrades, and Altura on Tropicana, a 512-unit multifamily project in Spring Valley also being renovated.
---
About Tower 16 Capital Partners LLC
Tower 16 Capital Partners, LLC is a commercial real estate investment and management company focused on acquiring and managing value-add investments in the Western United States. Headquartered in Carlsbad, CA., Tower 16 was founded by principals Mike Farley and Tyler Pruett who have over 36 years of combined institutional real estate experience with an emphasis on value-add investing. The principals have managed, repositioned and developed over 300 properties with a combined market value in excess of $2 billion.