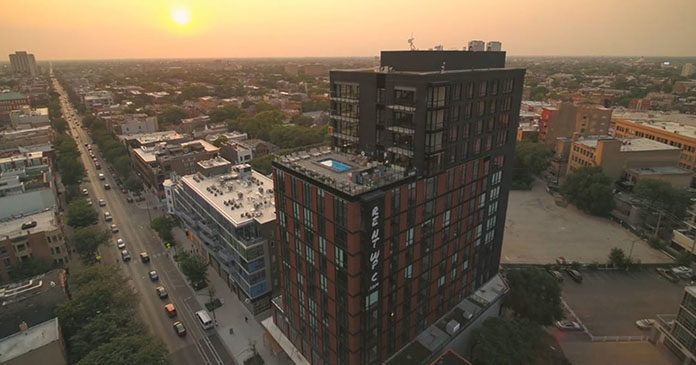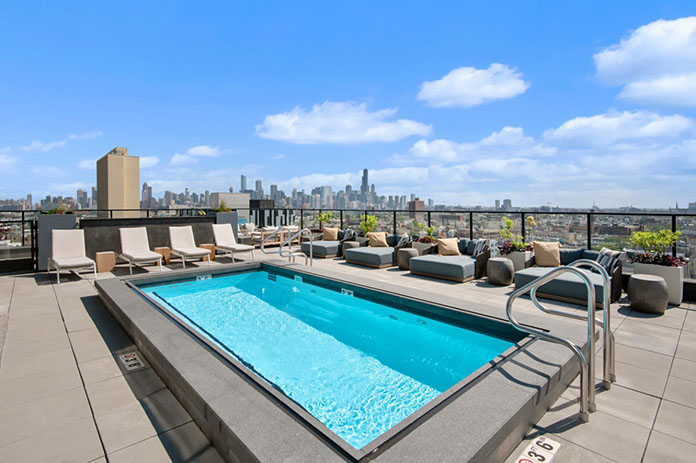 Chicago-based Hubbard Street Group and co-developer Centrum Realty and Development today announced Wicker Park Connection, a 15-story, 146-unit rental community, is more than 75 percent leased just four months after welcoming first move-ins. Located at 1640 W. Division St., one block west of the Division Blue Line station, the property is being marketed for sale together with an adjacent 60-unit first phase that opened in 2016 and houses a small-format Target store in the ground-level retail space.
"Wicker Park Connection combines the best of both worlds – luxury amenities with neighborhood living – and the faster-than-anticipated pace of leasing underscores the success of that model, even in today's competitive market," said John McLinden, managing partner at Hubbard Street Group. "We see this not only with the high-end finishes in the units, which include custom, locally sourced elements that add to the authenticity of the design, but also the lower-level commercial space that has drawn interest from some strong brands including a small-format Target."
Wicker Park Connection offers a mix of studio, one-, two- and three-bedroom units ranging in size from 463 square feet to 1,245 square feet, with rents starting at $1,650. Residences at the adjacent 60-unit first-phase building, Centrum Wicker Park, are nearly fully leased. Together, the buildings feature more than 20,000 square feet of lower-level retail space anchored by the Target store.
From the use of light white oak – a contrast from darker finishes commonly found in other downtown residential properties – and steel throughout the development to the green moss wall art with a steel interpretation of the Milwaukee-Ashland-Division intersection, Chicago-based Harken Interiors' designs reflect the area's lumber/steel yard/greenhouse history and create a sense of place. Other touches include a giant steel "GYM" sign in the fitness area and custom wall murals near the elevators. Adding a level of authenticity, Harken worked with local vendors to produce the materials.
"Being local to Chicago, we have an intimate knowledge of the city and its neighborhoods, and in the case of Wicker Park, wanted the industries that were once a fixture in the area – for example, lumber and steel – to be integrated into our design in a meaningful way," said Jaclyn Moser, partner of Harken Interiors.
Harken Interiors partner Chris Sommers added, "The end result strikes that balance between standing out and blending in. Residents won't necessarily pick up on the historic undertones incorporated through elements like the lobby art – instead, they're meant to be discovered organically, similar to how residents would explore the surrounding neighborhood."
Running between the development's first and second phases is a public walkway called The Connection that, when completed, will link Milwaukee Avenue and Division Street. The first phase, which includes outdoor seating areas, public art sourced through the Chicago Sculpture Exhibit and a water jet feature, opened this year, with completion of the remainder scheduled for 2019.
Amenities at Wicker Park Connection, also accessible to residents of Centrum Wicker Park, include a rooftop pool deck with sunbeds, pod seating, a fire pit and grilling stations. Indoors, residents have access to a state-of-the-art fitness center, resident lounge with co-working stations, party room with chef-grade kitchen, Starbucks coffee nook, yoga and meditation room, and business center with printing station. In addition, the community offers Pressbox dry cleaning, Luxer One package delivery, storage lockers, free Wi-Fi in amenity spaces, complimentary bicycle storage, garage parking and smartphone-controlled building access.
Individual residences feature floor-to-ceiling windows with solar shades; Balterio gray-tone plank flooring; Kohler fixtures; kitchens with Italian soft-close cabinetry, quartz countertops, Porcelanosa tile backsplashes and stainless steel Whirlpool appliances; and baths with floating vanities and frameless glass shower doors.
Luxury Living Chicago Realty is serving as the exclusive marketing and leasing brokerage for the development.
"Leasing velocity has exceeded expectations with renters attracted to Wicker Park Connection not only because of the high level of finishes showcased in the apartments, but also the amenities, which are unprecedented in this area," said Aaron Galvin, founder and CEO of Luxury Living Chicago Realty. "In the neighborhood rental market, it's rare for a building to have a pool – let alone a rooftop pool with sweeping skyline views. It's one of many differentiators that have contributed to the success of the development."
---
About Hubbard Street Group
Founded in 2016 by real estate veteran John McLinden, Hubbard Street Group (HSG) is a real estate investment and development company that creates modern, lifestyle-oriented residential, retail and office developments, with a focus on urban infill sites. The partners at HSG are industry leaders in neighborhood-level development, capitalizing on hyperlocal market opportunities and working alongside community stakeholders to realize the vision for each project. McLinden is joined at HSG by partners Graham Palmer and Kage Brown. HSG's portfolio includes properties developed by Chicago-based Centrum Partners, which McLinden co-founded and led as managing partner before forming HSG.
About Centrum Realty & Development
Since Arthur Slaven founded his first development company over 30 years ago, much has changed in the real estate landscape, but not his passion for building smart, ambitious projects through a collaborative, community-oriented process. Joined at Centrum Realty and Development, LLC by partners Larry Powers, Michael Slaven and Peter Slaven, Arthur now leads a dynamic real estate investment company continuing that legacy by creating extraordinary places to live, work and shop. Centrum's portfolio includes properties developed by Chicago-based Centrum Partners, which Slaven led as managing partner before forming his new company in 2016.