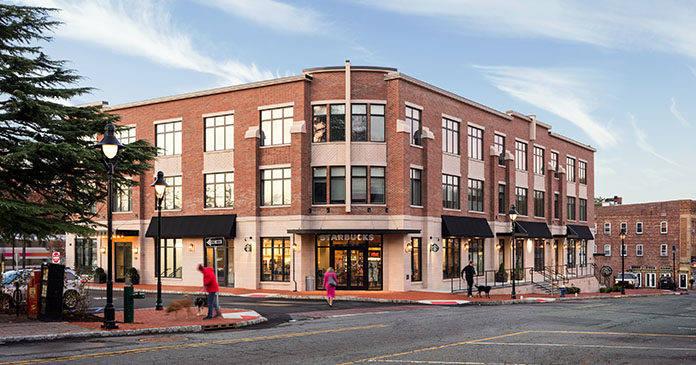 Clarus Maplewood is officially a WELL Certified™ building, the community's developer, JMF Properties, announced today.
Clarus was awarded WELL Certification at the Gold level by the International WELL Building Institute™ (IWBI™). The prestigious distinction was awarded through IWBI's™ WELL Building Standard™, which is the premier building standard to focus on enhancing people's health and wellness through the buildings where we live, work and play.
Created through seven years of rigorous research and development working with leading physicians, scientists, and industry professionals, the WELL Building Standard™ is a performance-based certification that marries best practices in design and construction with evidence-based scientific research.
Clarus is the first residential community to achieve WELL Certification in New Jersey through the multifamily pilot and only the 13th in the world, according to the IWBI™, and was designed to maximize the comfort, health, and wellbeing of its residents. It is also the first residential community in the United States to achieve WELL Certification at the Gold level. To achieve its rating, it met 100 percent of the preconditions set forth by the IWBI™ and all of the required optimizations for a Gold level rating during a recent evaluation.
Clarus Maplewood achieved high concept scores in all seven categories of building performance: air, water, nourishment, light, fitness, comfort, and mind.
"We designed every individual detail of Clarus Maplewood with the goal of achieving WELL certification and we are thrilled to be officially recognized for all of our work," said Joe Forgione, the founder and principal of JMF Properties. "This isn't just a plaque on the wall, either. This is an active standard that will be evaluated annually by inspectors. We are committed to maintaining that standard year in and year out and continuing to offer the highest quality homes to our residents."
"Our homes are the most important spaces we have," said IWBI Chairman and CEO Rick Fedrizzi. "We congratulate Clarus Maplewood on this significant achievement and applaud its deep understanding of how where we live can enhance our lives."
Clarus Maplewood, a boutique rental community, was also named the best mixed-use community of 2018 by the Metropolitan Builders & Contractors Association of New Jersey during its annual Awards of Excellence dinner. Located in the heart of Maplewood Village, right next to the Maplewood train station, it opened in October, 2017 and quickly reached the 100 percent leased mark, with a waiting list established.
Notable tenants such as Starbucks and BCB Bank occupy the building's street-level retail space, along with Abby Haliti Salon and the The Cassidy Bar + Kitchen. The Clarus retail provides desirable services to its residents and also enhances the vibrancy of the Maplewood community.
Clarus Maplewood's location in Maplewood Village puts it just steps from the community's celebrated boutique shops, gourmet restaurants and chic, sidewalk cafes. The train whisks commuters to and from Manhattan in approximately 35 minutes. Residents enjoy Maplewood's high walkability score, with destinations such as Kings food market and the Maplewood Theatre right across the street.
Clarus means "clear" or "bright" in Latin, and its namesake ambience is evident throughout the property. It offers a balanced lifestyle with light-filled residences, exquisite finishes and appointments and a curated collection of amenities. Spacious residences feature such high-end finishes as Jenn-Air and Whirlpool appliances and Quartz countertops. One- and two-bedroom rental residences are offered.
Residents of the ultra-luxury community enjoy a full suite of amenities including a health studio with a state-of-the-art wellness center, yoga and spin, elegant resident lounge, billiards, and a beautifully-designed luxe lobby with double-sided fireplace. A digital, fitness-on-demand personal trainer is also available 24 hours a day in the virtual fitness room. The distinctive three-story Clarus building includes a parking garage with an electric car charger, community-owned bicycles for residents to share, personal storage space for residents and elevator service.
WELL is grounded in a body of evidence-based research that explores the connection between the buildings where we spend approximately 90 percent of our time, and the health and wellness impacts on us as occupants of these buildings. To be awarded WELL Certification by IWBI™, Clarus Maplewood underwent rigorous testing and a final evaluation carried out by Green Business Certification Inc., which is the third-party certification body for WELL, to ensure it met all WELL Certified™ Gold level performance requirements.