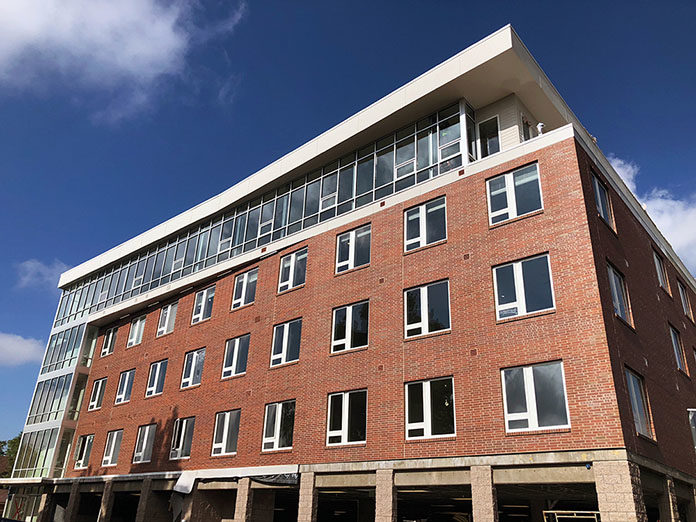 Holliday Fenoglio Fowler, L.P. (HFF) announces $9.52 million in financing for King Street Apartments, a newly built, 29-unit/94-bed apartment property net leased to Regis University in Denver, Colorado.
The HFF team worked exclusively on behalf of the borrower, a joint venture between Urban Fabric Denver and Slipstream Properties, to secure the 10-year, 4.56 percent, fixed-rate loan through a national bank. The loan features two years of interest-only payments followed by a 30-year amortization schedule. The borrower assembled the development site, secured a long-term net lease from Regis University and developed the property with Regis' input on property design and construction.
King Street Apartments consists of a five-story, podium-style building containing a total of 94 bedrooms and 94 bathrooms in a variety of one- through four-bedroom furnished floor plans with shared central living rooms and kitchens. Unit amenities include quartz countertops, nine- and ten-foot ceilings, in-unit washers and dryers, and key fob entry. Completed earlier this year, the Class A property features a courtyard, grilling area, fire pit, conference room and study areas and is equipped with 44 parking spaces, 42 of which are covered.
The property is located approximately four miles from downtown and just half of a block from Regis' main campus at 4923-4935 King Street in Denver's Berkeley neighborhood. Situated north of the Lowell Boulevard exit off Interstate 70, the property provides easy access to dining and nightlife along Tennyson Street as well as numerous recreational activities, including Willis Case Golf Course, Rocky Mountain Lake Park, Berkeley Lake, Creekside Park, Inspiration Point Park, Sloan's Lake Park, Berkeley Dog Park and Lakeside Amusement Park.
The HFF debt placement team representing the borrower included director Kristian Lichtenfels and associate Tyler Dumon.
---
About Urban Fabric
Urban Fabric Denver is a Denver-based, full-service boutique general contractor and developer, with a focus on handcrafted urban infill projects that add value and enhance the built environment. Urban Fabric continually strives to provide value-oriented development, design and construction services with appropriate materials and methods for properties that appeal to both residents and investors.
About Slipstream Properties
Slipstream Properties is an experienced and proven multifamily investment firm focusing on Colorado's Front Range cities of Denver and Colorado Springs. By concentrating on undervalued assets and areas with pent-up rental demand, Slipstream continues to provide strong and consistent investment returns.  Slipstream made its first investment at the beginning of 2010.
About HFF
HFF and its affiliates operate out of 26 offices and are a leading provider of commercial real estate and capital markets services to the global commercial real estate industry. HFF, together with its affiliates, offers clients a fully integrated capital markets platform, including debt placement, investment advisory, equity placement, funds marketing, M&A and corporate advisory, loan sales and loan servicing. HFF, HFF Real Estate Limited, HFF Securities L.P. and HFF Securities Limited are owned by HFF, Inc.