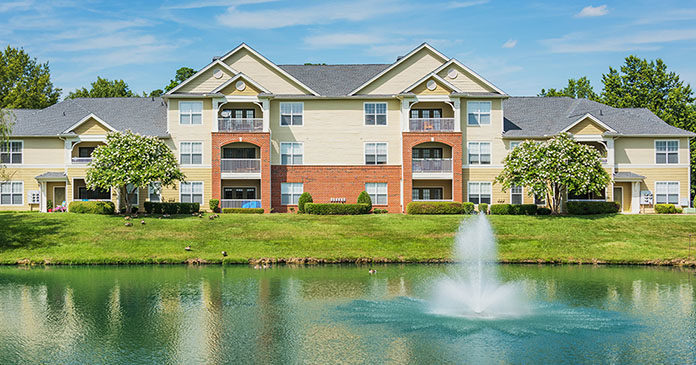 HFF announces the sale and financing of an eight-property multi-housing portfolio totaling 2,883 units in various high-growth submarkets within North Carolina's Research Triangle.
The HFF team marketed the offering on behalf of the seller, and procured the buyer, a Carroll Organization joint venture. Additionally, HFF's debt placement team worked on behalf of the new owners to arrange floating-rate acquisition loans for six of the eight communities through Freddie Mac's CME Program. The securitized loans will be serviced by HFF, a Freddie Mac Multifamily Approved Seller/Servicer for Conventional Loans.
The properties in the portfolio are: Oaks at Weston in Morrisville; Meadows at Kildaire in Cary; The Reserve at Lake Lynn, Woodland Court, Walnut Creek and Spring Forest Apartments in Raleigh; Copper Mill in Durham; and The Crest at West End in Carrboro.  Units average 962 square feet overall and the average year of completion for the portfolio is 1990. The portfolio's location within the Research Triangle positions it within the path of sustainable job growth from the region's innovation-based economy, which is anchored by three research universities – Duke University, the University of North Carolina at Chapel Hill and North Carolina State University. Financing was secured for Oaks at Weston, Meadows at Kildaire, The Reserve at Lake Lynn, Woodland Court, Walnut Creek and Copper Mill.
The HFF investment advisory team representing the seller included managing directors Justin Good and Jeff Glenn, senior director Allan Lynch and director Caylor Mark along with senior managing director Roberto Casas.
HFF's debt placement team representing the new owner included managing director Elliott Throne, senior director Roger Edwards, senior managing director Ed Coco and associate Ware Shipman.
Holliday GP Corp. ("HFF") is a North Carolina licensed real estate broker.
---
About Carroll Organization
Founded in 2004 and based in Atlanta, Carroll Organization focuses on multifamily properties, including acquisitions, property and asset management services, and fund management. The firm provides investment vehicles for a broad range of investors to access the multifamily real estate asset class and has raised over $2 billion of equity through Carroll Organization sponsored funds and joint ventures. Carroll has successfully purchased, developed or sold over $9.0 billion of real estate. Carroll Organization's regional offices are located in Houston and Orlando. Today, the company manages over 30,000 multifamily units in eight states and has purchased other multifamily owner/operators throughout the U.S. The firm has also developed student housing, single-family residential and retail properties, and has overseen more than $125 million of construction management for both its owned and fee partners. From due diligence to execution, Carroll Organization has the internal capabilities and the external relationships to identify, underwrite and close transactions.
About HFF
HFF and its affiliates operate out of 26 offices and are a leading provider of commercial real estate and capital markets services to the global commercial real estate industry. HFF, together with its affiliates, offers clients a fully integrated capital markets platform, including debt placement, investment advisory, equity placement, funds marketing, M&A and corporate advisory, loan sales and loan servicing. HFF, HFF Real Estate Limited, HFF Securities L.P. and HFF Securities Limited are owned by HFF, Inc.