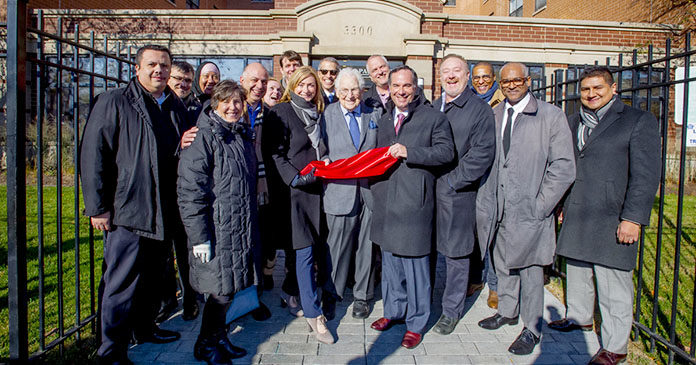 Chicago-based The Habitat Company, a leading U.S. multifamily developer and property manager, announced today the completion of a $16 million acquisition and rehabilitation of a 153-unit single room occupancy (SRO) community in Chicago's East Garfield Park neighborhood.
Mayor Rahm Emanuel attended the ribbon cutting ceremony, along with 28th Ward Alderman Jason Ervin, city officials, Habitat team members and residents of East Park.
"The completion of this project underscores Habitat's commitment to the development and preservation of affordable housing throughout the city," said Matt Fiascone, president of The Habitat Company. "With the number of licensed SROs in Chicago decreasing sharply in recent years, Habitat is working harder than ever to maintain this much needed housing."
The project is part of the city's "Five-Year Housing Plan" to commit $1.3 billion in public and private funds to build, rehabilitate and preserve 41,000 units of affordable housing by the end of 2018.
"Today marks another important milestone in Chicago's efforts to help redevelop the neighborhood, while creating and preserving affordable housing units for its residents," Mayor Emanuel said. "Through these partnerships, the City will continue to achieve its goal of maintaining a vibrant housing market that is open and accessible to everyone."
Habitat developed East Park SRO, located at 3300 W. Maypole Avenue, in 1994 through an affiliate – East Park Limited Partnership – and has managed the community since it welcomed its first residents. This latest financial commitment maintains the development's affordability, improves resident amenities and reduces the property's carbon footprint by adding energy efficiencies.
East Park has been retrofitted with LED lighting, high-efficiency boilers and new in-unit heating and cooling. Rehabilitation work includes a new roof, masonry repairs, mechanical upgrades, landscaping improvements, lighting and common area enhancements, as well as unit upgrades. During the 13-month renovation, residents moved to alternate apartments throughout the property until their unit was completed.
Project-based Housing Choice Vouchers will continue to be applied to 100 percent of the units at East Park, ensuring the continued long-term affordability for residents with individual rents set at approximately 30 percent of each individual's income. Additionally, East Park provides special needs supportive housing with on-site social services and medical referrals for its residents to ensure they have access to the assistance they need to prevent homelessness.
Since its first affordable housing development on Chicago's South Side in 1971, Habitat has grown to become one of the largest multifamily developers, owners and managers in the country. Today, the company's management portfolio comprises more than 22,000 units across five states, of which approximately 10,000 are affordable or public housing. Habitat is currently the largest property manager for the Chicago Housing Authority.
The East Park SRO renovations were funded through a mix of equity from federal low-income housing tax credits (LIHTC), a grant from the Federal Home Loan Bank of Chicago and debt financing from the Illinois Housing Development Authority. City of Chicago support included $5.2 million in Tax Increment Financing assistance and $5.8 million in LIHTC equity. CIBC Bank also provided a construction loan, financed through the purchase of tax-exempt bonds issued by the City of Chicago.
---
About The Habitat Company
Founded in 1971, The Habitat Company is a full-service residential real estate company specializing in property management, acquisitions and development. One of the largest residential property developers and managers in the United States, with over $3 billion in assets and more than 22,000 units under management across five states, the company's portfolio spans a range of property types, from mid- and high-rise condominium, apartment and adaptive reuse developments to senior and affordable housing communities. Headquartered in Chicago, with more than 800 employees throughout the United States, Habitat is dedicated to improving the communities it serves through innovation and a commitment to excellence.