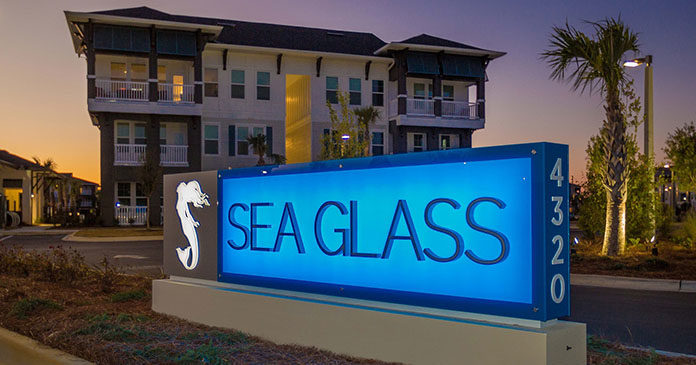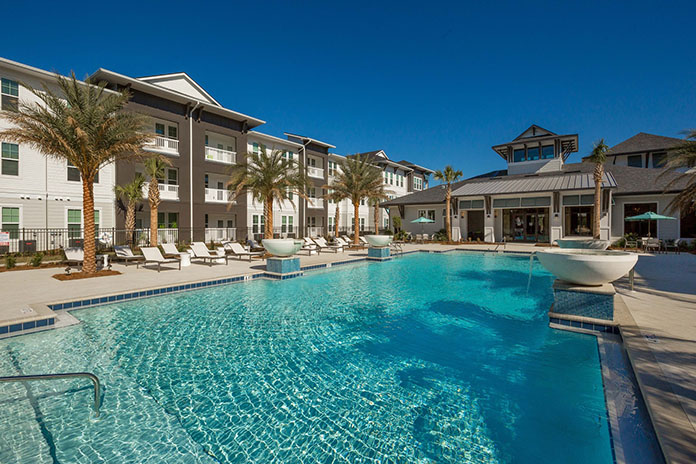 Passco Companies, a privately-held California-based real estate company that specializes in the investment, acquisition, development, and management of commercial properties throughout the U.S., has acquired Sea Glass Apartments, a Class AA, 288-unit apartment community in Destin, Florida for $63.3 million.
The apartment community is located in the Crestview-Fort Walton Beach-Destin MSA, which  boasts the lowest unemployment rate in the state of Florida, according to the U.S. Bureau of Labor Statistics. Additionally, the MSA posted some of the most consistent and lowest state-wide MSA unemployment rates over the last ten years, and remained especially strong through the downturn, according to Colin Gillis, Vice President of Acquisitions for Passco.
"Destin has experienced strong and consistent year-over-year job growth in addition to recording the highest nonfarm payroll employment growth in the entire state of Florida," says Gillis. "This influx of new jobs is driven largely by the leisure and hospitality increases in the market, expansions in medical and education sectors serving the explosive population growth, and large increases in defense spending, benefitting the three military bases in the area, including Eglin AFB, one of the largest military installations in the world. Collectively, these military facilities employ nearly 100,000 personnel. Large technology and defense contractors have also expanded in the region including companies such as Boeing, BAE Systems, Lockheed Martin and L3 Technologies."
Sea Glass Apartments is located in the heart of the "Emerald Coast," known for its white-sand beaches and emerald green waters, attracting more than four million visitors each year. The apartment community is located in the Okaloosa County School District, which is ranked second in the state of Florida, as well as within walking distance of primary retail destinations, and directly across from Henderson Beach State Park, which includes 6,000 feet of natural scenic shoreline along the Gulf of Mexico.
"Sea Glass is a one-of-a-kind project in an excellent location within a market that has exhibited huge pent-up demand for luxury multifamily product. The property leased up at a record pace, reaching 100 percent occupancy in less than seven months with no concessions. Effective rents at the property are extremely impressive, and in many cases, they exceed rent levels for similar luxury assets in the more well-known Florida markets like Tampa and Orlando. Additionally, the barriers-to-entry in this market are very strong on all fronts—physical, political and financial," added Gillis.
Constructed in 2017, Sea Glass Apartments features best-in-class amenities including a resort style swimming pool with a pool chiller, fitness studio, grand clubroom with billiards and media center, breakfast bar, indoor/outdoor bar area, package concierge and a business center.
Passco acquired the property from Atlanta-based multifamily real estate development firm, Catalyst Development Partners.
"Sea Glass Apartments is an exceptional asset and we are glad that we had the opportunity to work with the Passco team on this deal," says Rob Meyer, Partner at Catalyst Development Partners. "Their entire team made the process seamless, and we know this property will be an excellent addition to their portfolio."
The apartment community is located at 4320 Commons Drive West in Destin, Florida. It features a mix of studios, one-, two-, and three-bedroom floorplans. The JLL Florida Capital Markets team of Matt Wilcox, Jubeen Vaghefi and Denny St. Romain brokered the transaction.
Chris Black and Caleb Marten of KeyBank Real Estate Capital's Commercial Mortgage Group arranged acquisition financing on behalf of Passco Companies.
---
About Passco Companies, LLC
Celebrating our 20th Anniversary in 2018, Passco Companies, LLC is a nationally recognized market leader in the acquisition, development, and management of multifamily and commercial properties throughout the U.S. Passco offers a full set of real estate services including asset and property management, leasing, as well as property development and construction. Headquartered in Irvine, California, Passco currently has $2.8 billion assets under management and is involved with 53 properties in 18 states. Passco is actively growing its portfolio in primary and secondary markets throughout the nation.
About Catalyst Development Partners
Catalyst development partners is an Atlanta-based firm focused on multifamily real estate development and acquisition opportunities, with a footprint across multiple southern states.
About JLL
JLL is a publicly traded, Fortune 500 company and one of the world's largest commercial real estate firms with offices in over 80 countries. JLL offers a unique, collaborative, global real estate capital markets platform, delivering strategic advice combined with real-time local knowledge to help real estate owners, occupiers and investors achieve their business ambitions and investment goals.