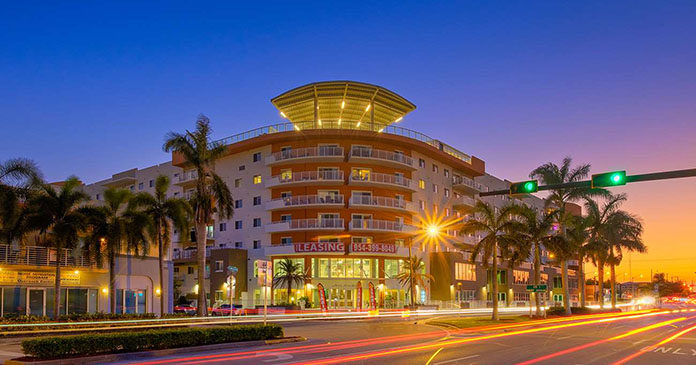 RIVERGATE KW RESIDENTIAL, a leading multifamily property management company, has significantly bolstered its portfolio of communities under management in the core markets of South Florida and the Carolinas. RKW was awarded four new assignments totaling nearly 350 units in Boca Raton and Dania Beach, Fla. and Charlotte, N.C.
In Boca Raton, RKW is set to play an integral role in implementing capital improvements and rebranding the 102-unit community formerly known as Realm Boca Raton. Located at 1150 SW Second Ave., the community will be renamed Crossroads at Downtown Boca in conjunction with the property enhancements.
RKW has also taken over management of The Place at Dania Beach in an increasingly popular Broward County neighborhood that is experiencing tremendous development across all real estate sectors. Built in 2017, the seven-story, 144-unit Place at Dania Beach is located at 180 E. Dania Beach Blvd. It joins nearby CIRC Residences in Hollywood as signature Broward County communities managed by RKW.
In Charlotte, RKW has expanded an existing relationship with Chaucer Creek Capital through its boutique apartment communities The Edison at 1800 Commonwealth Ave. and Park at Drexel at 4312 Park Road. The communities have a combined 95 units.
"In what has been a historic year of growth for our company, we are strengthening our footholds in two of our key markets while simultaneously entering new markets," said Marcie Williams, president of RKW. "We look forward to continuing our momentum and closing out this incredible year with additional new assignments."
Last month, RKW successfully expanded into Tennessee with the assignment of waterfront community The Residence at Old Hickory Lake near Nashville. The company's vast portfolio now spans seven states.
Earlier this year, the Charlotte Business Journal recognized RKW in its annual list of the largest property management companies in the area for the first time in the company's four-year history.
---
About RIVERGATE KW RESIDENTIAL
RIVERGATE KW RESIDENTIAL is a third-party multifamily property management firm headquartered in Charlotte with a regional office in Miami, and satellite offices throughout the Southeast. With 15,000 multifamily units under management and a growing footprint spanning seven states, RKW delivers expertise in multifamily management through its technology, marketing and customer experience platforms. The firm's principals have extensive experience in multifamily investments and property management including acquisitions/dispositions, developments, lease-ups, stabilized and value-add assets. RKW is built on the foundation of its People First Philosophy, which prioritizes client relationships, employee satisfaction, and top tier customer service for our residents. Through this, the firm delivers on its brand promise of "Expert People. Exceptional Places" to enhance property values and achieve success. RKW was formed out of the partnership of Rivergate Companies, a private real estate investment firm, and KW PROPERTY MANAGEMENT, one of the largest condo management companies in Florida representing more than 75,000 condo units.