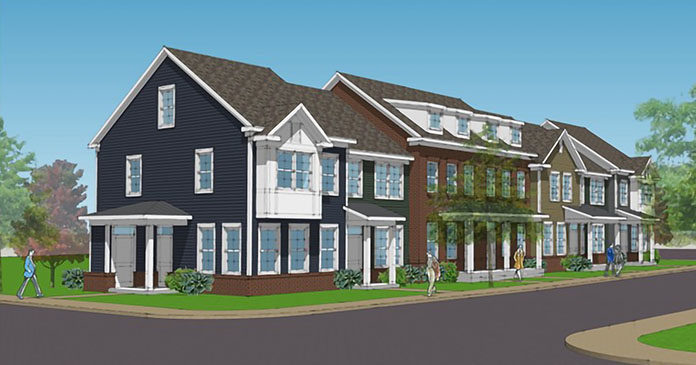 Riverside Capital, LLC (Riverside) is pleased to announce it has invested $15.5 million in Branch Village Townhomes, the second of a planned four-phase redevelopment of the Clement T. Branch public housing community in the Centerville neighborhood of Camden, NJ. The property will be developed and managed by The Michaels Organization (Michaels) in conjunction with the Housing Authority of the City of Camden (HACC).
"It is our privilege to be HACC's partner in bringing comprehensive change to this Centerville neighborhood while preserving much-needed affordable housing for Camden's families," said Nicholas Cangelosi, Vice President of Michaels Development. "We've reached this milestone because of the inspired leadership of the Housing Authority, the vision of the city's political leadership, and the incredible partnerships we have formed with local community groups, stakeholders, and new and returning residents."
Branch Village Townhomes is part of the Mount Ephraim Choice Neighborhoods Initiative (CNI), which has prompted a wide range of improvements in the surrounding community.  Branch Village Townhomes will replace buildings originally constructed in the 1940s with modern, newly constructed townhouse-style buildings. The nine buildings will contain 3 one-bedroom units, 50 two-bedroom units, and 19 three-bedroom units for a total of 72 apartments, all of which will be affordable to households earning between 20 percent – 60 percent of the Area Median Income. People living in the development will receive rental subsidy assistance through the U.S. Department of Housing and Urban Development's Rental Assistance Demonstration ("RAD") program. Branch Village Townhomes is being financed with 9 percent Federal Low- Income Housing Tax Credits, conventional debt through Berkadia, a CNI soft loan, and deferred developer fee.
"Riverside is excited to continue its partnership with Michaels in the City of Camden." said Chip Darling, Vice President, Riverside. "This is our second investment with Michaels in the Branch Village Development and we are proud to play our small part in helping them expand affordable housing opportunities for the people of Camden."
---
About Riverside Capital, LLC (Riverside)
Riverside Capital, LLC, a joint venture of Berkadia and Michaels, is a full-service tax credit investment company offering capital solutions to developers of high-quality affordable housing. National in scope and serving both for-profit and nonprofit developers, Riverside has guided the financing and syndication for more than 7,500 affordable apartment homes across the country, representing $1 billion of equity capital. With a network of strong investor relationships and a focus on transparency, competitive pricing, and long-term value creation, Riverside is committed to providing financial solutions for affordable housing communities that lift the lives of the residents who call those communities home.