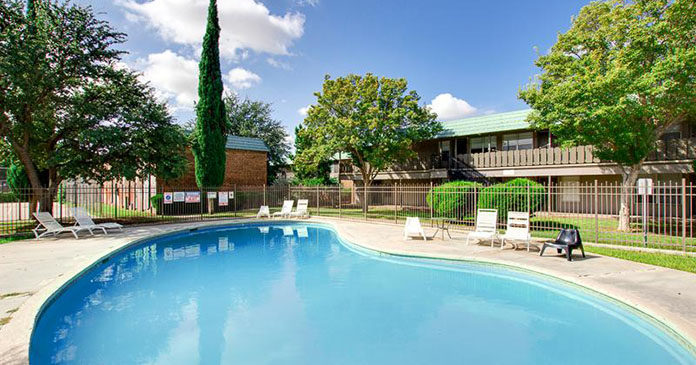 Marcus & Millichap, a leading commercial real estate investment services firm with offices throughout the United States and Canada, has announced the Fluellen-Hoover multifamily investment sales team closed seven multifamily transactions in secondary markets through the first three quarters of 2018. All the properties are in Texas, except for one located in Shreveport, Louisiana.
"With fierce competition for multifamily product in many primary markets, we are witnessing a marked influx of investors drawn to secondary markets throughout Texas and its surrounding states due to lower levels of competition leading to increased probability of winning deals," says Sean Scott, associate.
"Investors from coast-to-coast are attracted by robust cap rates, strong demand for multifamily housing and the opportunity to gain a significant foothold in these attractive smaller markets throughout the Southwest," adds Evan Burke, associate.
The properties sold in secondary markets by the Fluellen-Hoover team between the first of the year and the end of Q3 2018 are:
The Reserve, 108 units, Tyler
Peppertree and Spanish Oaks, 180 units, Odessa
Grand Oaks, 74 units, Shreveport, Louisiana
The Veranda, 103 units, Lubbock
Park Terrace, 33 units, Lubbock
Rosemont, 12 units, Abilene
Aspen Square, 36 units, Abilene
The sales team for these transactions includes Matt Aslan, Evan Burke, Robert Denninger, and Sean Scott. Chris Shaheen is Marcus & Millichap's broker of record in the state of Louisiana and Tim Speck is the firm's broker of record in Texas.
---
About Marcus & Millichap
With over 1,800 investment sales and financing professionals located throughout the United States and Canada, Marcus & Millichap is a leading specialist in commercial real estate investment sales, financing, research and advisory services. Founded in 1971, the firm closed nearly 9,000 transactions in 2017 with a value of approximately $42.2 billion. Marcus & Millichap has perfected a powerful system for marketing properties that combines investment specialization, local market expertise, the industry's most comprehensive research, state-of-the-art technology, and relationships with the largest pool of qualified investors.