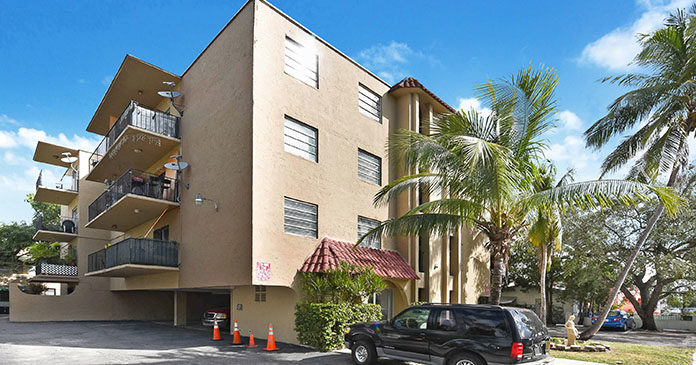 The Keyes Company's Carlos Villanueva has completed the $5.6 million sale of a portfolio of 57 rental apartments in Miami's Little Havana neighborhood. Villanueva, who is District Sales Manager of the firm's Coral Gables office, represented the seller – the JoAnn Cappelletti Trust – in the transaction.
The sale of the five-building portfolio closed on Nov. 14. The properties are located at 2127, 2128, 2136 and 2248 SW Fifth St. and 2135 SW Sixth St.
Gateway Realty LLC of New York is the buyer. The company obtained seller financing as part of the transaction. Terms were not disclosed.
Villanueva successfully secured the listing from the trust in a competitive process with numerous brokers. JoAnn Cappelletti and her late husband, U.S. Marine Corp. veteran and former Miami Beach police officer Mario, had assembled the rental properties during the 1960s and 70s.
Interest in the portfolio was strong, with most of the prospective buyers coming from New York.
"It was a pleasure to facilitate the successful sale of this legacy portfolio in Little Havana," Villanueva said. "The neighborhood is experiencing a transformation and is coveted by real estate investors and developers. New York investment groups are perceiving Little Havana the same way they saw Brooklyn 25 years ago – Little Havana is considered a borough of Greater Miami."
To close the sale, Villanueva had to resolve multiple City of Miami code violations so the buyer could acquire the properties with a clean slate. Significant improvements to the properties are expected.
Little Havana is seeing an influx of development activity, with a focus on boutique and mid-sized multifamily projects. One development firm, Metronomic, has a dozen projects planned for the neighborhood. Owners of existing buildings are capitalizing on the overall activity as well.
"We congratulate Carlos on an impressive outcome for the sellers of this Little Havana portfolio," Keyes President and CEO Mike Pappas said. "As a firm, we are excited to see what additional opportunities emerge in this neighborhood across all real estate sectors."
Keyes is the largest independently owned real estate firm in Florida and a Top 30-ranked firm in the entire United States, and is extremely active in luxury residential real estate. In 2017, Keyes generated more than $6 billion in real estate services across its Family of Companies.
Mendel Fellig of Compass represented Gateway Realty in the Little Havana transaction.
---
About The Keyes Company
Independently owned and operated since 1926, The Keyes Company is a leader in the real estate industry. Keyes completed a merger with Illustrated Properties in July 2016. Keyes has 58 offices, more than 3,000 associates and nearly $6 billion in annual real estate sales and services. Keyes' offices are distributed throughout six counties – Miami-Dade, Broward, Palm Beach, Martin, St. Lucie, and Volusia. Keyes expands our Associates' reach globally as a Founding Member and Shareholder of Leading Real Estate Companies of the World®. In addition to our Associates' expertise, The Keyes Company offers a suite of resources to cover whatever needs arise while buying or selling your home. Your mortgage, title, insurance, and property management needs can all be managed in-house, allowing us to close your deal with speed and efficiency while giving you the opportunity to talk to a real person whenever you have a question.