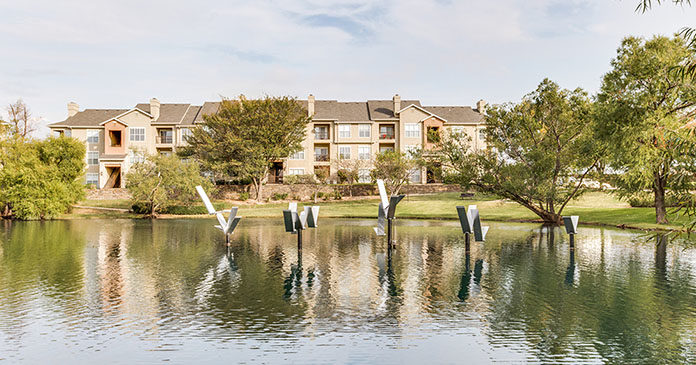 Holliday Fenoglio Fowler, L.P. ("HFF") announces a joint venture equity raise for the acquisition of two adjacent apartment communities in Dallas, Texas, totaling 712 units – Emory at Horizon North and Ashmore at Horizon North.
The sponsor, Archway Equities LLC, engaged HFF to source funding for the acquisition of the properties through Atlantic Creek Real Estate Partners, LLC.
Emory at Horizon North is an institutional-class property built in 1995 consisting of 14 three-story residential buildings comprising 348 units, which total 300,019 rentable square feet. Ashmore at Horizon North was built in 1997 consisting of 16 three-story residential buildings comprising 364 units, which total 309,360 rentable square feet.
The Plano-adjacent properties are situated on a total of approximately 36 acres at 4200 and 4300 Horizon North Parkway. The properties are immediately northwest of the President George Bush Turnpike and Dallas North Tollway in North Dallas, which provides residents easy access around the DFW metroplex. The communities each have separate amenity packages, which include features such as resort-style pools, sports courts, picnic/grilling areas, fitness centers, business center and conference rooms. The joint venture is planning to further enhance the amenities and renovate unit interiors in the next 24 months.
The HFF team representing Archway Equities LLC included director Michael Cosby along with senior director Mark Erland and director Matthew Benson.
---
About Archway Equities LLC
Archway Equities LLC ("Archway") is a privately held real estate investment group based in Beverly Hills, California.  Archway, through its affiliated and predecessor entities, has been acquiring commercial real estate mainly in California, Arizona and Texas since 1974.  Archway is a vertically integrated company with expertise in various facets of real estate investment, management, acquisition, finance, leasing, redevelopment and entitlement operations across a variety of asset types including medical office, traditional office/creative office, industrial, retail, multifamily and land development.
About Atlantic Creek Real Estate Partners, LLC
Atlantic Creek Real Estate Partners, LLC ("Atlantic Creek") is a private commercial real estate investment firm with offices in New York, New York, and Palm Beach, Florida, that acquires direct interests in commercial real estate in addition to providing joint venture equity and preferred equity to commercial real estate owners, operating partners and developers. Atlantic Creek seeks "special situations" to acquire attractive value-add and opportunistic commercial real estate properties that exhibit a compelling investment basis/thesis with strong locational characteristics in high barrier-to-entry United States markets. Target markets include the Northeast, Mid-Atlantic, Southeast, Pacific Coast, Texas and other select regions of the country. Atlantic Creek team members have over 100 years of combined real estate experience and have contributed to approximately 250 real estate assignments, totaling in excess of $20 billion throughout their collective careers with a focus on multifamily, retail and office properties.
About HFF
HFF and its affiliates operate out of 26 offices and are a leading provider of commercial real estate and capital markets services to the global commercial real estate industry. HFF, together with its affiliates, offers clients a fully integrated capital markets platform, including debt placement, investment advisory, equity placement, funds marketing, M&A and corporate advisory, loan sales and loan servicing.  HFF, HFF Real Estate Limited, HFF Securities L.P. and HFF Securities Limited are owned by HFF, Inc.