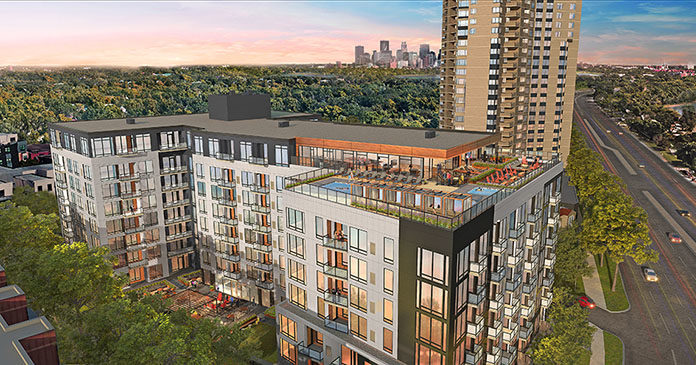 Holliday Fenoglio Fowler, L.P. (HFF) announces the financing of LakeHaus, a 200-unit, Class A apartment development located on Lake Calhoun in Minneapolis, Minnesota.
The HFF team worked exclusively on behalf of a joint venture led by Brickstone Partners Inc. and KMK Capital, in partnership with Deutsche Finance America, to secure a low-leverage, floating-rate construction loan through a national bank. Additionally, HFF procured mezzanine financing through EverWest Real Estate Partners.  The development is anticipated to be valued at more than $119 million when complete.
LakeHaus will be a best-in-class, eight-story 'post-tensioned concrete' apartment building, constructed on a 1.7-acre site at 3100 West Lake Street that features two levels of subterranean parking totaling 373 spaces. The development site is optimally situated on Lake Calhoun's Northwest shore and in close proximity to Calhoun Commons, a Whole Foods Market-anchored shopping center. Additionally, LakeHaus will be within walking distance to a future light rail stop and is less than five miles from downtown. The unit mix comprises 36 studio, 85 one-bedroom and 74 two-bedroom units as well as five penthouses. In addition to luxury finishes in each of the homes, the community will include a rooftop swimming pool and sundeck, spacious courtyards, gourmet grilling stations, an outdoor maze, top-floor clubroom, state-of-the-art fitness center, lobby with coffee bistro, guest suite and car share service along with a communal sailboat for use on the lake. Due for completion in 2020, the property will provide sweeping views of Lake Calhoun, downtown and the surrounding area.
The HFF team representing the borrower included director Kristian Lichtenfels, managing director Josh Simon, director Stella Pappas and managing director Jules Sherwood, a licensed Minnesota real estate broker.
"Our HFF team is thrilled to have had the opportunity to advise and assemble a strong foundation of capital for this landmark development and the LakeHaus development team," Lichtenfels said.
---
About Brickstone Partners Inc.
Brickstone Partners Inc. is a national, full-service real estate investment and development firm. Founded in 2001 by Daniel H. Otis, Brickstone has been involved in more than two million square feet of office, retail and multifamily investment and development.
About KMK Capital LLC
Michael G. Kennedy is the Manager of KMK Capital LLC, a Denver-based real estate investment and development firm specializing in residential and multifamily real estate. Over the last eight years, Kennedy has participated in more than 100 real estate transactions resulting in year-over-year double-digit returns. Kennedy moved to Denver in 1998 and is a former partner of Gallagher Enterprises, a local private equity firm, where he focused in the areas of real estate, environmental and human resources for the parent company as well as its many operating companies.  He was also the key developer of the Grand River Ranch, a 19,000-acre shared-ranch community in Kremmling, Colorado.
About Deutsche Finance Group and Deutsche Finance America
Deutsche Finance Group is a leading global financial services firm and institutional investment manager founded in 2005 and based in Munich. Today, the company has $2 billion in assets under management, comprised of 26,000 individual investors and six institutional investment mandates. Deutsche Finance America is a subsidiary company set up to execute on direct real estate investments in the United States, which will complement its parent company's successful indirect investment activities.
About HFF
HFF and its affiliates operate out of 26 offices and are a leading provider of commercial real estate and capital markets services to the global commercial real estate industry.  HFF, together with its affiliates, offers clients a fully integrated capital markets platform, including debt placement, investment advisory, equity placement, funds marketing, M&A and corporate advisory, loan sales and loan servicing.  HFF, HFF Real Estate Limited, HFF Securities L.P. and HFF Securities Limited are owned by HFF, Inc.