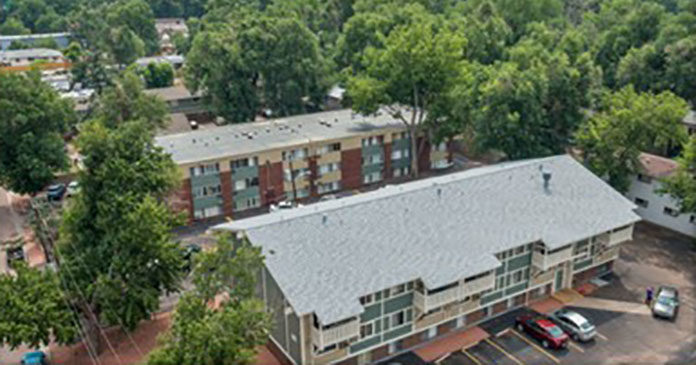 Nexus Commercial Realty, LLC, has closed on the sale of Meadows Pointe and Aspen Creek Apartments, a two-property portfolio in Colorado Springs that totals 112 units for the sale price of $10,250,000. Jason Koch of Nexus represented the Seller, Parpas LLC & 2800 Larimer LLC, Austin Smith of Nexus represented the buyer, Meadows Pointe, LLC & Brookside Investment Group LLC.
The properties, situated a block away from each other, are located at 215-233 E Arvada St and 319-321 E Brookside St. Combined the properties contain 112 units, all of which are 1 bed/1 bath units that average about 545 SF. The properties have been renovated over the past year including unit updates, new boilers and new roofs.
The buildings are located just south of the intersection of Interstate 25 and Nevada Ave in Colorado Springs. They are situated just a few blocks away from the S Nevada and Ivywild Redevelopment Area. There is room for rent growth currently and as the surrounding neighborhood continues to redevelop.
The buyer plans to improve the building vastly for the tenants and create a much more efficient apartment complex. The plan is to replace all windows, install LED lighting throughout, and energy efficient appliances to help the property run more efficiently. The units will continue to be renovated to continue to improve the tenant base and increase rental rates.
---
About Nexus Commercial Realty, LLC
Nexus is a full-service firm for the multifamily commercial real estate industry in Denver. Our firm specializes in acquisitions, dispositions, seller rep, buyer rep, and advisory services. We provide high caliber services to owners and investors delivered with the focused attention only a privately-owned firm can offer. After operating successfully for over 25 years, our Colorado roots are deep because our market experience in commercial real estate is firsthand. This positions us to help clients reach their business and financial goals while ensuring their best interests are always protected. As a team, we might not appear as your typical brokerage – and that's by design. Even though we've been in the industry for more than two decades, we are as enthusiastic, energetic and collaborative as when we first started. At Nexus, there is no internal competition because our purpose is aligned. This reduces internal competition and makes us more productive on a per broker/agent basis. We love coming to work every day because we love helping our clients achieve their goals. You might find us in jeans instead of slacks, outside meeting people instead of in our office. We do things differently because we are different.