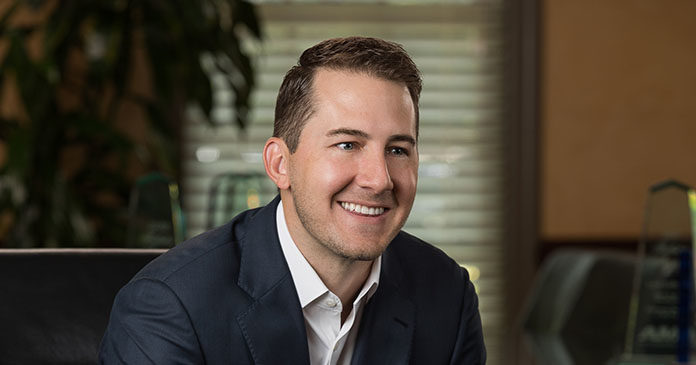 Valley-based multifamily investment firm Mark-Taylor has named Chris Brozina its new Chief Executive Officer effective immediately. Brozina was most recently the executive vice president of Mark-Taylor Companies, which has ranked as the largest commercial developer, number one property manager, and top multifamily developer in Arizona consistently over the last eight years.
"Chris has become an expert in the greater Phoenix multifamily market," shared Mark-Taylor Chairmen Scott Taylor and Jeff Mark in an announcement today to its more than 500 team members. "Over the past eight years he combined that expertise with our core business values and has been instrumental in our development of 6,150 units during that time. He has also successfully reshaped Mark-Taylor's management company growth strategy and positioned us for a bright future."
In his new role, Brozina will oversee Mark-Taylor Residential—which has more than 17,000 luxury apartment units in Arizona and Nevada—Mark-Taylor Capital, Mark-Taylor Inc., Mark-Taylor Development and Mark-Taylor Collections. The past two years Mark-Taylor has significantly expanded its portfolio, growing from 9,800 to 17,000 units under management.
"I am humbled to lead this company and am very fortunate to be surrounded by an incredible team," said Chris Brozina. "Every day, we are committed to improving our knowledge of the apartment business and operating the properties that have been entrusted to us with more precision than ever before. Our team members will be focused on one thing above all else- setting the highest operating standard in the industry and holding ourselves accountable to maintain that distinction."
Prior to 2011, Brozina was a broker with CBRE in Phoenix, AZ and transacted more than $1.59 billion in investment sales over a four-year span. In 2011, he joined Mark-Taylor to assist in coordinating the company's day-to-day development activities, including overall investment strategy, joint-venture structuring, securing construction and long-term project financing, and managing site acquisition and entitlement activities. During this time, Mark-Taylor completed more than $1 billion in new development and $100 million in new site acquisition.
Taylor added, "We are confident in his ability to effectively lead and successfully execute on his expanding responsibilities and look forward to Mark-Taylor's future with Chris at the helm."