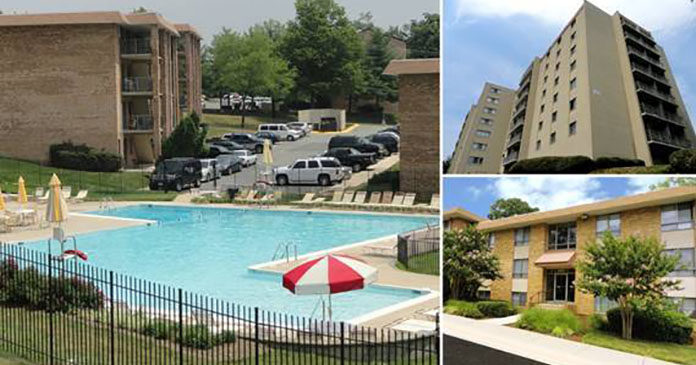 The Donaldson Group (TDG) of Rockville, MD, Declaration Capital of New York City, and a fund managed by DRA Advisors have acquired Montgomery White Oak Apartments, a 592-unit garden-style apartment community located in Silver Spring, MD. The acquisition price was approximately $86.75 million. The partnership plans to invest additional capital to renovate the property.
Maxi Thiels Leachman and David Webb of CBRE Capital Markets assisted the partnership in obtaining acquisition financing from Freddie Mac under the Green Advantage program. The seller, Joncon Venture, LLP, was represented by Bill Roohan, Mike Muldowney, Brian Margerum and Martha Hastings of CBRE's Baltimore-based investment sales group.
Situated on approximately 28 acres, Montgomery White Oak is located in Montgomery County adjacent to the White Oak Federal Research Campus, home to the US Food and Drug Administration (FDA) headquarters and the US Army Research Laboratory. It is less than one mile from the planned Viva White Oak, a $3 billion 12 million square foot mixed-use transit-oriented village focused on life sciences research and employment. The property has direct access to US 29 (Columbia Pike) and is a short distance from I-495, the Intercounty Connector, and I-95.
The focal point of the partnership's business plan is a renovation program to replace the original outdated central heating and cooling plant with individual high-efficiency heat pumps installed in each apartment, generating significant savings in utility consumption and cost.
"Montgomery White Oak is a well-located, well-constructed apartment community in a strong rental market," said Carlton Einsel, Chief Executive Officer, The Donaldson Group. "We are extremely pleased to have executed this transaction with our partners at DRA Advisors and Declaration Capital, and we will continue to seek similar opportunities."
---
About The Donaldson Group
The Donaldson Group, LLC is a full-service real estate management and investment company located in Rockville, MD. Over the last 15 years, TDG and its affiliate, TDG Capital Partners, LLC have advised clients on acquisitions of over $1.75 billion in multifamily real estate investments comprising approximately 18,000 units, taken over management of over 30,000 multifamily units, advised clients in disposing of over $1.25 billion in multifamily real estate investments totaling approximately 16,000 units, recapitalized approximately 5,000 units valued at over $350 million, and managed over $350 million in construction/renovation work.
Declaration Capital
Declaration Capital is the New York-based family office of David M. Rubenstein, the Co-Founder and Co-Executive Chairman of The Carlyle Group. Declaration Capital focuses on venture, growth, real estate, and family-owned investments.
DRA Advisors
DRA Advisors is a New York-based registered investment advisor specializing in real estate investment management services for institutional and private investors, including pension funds, university endowments, foundations, and insurance companies. Since DRA was founded in 1986, the firm has acquired over $28 billion in assets, including 62,000 residential units, 45 million square feet of industrial properties, 43 million square feet of office space, and 65 million square feet of retail space.