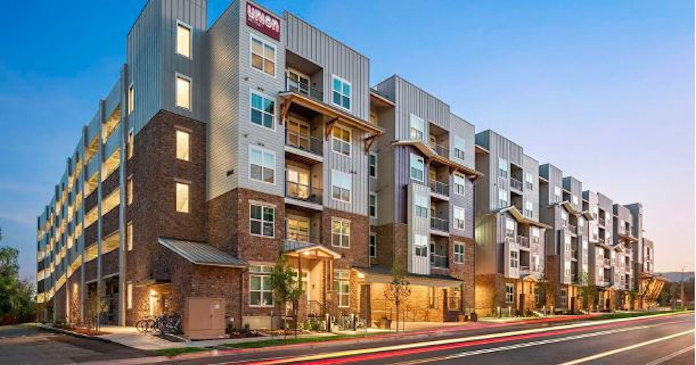 Last week, Humphreys and Partners, Architects (H&P) held their kick-off webinar for 2019. It included presentations on the state of the market by Doug Bibby of NMHC and Carl Whitaker of RealPage. It also included presentations on trends in student and multifamily housing design by Greg Faulkner, Walter Hughes and Megan Dimmer of H&P, which are the focus of this report.
Oh, brave new world that has such housing it
First a caveat: the target demographic for most of H&P's student housing projects is the top 10 to 20 percent of students by income.
The H&P housing world is largely single occupancy rooms with dedicated baths. However, a recent trend is for smaller units with double occupancy and a shared bath. On the other hand, project amenities are growing larger with more communal spaces including "We Work" style study areas, digital fitness/aerobics centers and roof-top pools.
Another trend is for projects to take more time to complete than in the past with both the time required to get project approvals and the time required to design and build them becoming longer. The longer build time is attributed to construction labor shortages. The property sites available for development are smaller than in the past and the product being built is more vertical, if not quite high-rise.
Leading edge multifamily design trends
Smart home features are becoming an expected feature of housing, especially for millennials. These include smart speakers like Alexa or Google Home, smart thermostats, smoke detectors and cameras. However, the top smart feature is smart door locks. Also high on the list are smart lockers, high efficiency appliances and smart bathrooms, including bathtubs which can be remotely instructed to fill at a specified temperature to a specified level.
Fitness centers are in demand although they need to be designed with separate areas for cardio training and for classes such as yoga. H&P states that a focus on resident wellness can result in both faster project approvals and better resident retention rates.
Taking pets into consideration has become more important in multifamily housing design given that 75 percent of Americans in their 30's and 40 percent of the overall population now have a pet. Both pet focused amenities and events should be considered if your community wishes to appeal to these potential residents.
Other types of spaces which should be considered for new projects include rooftop gardens or terraces, which are popular both with residents and with cities, and co-working spaces. The latter are expected be become more important as more people work from home at least part of the time.
Shifting consumer preferences
Also important is "sustainable" design, which is being driven both by changes to building codes and by consumer preferences. Surveys show that 60 percent of residents say they would pay more to live in a sustainably designed building. Sustainability may include green walls, dynamic glass and rooftop gardens as well as the use of cutting-edge materials such as un-fired brick and self-healing concrete.
The changing transportation landscape should also be considered when making design plans. Cars are becoming less desirable as services such as Uber and Lyft grow and "micro-mobility" options such as electric dockless scooters and autonomous vehicles expand. When planning a parking garage today, the floor-to-floor height should be set so that the structure could be converted to commercial space later if the parking space is no longer needed. Multifamily housing design should also consider the possibility of driverless or drone deliveries of packages and provide drop off areas for Uber or Lyft.
There was much more to the presentation than can be summarized here, including a discussion of building costs by building type and region. The full presentation can be viewed here.