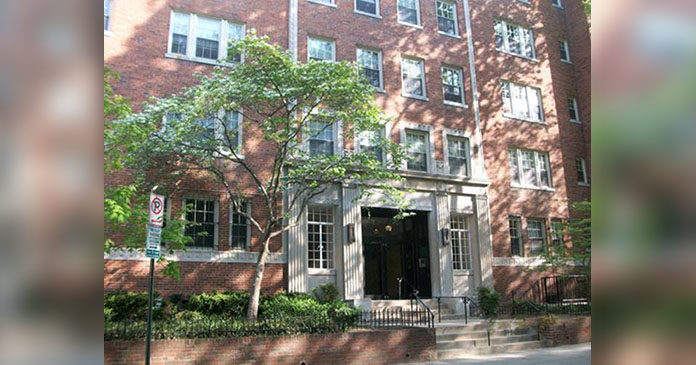 A venture led by Urban Investment Partners (UIP) of Washington, DC has acquired the Policy, a 62-unit apartment building located at 1921 Kalorama Road, NW in one of the city's most historic and distinctive neighborhoods. The venture closed on the acquisition for $22 million after the Policy's tenant association selected UIP to acquire and manage the building.
Starting in the first quarter of 2019, UIP will make modest improvements to the building's common areas and individual apartments. UIP Property Management, Inc. has taken over the building's day-to-day management.
This is the second time UIP has owned this storied residence. After acquiring the building in 2009 and performing a major gut renovation, UIP sold the asset in 2014. The Policy is one of dozens of Depression-era buildings that UIP has renovated in many DC neighborhoods. The company owns and manages two other apartment buildings nearby: 1940 Biltmore Street and 1841 ColumbiaRoad.
"The Policy is yet another example of UIP's ability to deliver on our promises to tenant associations all over DC," remarked Pete Bonnell, UIP Principal. "We are excited to be welcomed back to a building that we fully renovated in 2010 – a building that still looks great while providing rent-controlled housing to its residents. We look forward to working once again with many old friends and the Policy's tenant association."
Located just off Columbia Road at the intersection of 20th Street and Kalorama Road, the Policy is just a short stroll from the heart of Adams Morgan, a lively entertainment destination with numerous dining and entertainment options, including three new chef-driven restaurants at The Line Hotel: A Rake's Progress, Brothers and Sisters, and Spoken English. The Policy's residents also have easy access to a wide range of shopping, dining, recreational, and transportation options in the nearby Georgetown, DuPont Circle, and Woodley Park neighborhoods.
The Policy's individual studio, one-bedroom, and two-bedroom apartments boast spacious historic floor plans, tall ceilings, and original heart pine floors. At the same time, residents enjoy modern amenities that were installed during the renovation, including electrical, plumbing, and HVAC systems, efficient windows, and Class A finishes.
---
About Urban Investment Partners
The UIP family of companies owns and manages more than 2,800 apartments in Washington, DC and its Maryland suburbs. This portfolio comprises over $800 million in assets under management. Over the last ten years, UIP has renovated, restored, and built more than 25 downtown apartment buildings and condominiums. UIP's specialties include "heavy lift" renovations of Depression-era apartment buildings, adaptive reuse of office and other buildings, and working with tenants in Washington, DC to help them exercise their TOPA (Tenant Opportunity to Purchase Act) rights. UIP also is active in entitling land and infill development.