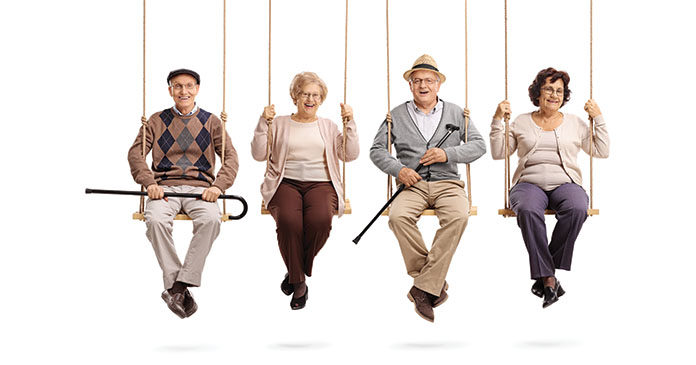 While there are some promising signs, such as a slowdown in new construction starts, there are also no clear indications that industry headwinds will abate much in the next 12 months. Yet, the new year should also bring a sense of promise. In many ways, it's an exciting time for senior living, especially for companies that can weather near-term challenges and seize opportunities while the competition struggles.
One thing is certain: Leaders across the sector will be busy reading the tea leaves this year, trying to gain insight into where the industry is heading as major shifts take hold in terms of payment, technology, consumer expectations and in other areas.
Here are the top eight trends we've got our eye on heading into the new year:
Medicare Advantage creates pivot
One year ago, we shared a prediction from Lynne Katzmann, president of Juniper Communities, who said that Medicare Advantage (MA) should quickly start to cover some services provided in senior living.
That came to pass last April when the Centers for Medicare & Medicaid Services (CMS) announced that MA plans would be allowed to cover non-skilled, in-home care starting in 2019. This policy change opened up the possibility that senior living providers might start to be reimbursed by MA for certain services that residents have typically paid for out of pocket.
In the last few months, senior living companies have been analyzing the scope and scale of the MA opportunity. A few providers are formulating or already executing on business strategies with MA as a tentpole. These companies include some—such as Erickson Living and Sunrise Senior Living—that have launched their own MA plans. The idea is to provide wrap-around services to residents, administering their insurance benefits along with providing their housing and managing their care in line with their lifestyle goals.
This should theoretically extend length of stay, as residents stay healthy longer and spend down their own assets more slowly. It should also make senior living a more attractive partner to health care organizations such as hospital systems, which under new payment models are incentivized to keep their patient populations out of the emergency room and other high-cost inpatient settings. Already, Sunrise is seeing a spike in referrals from physicians, which CEO Chris Winkle credits to its MA plan.
In 2019, more senior living providers will certainly get in the MA game by launching their own plans; look for Juniper to be a leader in this. Senior living providers will also start to work more closely with the private insurance companies that offer Medicare Advantage plans. Two of these—Anthem and SCAN—have already indicated their willingness to do more business with senior living. Don't be surprised if an MA insurer even acquires a senior living provider outright.
But Medicare Advantage is changing the industry in a variety of other ways as well. Take Aetna, for instance, which has started to offer a senior living referral service as an MA benefit. In 2019 and beyond, MA will change how business is done in ways large and small, and the senior housing model of the future will start to emerge as a result.
Big M&A deals make a comeback
Following years of blockbuster deals driven by real estate investment trusts' appetite for senior housing, the market cooled somewhat, with large deals becoming rarer. That trend could reverse in 2019. Troubled operators might be sold off in whole company sales or large portfolio transactions, REITs could come off the sidelines after having restructured their portfolios in 2018, and private equity will continue to make splashy deals.
Brookdale Senior Living, for instance, has disposed of 104 communities through sales and lease terminations over the past year in a push to trim 20 percent from its overall portfolio by 2021. And Welltower in December announced $1 billion in new off-market investments, involving 11 separate off-market senior housing and medical office transactions.
At the same time, there may be some hints in the market today about the next big deal on the horizon. Rumors have circulated that Capital Senior Living has been exploring strategic alternatives and might be entertaining interest from potential private equity buyers. The company's amount of leverage arguably could be a stumbling block to a private equity deal, but with an activist shareholder in the wings and no CEO yet named to replace Larry Cohen, the provider is under pressure and in flux.
Five Star Senior Living has encountered heavy operational and financial turbulence in the past few quarters and recently had its line of credit cut. Leadership is still considering a bevy of options going forward—including possibly selling off some communities. While it's not clear exactly what is in store, the appointment of new CEO Katherine Potter and departure of former COO Scott Herzig has prompted speculation that the company is ready to head in a radical new direction.
Staffing: Race to the bottom must end
An ongoing caregiver shortage has been exacerbated over the past year by brutally competitive labor markets, and senior living providers will continue to face enormous pressure to recruit and retain workers—without busting their budgets—in 2019. With the staffing dilemma growing ever more severe, it will become clear that providers need a shift in mindset when it comes to workforce.
Currently, too many providers are running a race to the bottom, competing against their local fast food joints, car washes and retailers for unskilled labor. This is driving wages up to unsustainable levels, while churn continues to create turnover-related costs and operational headaches. Savvy providers will begin to elevate themselves to get out of this race by becoming more prestigious and demanding places to work than the local burger joint or clothing store. Providers can and must hold their workers to higher standards and offer them professional development to be best-in-class; receptionists should feel like four-star hotel concierges, culinary staff should take their cues from fine dining, IT pros should feel their skills utilized to the utmost.
A job in senior living should not be seen as the equivalent of folding sweaters and working the register for a few hours. Instead, like a job at The Apple Store, senior living jobs should be sought-after positions for those who have talent and drive, those with passion for service, and those who want an exciting and engaging workplace culture. It's up to providers to create that culture and effectively market themselves to attract this talent.
The battle for younger seniors
Senior housing occupancy fell to eight-year lows last year. While experts express confidence those rates will reverse course as construction starts shrink, competition for younger boomer rents is ramping up in a big way. That could spell trouble for more traditional independent living options.
New active adult concepts such as Margaritaville are creating new types of retirement options for boomers who are turned off by the notion of senior living. Margaritaville is only one example of the evolving market for the younger retiree demographic. Look to Atria Senior Living's joint venture with Related Companies; the duo plans to bring a new brand to market building up to $3 billion in luxury senior housing in major metros. These developments have the potential to lower occupancy rates at more typical independent/assisted living communities.
Another trend that can fragment the senior housing market is overall multifamily development. With most seniors living longer, healthier lives, they are delaying entering independent living and opting instead to move to newer apartment developments with an intergenerational mix of renters. Smart home tech, on-demand services available through a few taps on the phone, and home care aides can combine to enable conventional apartment living for longer periods of time. Until developers address these challenges, the market will only become more fragmented.
Plaudits help the industry gain cred but create white noise
The senior housing industry is gaining increasing validation in the form of independent, third-party plaudits. These include honors bestowed for the first time in recent years by J.D. Power and Glassdoor, as well as the Great Places to Work in Aging Services list, published in Fortune for the first time in 2018. As the industry grows and the population ages, anticipate this trend to continue, with other organizations starting to evaluate and recognize top providers. At the same time, there are more honors, certifications and endorsements being created within the industry itself, from associations, online referral platforms and other types of organizations.
This is to the good, insofar as these recognitions incentivize providers to up their game, raise the profile of senior housing among the public at large, and even reassure regulators that senior living is committed to quality. But in the short-term, anticipate a degree of white noise, as providers eagerly publicize all the badges of honor they amass, making it hard for consumers to know which endorsements are the most meaningful.
Marketing gets real and data-driven
Some operators are struggling to market to the boomers who will soon be in need of senior housing, and their adult children helping them make informed decisions. What operators need to do is spend less time commissioning surveys reporting on the quirks and habits of boomers and millennials, and more time using the data on hand to attract residents.
Boomers and, more importantly, their Gen X children, want to make informed senior housing decisions. Word of mouth reviews—letting residents tell their own stories—will be the foundation for a shift in marketing senior housing communities. Operators need to leverage social media more effectively to tell those stories, promote positive news items about their communities, and address negative reviews. Doing this will allow savvy operators to gain a better foothold in their markets.
Providers can't overlook the importance of health care data, either. Senior living companies are gathering more and more data on their hospital readmission rates, prevalence of falls and other health-related information, as they move into the world of Medicare Advantage and seek greater integration with the overall health care system. Consumers will demand knowing this information as well, noted Andrew Carle, founding director of George Mason University's senior housing program.
"Consumers are going to be doing their homework, and they're more interested in whether you'll keep their mom out of the hospital than if you have a chandelier or baby grand piano," Carle said.
The parking lot as a symbol
It wasn't long ago that senior living communities had plenty of land on which to build sprawling parking lots, and residents or their families would simply park their cars out front. But as more senior housing springs up on high-density urban and suburban plots of land, designers and architects are having to do more with less when it comes to transportation and parking. More communities across the U.S. are opening with parking garages—either above-ground or underground—that can accommodate multiple parking spaces in a smaller footprint. But these spaces may not stay parking garages forever, David Dillard, principal at D2 Architecture said.
"You will need the cars in 2019, but you might not need the cars in 2029," Dillard said. "So design the parking garage to have as much flat floor as possible, as much floor-to-floor clearance as possible."
In the future, some former parking garages might be converted into mixed-used or residential buildings, he added.
At the same time, senior living providers are continuing to beef up their relationships with transportation providers like Uber and Lyft. And more companies are taking public transportation into account when choosing a site for development.
Undercapitalized providers will face a day of reckoning
Now that senior housing is considered an institutional-grade asset class, the market is becoming fragmented into haves and have-nots, and the latter are finding themselves undercapitalized and scrambling for financing to cover basic operating expenses and capital expenditures on their properties. Occupancy rates are lagging and impacting the ability to raise rates. Financing costs are rising, and there is a growing imbalance in the capital markets with more equity than debt. Net operating income is no longer enough for these operators to get by, the margins are tightening and maintenance is deferred.
Compounding these pressures is a tight labor market impacted by record low unemployment. Undercapitalized operators are struggling to fill job openings more than the well-run providers.
The economy runs in cycles and this current recovery has been one of the steadiest in the country's history. But the predicted downturn in 2020 could force undercapitalized providers to make a harsh choice: search for financing from sources with terms that would have been unpalatable a few years ago, or fold.
Excerpt Tim Mullaney, Tim Regan and Chuck Sudo, Senior Housing News