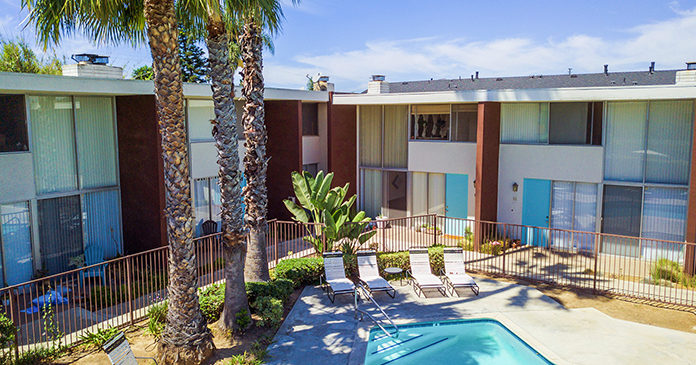 19@18th, a 19-unit apartment building in Costa Mesa, California, has sold for $7,200,000. The seller, 18th Street Partners, a local private investment group, was represented in the transaction by Kidder Mathews' multifamily investment brokers, Steven Brombal and Josh Rhee. The buyer was Jim Colombo, a private investor.
The apartment building is located at 145 East 18th Street, situated on a 30,000 square foot lot. The buyer is planning significant renovations to the property including air-conditioning, granite counter tops, replacement of roofs, resurfacing of large exterior decks, and kitchen and bath upgrades.
"We are experiencing a changing real estate market with more price reductions and expired listings. With that said, savvy investors are still clamoring for opportunities in prime locations with proper underwriting and real attainable rental upside," said Brombal. "It is difficult to find assets of this size in the Eastside Costa Mesa submarket where there is true attainable rental lift with renovations," he said.
"Directly across the street from 19@18, a brand-new 2,300 square-foot detached residence, situated on a 4,130 square-foot lot recently sold for $1,340,000 which underscores the land value alone in this transaction," said Rhee. "Through our marketing efforts and relationships with outside brokers, we were able to procure a buyer within the initial marketing stages," he said.
This is the fourth time in 31 years Brombal has listed and sold this property.
---
About Kidder Mathews
Kidder Mathews is the largest independently owned commercial real estate firm on the West Coast, with over 750 real estate professionals and staff in 21 offices in Washington, Oregon, California, Nevada, and Arizona. Kidder Mathews offers a complete range of brokerage, appraisal, property management, consulting, project & construction management, and debt & equity finance services for all property types. The firm performs $9 billion in transactions, manages over 50 million square feet of space, and conducts over 1,600 appraisals annually. For more information, visit kiddermathews.com.