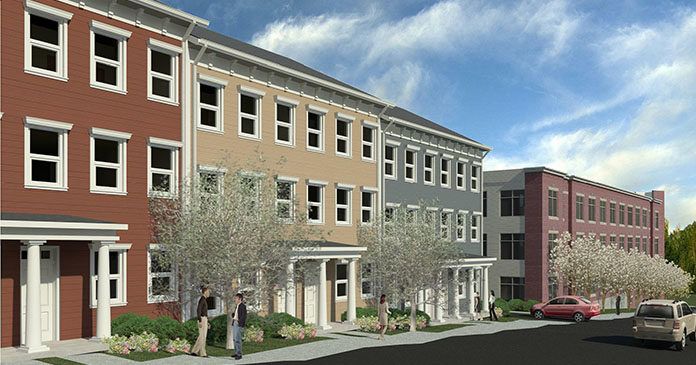 Construction has started on a brand new rental community being developed at 11 Crown Street on the site of the former Meriden Record Journal building, following a successful financial closing by the developer, The Michaels Organization.
The new transit-oriented development will offer 81 apartment homes in three buildings, two of which will be garden-style low-rises and the other a mid-rise. The community is being designed to serve Meriden families with a broad mix of incomes and will include both affordable and market-rate units.
"We are grateful for the city's support of this development, which is an important part of the overall transformation of downtown Meriden," said Andrew Davenport, Vice President of Development at Michaels.
The energy-efficient design of the community, which will be "Passive House" certified, will have a smaller carbon footprint than traditional developments, which should result in lower overall utility bills for the residents. Apartments will be available in one-, two-, and three-bedroom styles. Amenities will include a community center.
Of the 81 apartment homes at 11 Crown Street, 17 will be offered at market rents, while the rest will be reserved for families earning less than 60 percent of the area median income. The affordable apartments will also include 17 units reserved for the formerly homeless. Targeted supportive services for these special needs families will be provided by the local non-profit organization, Columbus House, and will include health screenings and financial literacy and children's programs.
Financing for the $31.5 million development includes $17.6 million in private equity raised from the sale of federal and state low income housing tax credits allocated by the Connecticut Housing Finance Agency, $6 million in Connecticut Department of Housing funding, and $750,000 in affordable housing program funds from the Federal Home Loan Bank of Boston. Webster Bank, which invested in the tax credits through National Equity Fund, is providing both the construction loan and permanent mortgage financing. Webster Bank was also the sponsor for the Federal Home Loan Bank funds.
"Webster is proud to be the lead bank for this project, which will positively affect so many in the community," said Robin Gallagher, SVP, Commercial Real Estate, Webster Bank. "There is high demand for affordable rental housing options and we're pleased to be a key partner in getting 11 Crown St. developed."
Other members of the development team include the architect, Kenneth Boroson Architects and the general contractor, Haynes Construction. Michaels will provide property management services, ensuring that the development remains a neighborhood asset for years to come. A groundbreaking ceremony is being planned for later this spring.
---
About The Michaels Organization
Michaels is a national leader in residential real estate offering full-service capabilities in development, property management, construction, and finance. Serving 145,000 residents in more than 400 communities nationwide, Michaels is committed to crafting housing solutions that jumpstart education, civic engagement, and neighborhood prosperity and to creating Communities That Lift Lives.