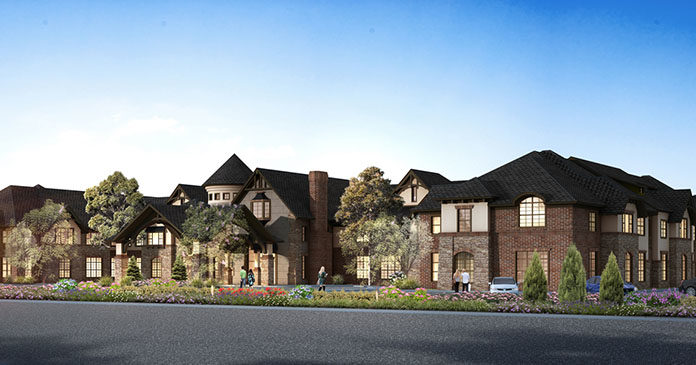 Pathway to Living, a Chicago-based developer, owner and operator of senior living communities, today announced the start of pre-leasing at Heartis Village of Brookfield, a 104-unit assisted living and memory support community in Brookfield, Wis. Situated on 10 acres at 16100 W. Greenfield Ave., about 12 miles west of Milwaukee, the community is scheduled to open in September 2019.
"Pathway to Living continues to increase its footprint in the Milwaukee area with the start of leasing at our newest community, Heartis Village of Brookfield," said Maria Oliva, chief operating officer at Pathway to Living, which will operate the community on behalf of its developer, Caddis Healthcare Real Estate. "This marks our fourth community in Wisconsin, so we have a vested interest here and are very proud to be part of the team that is expanding housing options for local seniors in search of the rich programming and quality care that each Pathway community provides.
"As work on Heartis Village of Brookfield continues, we are preparing to welcome the first residents to Heartis Village North Shore, located along the Milwaukee River in Glendale," continued Oliva. "In serving different parts of the metro, these communities allow seniors to stay closer to family and friends while enjoying nearby amenities ranging from retail and restaurants to green spaces that serve as an extension of our own wellness offerings."
Heartis Village of Brookfield, which is licensed as a Community-Based Residential Facility (CBRF), will offer well-appointed, apartment-style assisted living units and a thoughtfully designed memory support neighborhood. The 70 assisted living apartments, which range in size from 351 to 917 square feet, include a mix of studio, one-bedroom/one-bath and two-bedroom/two-bath layouts, each with a kitchenette. In addition, there will be 34 ground-level memory support studios ranging in size from 293 to 306 feet.
As part of the new development, Caddis Healthcare gifted 2.9 acres of land from the original 9.7-acre site to the city of Brookfield to support the development of a public park.
Heartis Village of Brookfield residents also will enjoy a host of on-site amenities and services. For assisted living residents, these include: two restaurants – the Grove Dining Room and Bistro West; entertainment spaces including the Ruby Isle Theatre; and the Sundara Salon and Spa. Other offerings include the Willaura Library, a demonstration kitchen, exercise and therapy gym, community room and two outdoor courtyards with walking paths.
Memory support residents will enjoy their own suite of amenities, including a country kitchen and dining room; sun room; salon; four seasons garden; living rooms, which are homelike spaces where they can relax, socialize and host guests; and a secure outdoor courtyard with a walking path and raised garden beds.
Residents of the memory support neighborhood also benefit from A Knew Day, Pathway to Living's signature program that is proven to provide rehabilitation for the brain – a process called rementia – helping seniors with memory impairment become more engaged and communicative.
Other enriching programs for residents include Pathway to Living's award-winning VIVA! philosophy, where social, educational and recreational programs are matched with residents' interests, skills and desires. For example, ArtPATH teaches techniques used by famed artists, sculptors and curators while Lifelong Learning classes offer educational opportunities. Residents also will have opportunities to participate in field trips and adventures organized by Pathway to Living, such as visits to art galleries and museums as well as overnight camping trips.
"At each of our communities, we hear from families who say the programming and personalized care have dramatically improved their loved ones' quality of life," said Oliva. "Through these experiences, many of our residents are enjoying activities that they haven't been able to for decades – or they are trying something new and exciting for the very first time."
Pathway's signature programming, including VIVA! and A Knew Day, also will be offered to residents of Heartis Village North Shore, a 105-unit community in Glendale – about 6 miles north of downtown Milwaukee – that is scheduled to open this month. Located at 100 W. River Woods Parkway, it is situated on a 12-acre site that offers picturesque views of the adjacent Milwaukee River.
In total, Heartis Village North Shore will offer 71 assisted living units ¾ including a mix of studio, one-bedroom/one-bath and two-bedroom/two-bath layouts, each with a kitchenette ¾ and a memory support neighborhood with 34 ground-level memory support studios. Like Heartis Village of Brookfield, the community will offer a variety of on-site amenities designed to promote wellness, independence and socialization.
"We've seen enormous interest from residents in the Milwaukee area so far, and our first residents will be moving into their new residences in a few weeks, which will really bring the North Shore community to life," said Oliva. "Prospective residents will be able to tour a decorated model apartment, along with getting a firsthand look at our wonderful amenities and common spaces."
Heartis Village of Brookfield is the fourth Heartis-owned community to be managed by Pathway to Living. In addition to Heartis Village North Shore, the company also manages Heartis Village of Peoria, a 108-unit assisted living and memory support community in Peoria, Ill., that opened in 2016, and Heartis Village of Orland Park, a 96-unit assisted living and memory support community that opened in Orland Park, Ill., in 2018.
A welcome center showcasing Heartis Village of Brookfield's finishes, services and amenities is open seven days a week from 9 a.m. to 5 p.m. at 16960 W. Greenfield Ave. in Brookfield – about a half-mile west of the community. Team members available to answer questions and provide information on the new community include Executive Director Christine Denton and Lifestyle Specialist Valerie Neely.
Pathway to Living is offering a Club Thirty membership for the first 30 residents who place a deposit on an apartment at Heartis Village of Brookfield. Members will receive the first month free, a $500 credit for each of months two through five of residency, and a moving credit up to $500. Other benefits include one free guest meal per month for the first year, a housewarming party for up to 10 guests and an annual birthday dinner for up to 10 guests with food prepared by the community's on-site chef.
---
About Pathway to Living
Founded in 1997, Pathway to Living (formerly Pathway Senior Living) is a Chicago-based developer, owner and operator of senior housing communities. The company's $436 million portfolio includes a wide range of community types – senior apartment, independent living, assisted living and memory support – spanning 31 owned or managed properties with more than 2,900 units in Illinois, Michigan, Minnesota and Wisconsin. Pathway to Living implements best practices to deliver person-centered care while maximizing returns on behalf of investors and third-party owners. Since its inception, the company has managed $480 million in total investments.