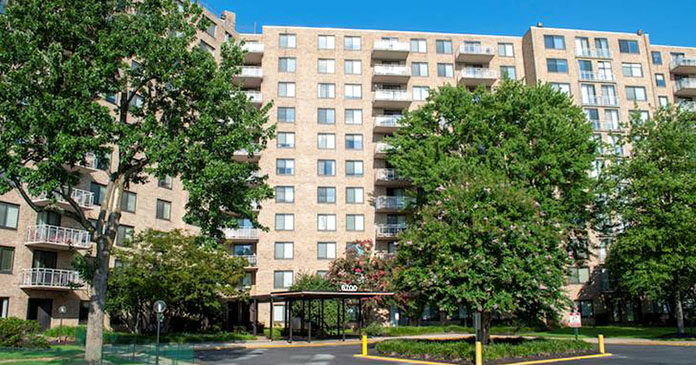 In an off-market transaction, The Donaldson Group of Rockville, MD, New York-based Declaration Capital, and New York-based Angelo, Gordon have acquired Plaza Towers Apartments, a 288-unit high rise apartment community located in Hyattsville, Maryland. The partnership acquired the property for approximately $42.6 million and plans to invest additional capital for property improvements.
Situated on approximately 6.6 acres at 6700 Belcrest Road, Plaza Towers is located within walking distance of both the Prince George's Plaza Metro Station and The Mall at Prince George's. It is within minutes of two new mixed-use developments: the $2 billion, 150-acre research-focused Discovery District, and Riverdale Park Station, a 1.4 million square foot town center anchored by Whole Foods. Also nearby is the University of Maryland's flagship College Park campus, the largest university in the Washington metropolitan area and a major employment center.
The partnership will invest much-needed capital to enhance and modernize the community. Capital improvements will include a leasing center, upgraded common areas, exterior building improvements, and new tenant amenities. Efficient property management by Donaldson will reduce operating expenses and improve customer service.  Work is expected to begin by late spring.
"We are pleased to complete another successful acquisition with our partners at Angelo Gordon and Declaration Capital," said Carlton Einsel, Chief Executive Officer, The Donaldson Group.  "We made an all-cash offer in conjunction with an accelerated settlement period, thereby meeting the seller's closing timeframe."
"Plaza Towers is a well-built apartment community in a fantastic location," said John Majeski, Senior Vice President, The Donaldson Group.  "We believe in this growing Hyattsville market and plan to continue investing in quality rental communities in the Washington, DC area."
---
About The Donaldson Group
The Donaldson Group, LLC is a full-service real estate management and investment company located in Rockville, MD. Over the last 15 years, TDG and its affiliate, TDG Capital Partners, LLC have advised clients on acquisitions of over $1.75 billion in multifamily real estate investments comprising approximately 18,000 units, taken over management of over 30,000 multifamily units, advised clients in disposing of over $1.25 billion in multifamily real estate investments totaling approximately 16,000 units, recapitalized approximately 5,000 units valued at over $350 million, and managed over $350 million in construction/renovation work.
About Declaration Capital
Declaration Capital is the family office of David M. Rubenstein, the Co-Founder and Co-Executive Chairman of The Carlyle Group. Declaration Capital focuses on venture, growth, real estate, and family-owned investments.
About Angelo, Gordon & Co.
Angelo, Gordon & Co., L.P. is a privately held limited partnership founded in November 1988. The firm currently manages approximately $32 billion with a primary focus on credit and real estate strategies. Angelo, Gordon has over 480 employees, including more than 190 investment professionals, and is headquartered in New York, with offices across the US, Europe and Asia.