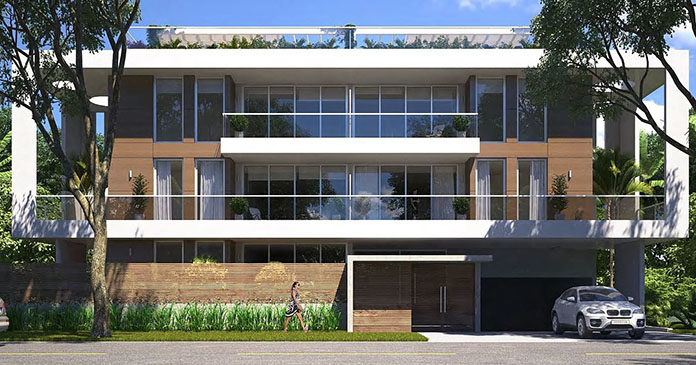 Aztec Group, Inc., Florida's leading real estate investment and merchant banking firm for the past 37 years, announces that Jason Shapiro, Managing Director; Charles Penan, Executive Vice President; and Brell Tarich, Director; have secured a $5,750,000 loan for the refinancing of GroveHaus Luxury Residences. GroveHaus is a high-end rental property that is comprised of three stories and 10 unique rental apartments located in the heart of Coconut Grove, FL at 3265 Bird Avenue.
Aztec Group negotiated the financing on behalf of the property's ownership, GroveHaus, LLC, an affiliate of Metronomic, Inc., a Miami-based developer. GroveHaus is a new construction, multifamily property that offers fully-furnished one to four-bedroom apartments ranging between 1,560-3,124 square feet. The 12-month, bridge loan will refinance the project's initial construction loan while the owner stabilizes the property.
"What sets this deal apart is that it is master-leased to a short-term rental operator, Sextant Stays, which is a Miami-based vacation rental company," said Aztec Group's Jason Shapiro. "The master lease component was very appealing to the lender because it allowed for the underwriting of immediate and constant flow of income." TCM Finance, a Miami-based private lender, provided the new senior mortgage.
GroveHaus offers spacious, sleek, and private apartment with large terraces and patio decks. Every unit is outfitted with an open concept layout, modern appliances, quartz countertops and refined interiors. Additional amenities of the property include an elegant lobby, children's play area, dog park andBBQ/outdoor dining area.
"Coconut Grove is booming right now as the neighborhood's unique blend of retail, entertainment, dining and waterfront amenities are driving ideal market fundamentals for new multifamily development," said Aztec Group's Charles Penan. "We will only continue to see more demand for forward-thinking rental concepts like GroveHaus as the neighborhood continues to evolve with major improvements underway at Cocowalk and throughout the Downtown Grove."
---
Aztec Group, Inc.
Founded in 1981, Aztec Group, Inc. specializes in facilitating the acquisition, disposition, financing and capital needs of real estate projects for institutional investors, entrepreneurs and commercial developers as well as offshore clients.  Aztec has long been recognized as the premier real estate capital markets intermediary and merchant banking firm in the Southeast, handling over $10 billion in transactions during the past decade. The company is also considered an innovator, often seeing opportunities for clients before they become apparent in the marketplace.