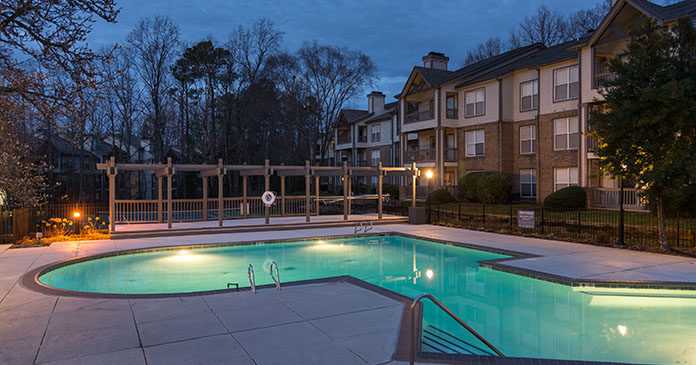 The Colliers International East Region Multifamily Advisory Group represented the seller in the sale of Hickory Creek Apartments for $45,600,000. The community was built in 1984 and includes 294 apartments.
Hickory Creek is strategically located near I-64 and I-295, Richmond's primary commuter thoroughfares providing easy access to downtown Richmond and West End employment hubs. Situated directly off W. Broad St., the community is in proximity to abundant in-demand retail and entertainment amenities. The site is also located five miles from Short Pump, Central Virginia's premier retail destination and 11 miles from downtown Richmond.
Hickory Creek has many amenities including a swimming pool with sundeck, fitness center, lighted tennis courts, pet park, and car wash area. The community offers residents fully equipped kitchens, walk-in closets, washers and dryers and wood-burning fireplaces.
Will Mathews, of the Colliers East Region Group; and Charles Wentworth, Rawles Wilcox, G.S (Hank) Hankins, Victoria Pickett and Clay Ellis, of the Colliers Mid-Atlantic Team, represented the seller, McCann Realty Partners and Artemis Real Estate Partners. The community was purchased by Capital Square Acquisitions, LLC.
"Hickory Creek received overwhelming interest from the marketplace," said Will Mathews, managing director of the East Region Multifamily Advisory Group for Colliers International. "The competitive nature of the marketing process is due to our team's diverse national relationships and superior market knowledge."
"We are very pleased to work on another successful transaction with the multifamily team at Colliers," said Whitson A. Huffman, vice president of Capital Square Acquisitions, LLC. "Their broad-reaching capabilities and top-notch team allowed us to seamlessly go from the purchase and sale agreement to close in 35 days."
---
About Colliers International Group Inc.
Colliers International is a leading global real estate services and investment management company. With operations in 68 countries, our 14,000 enterprising people work collaboratively to provide expert advice and services to maximize the value of property for real estate occupiers, owners and investors. For more than 20 years, our experienced leadership team, owning more than 40 percent of our equity, have delivered industry-leading investment returns for shareholders. In 2018, corporate revenues were $2.8 billion ($3.3 billion including affiliates), with more than $26 billion of assets under management.