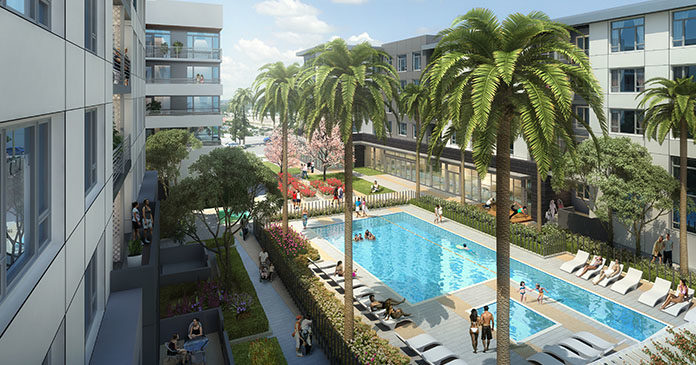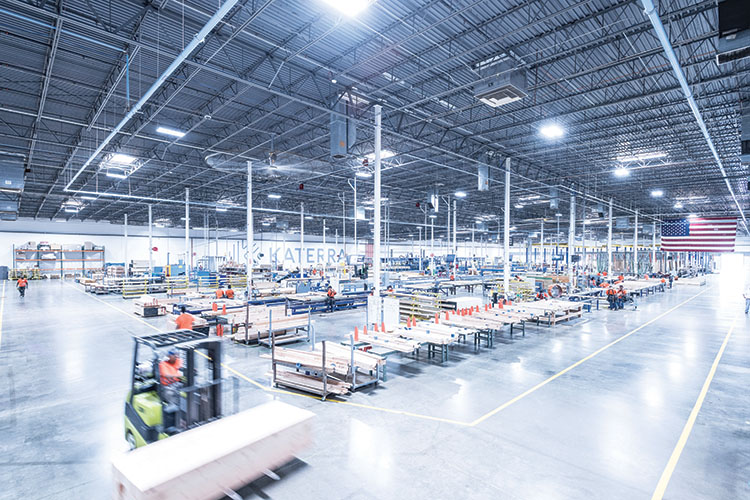 On April 8, 74 working days into construction, President, Katerra Materials Trevor Schick confirmed that the project was on schedule for completion by April 24 or sooner.
K90, located just outside Las Vegas, is showcasing some of Katerra's recently released products, including a factory-built bath kit designed to be assembled on site in less than a day by a two-person team, and an HVAC system called a KTAC that fits seamlessly within the apartment unit's wall. The bath kits are expected to cut the cost of outfitting a bathroom in half.
Bathrooms aren't the only things Katerra is constructing offsite. Much of K90 was built in Katerra's Phoenix factory that produces wall panels that include windows, plumbing and electrical wiring connections, floor and roof trusses, and cabinets and countertops that are then stacked on a truck and delivered to the development site for installation.
The design-build concept Katerra employs isn't exactly new. Offsite and modular builders in the U.S. have come and gone during the ups and downs of the real estate industry. Today, the concept has the potential to disrupt an industry that has stagnated in the same design-bid-build mold for more than 50 years.
A report on prefab building from MarketsandMarkets Research Private Ltd. suggests that the housing sector will lead the demand for offsite construction through 2023.
Companies like Chicago-based Skender, Seattle-based Blokable and Factory OS in Vallejo, Calif., are capitalizing on the trend with factory-built pods that are delivered to building sites and lowered onto pads by cranes or stacked like building blocks to create apartment buildings.
Like Katerra, these companies overcome industry fragmentation by combining architects, engineers, contractors and subcontractors and in some cases the supply chain into one vertically integrated design-build system.
Unlike its competitors, Katerra doesn't consider itself a modular builder. Instead, it refers to itself as a tech company using tested systems approaches to bring greater efficiency to building design and construction, including panelized construction where building components are fabricated in the factory and shipped to the jobsite for final assembly.
"Originally, Katerra was to be a materials company," said Schick, explaining that the idea began when co-founder and multifamily developer Fritz Wolff sought to arrest the negative productivity gains inherent in the cyclical real estate construction market.
He tasked co-founder and CEO Michael Marks, who spent 13 years as CEO then chairman at contract manufacturer Flextronics, building it into one of the largest technology companies in the world, with turning construction into an industrial process.
"The idea was to aggregate demand for building materials, be they lumber, roofing or concrete, go direct to the manufacturer for the sinks, toilets and bathroom fixtures, and run our own logistics at a lower cost," said Schick.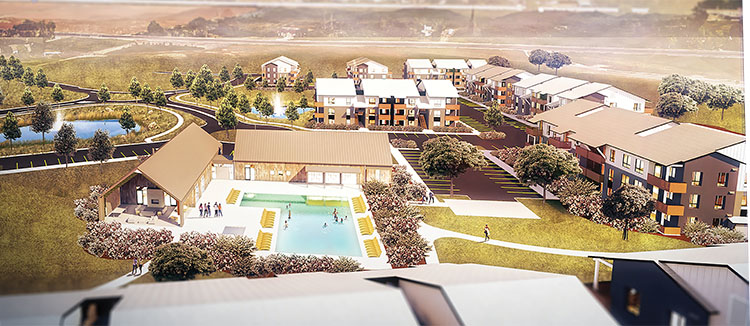 "What happened next is that we asked the subcontractors to buy materials from Katerra to build into our projects. But they work on a cost-plus model, so theoretically, if I sell them materials for less, their revenue is down, profit is down and they don't control the materials side, plus they have a relationship with the distributors. So, that was a channel disruption and the subcontractors weren't willing to pass through the costs we were saving on material," he said.
Katerra solved the problem by becoming the general contractor and managing the jobs. Next for Katerra was bringing in the architecture side, because, "If you don't design it right up front, you can't fix it at the job site," Schick said.
Katerra acquired Atlanta architecture and design firm Lord Aeck Sargent and Vancouver-based Michael Green Architecture, a leader in mass-engineered, or cross-laminated timber (CLT) design.
Katerra also acquired United Renovations in Carrolton, Texas. "(That) was a materials play for us," said Schick. "We were able to provide them with lower cost materials than the big distributors, which allowed them to lower their prices, increase their margins and win more business, while we gained economies of scale in our supply chain by adding volume to the supply base, and lowered costs in both our new builds and renos," said Schick.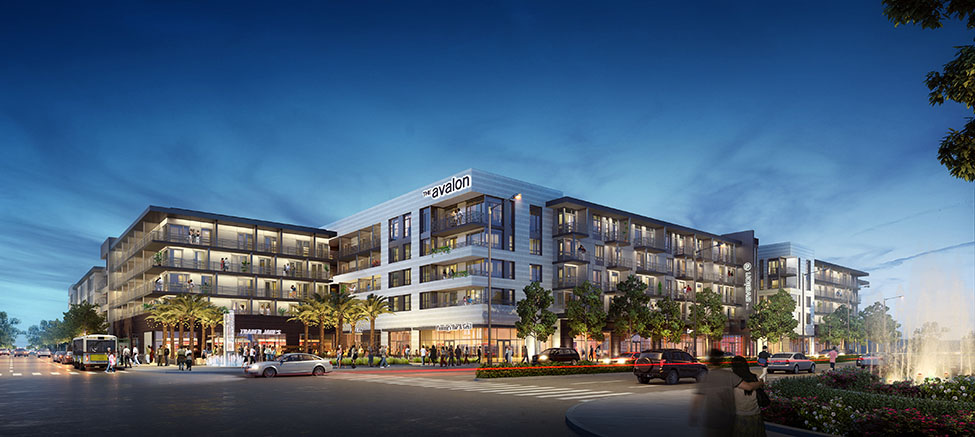 He explained that while Katerra can prebuild the parts, it's important to have local people who know the municipalities on board to take care of the necessary field work. Acquisitions aimed at filling out Katerra's national footprint include Fields Construction Company in New Jersey and Colorado-based Bristlecone Construction.
"A few more acquisitions on the general contractor side will be strategic to getting boots on the ground in regions where our customers need us to build," said Schick.
The final piece of the puzzle is manufacturing. In addition to an LED lighting factory in China that Katerra acquired, one large factory in Phoenix and a smaller one in Arizona that are currently operating, two more will come online this year, including a building component plant in Tracey, Calif., that will manufacture both wood framing products and light gauge steel, and a CLT plant in Spokane, Wash. The steel can be used in mid- and higher rise developments, including mass timber construction, and expands Katerra's portfolio of building materials.
Katerra is planning another building component plant in San Marcos, Texas, and eventually will add component factories in both the North and Southeast and another CLT factory in the Southeast.
But the game changer that ties everything together is Katerra's Apollo technology platform—construction software, currently under development, that will create one continuous data stream allowing decision-making from site selection to operations.
"If you look at the construction industry, you have all these silos. You have your architect, engineers, general and sub-contractors, and all of them have different tools. Some talk to each other and some don't. Apollo is a way for us to connect them in an integrated system that uses AI to make recommendations," said Schick.
Apollo achieves efficiencies using a real-time data processing application called SAP HANA, designing buildings with 3D modeling software and converting the files to a format that talks to the machines in the factory.
Another proprietary product is Katerra's energy system, an algorithm-based server that allows multiple buildings to talk to each other, scheduled to roll out in Q3.
"If you have solar on the roof, the power grid and a battery pack in the basement, it can optimize the way those are used. It understands weather patterns and if it's going to be raining for a couple of days, it will feed power to the batteries from the grid and will do it in the middle of the night when the power coming off the grid is lowest cost.
"The system learns the building and renters' usage requirements. Where it becomes even more interesting is linking together the buildings in the complex, so if one building has vacant units and unused battery capacity, it will pull that over to another building instead of pulling it off the grid. Now you are really optimizing energy usage," said Schick.
Other Katerra innovations that use machine learning include sensors on the CLT that allow Katerra to determine damage to walls without tearing them open if an earthquake occurs. Humidity sensors under sinks will alert property managers to any leak.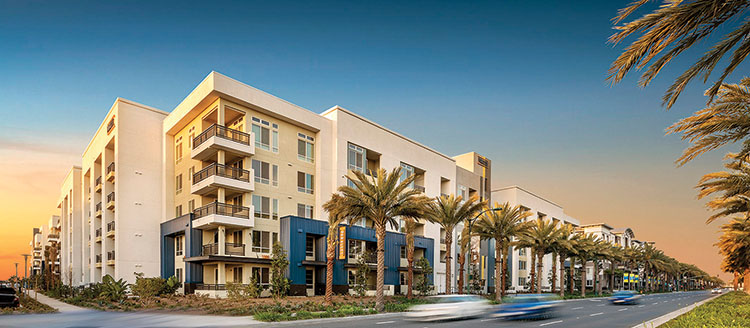 These automated monitoring systems will help Katerra remain in the supply chain and provide replacement parts and services to its customers throughout the useful life of its projects.
Katerra is betting that owning the entire building process from end to end will enable the development of beautiful, high-quality buildings faster and at a lower cost. But the system must allow for customization to avoid being cookie cutter. Katerra meets that parameter with its new brands for building materials, Kova and Kova Select.
"With Kova, we buy from third parties' catalogs, but with Kova Select, we create the designs and either build it ourselves or work with a third party to manufacture the products, enabling a high level of finish," said Schick.
Meanwhile, as a dearth of skilled construction workers drives up labor costs, interest in offsite construction is growing.
One caveat to a prefab future noted in the Markets and Markets research report is that housing consumers' preconceived notions of modular buildings may act as a hurdle in the growth of offsite construction in the housing sector.
But the real potential problem with prefab construction is that it does well in boom times and struggles during economic downturns because of its higher fixed costs.
Katerra for now is steering clear of the volatile single-family market to focus on senior, student and market-rate apartments with plans to enter other sectors in the future.
Lloyd Alter, former architect, developer, inventor, prefab promoter and current design editor of Treehugger, an online source for sustainable design news, points out that Katerra is not reinventing the wheel. Panelized systems already are in use in Europe and more countries are adopting modular construction methods to meet increasing demand for housing that is both eco-friendly and cost-effective.
"But, unlike Europe where government-sponsored social housing keeps the factories running, Americans have Ben Carson running HUD. Unlike Europe, where they have high standards of energy efficiency, the U.S. is killing Energy Star and promoting cheap gas. Unlike Europe, where multiple family housing is almost universal, in the hot markets like Seattle and San Francisco, it takes years to get approval for anything thanks to NIMBY protests. Conditions are very different, but we can only hope," wrote Alter, who is rooting for Katerra's success.