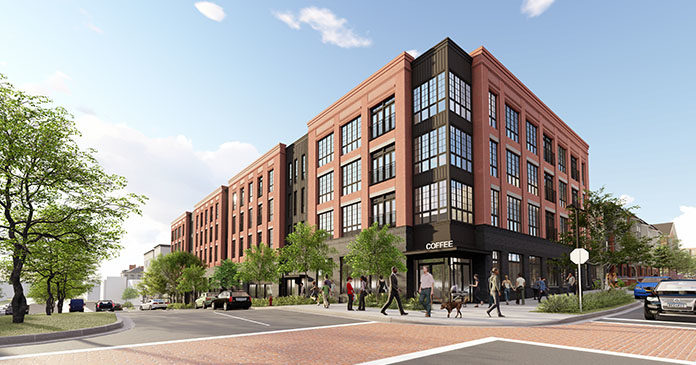 Today The Beach Company announced the acquisition of 2.79 acres of land in downtown Chattanooga's popular Riverfront district. The site, which is located just two blocks from the Tennessee River and the Walnut Street Pedestrian Bridge, will be developed as a mixed-use community called River Rock.
The community will offer 16,000 square feet of commercial space in addition to 163 multifamily units consisting of studio, one, two and three-bedroom floor plans as well as townhomes with attached garages.
"River Rock will deliver high-quality live-work-play options for Chattanooga's growing population of residents looking to live in this dynamic and energetic part of the city," said Alan McMahon, Development Manager at The Beach Company.
"River Rock will help transform the 4th Street corridor into a walkable and vibrant gateway into the city," said Kim White, President and CEO of River City Company, a nonprofit organization focused on downtown Chattanooga's economic, social and cultural growth. "We are confident in The Beach Company's ability to deliver a high-quality project that further enhances one of the area's most beautiful neighborhoods."
Located in the epicenter of Tennessee's second fastest growing city, the community's prime proximity to the waterfront will allow residents and visitors to explore the vibrant downtown area's many shopping and dining destinations and walk to nearby cultural attractions, such as the Bluff View Art District, Chattanooga Lookouts' AT&T Field and Ross's Landing. The development is also located near the Chattanooga Riverwalk, a 13-mile scenic path along the river's south bank that winds through several parks and is widely enjoyed by the city's residents and visitors.
The Beach Company was represented in the transaction by JC Darby of Southeast Venture.
Construction on River Rock is expected to begin in September 2019.
---
About The Beach Company
Founded in 1945, The Beach Company has been a leader in residential and commercial real estate brokerage, development and property management for over 70 years. The Beach Company upholds a tradition of establishing landmark properties and communities by evaluating each development opportunity for its potential to improve the quality of life for our neighbors and contribute to the long-term economic vitality of the Southeast region.