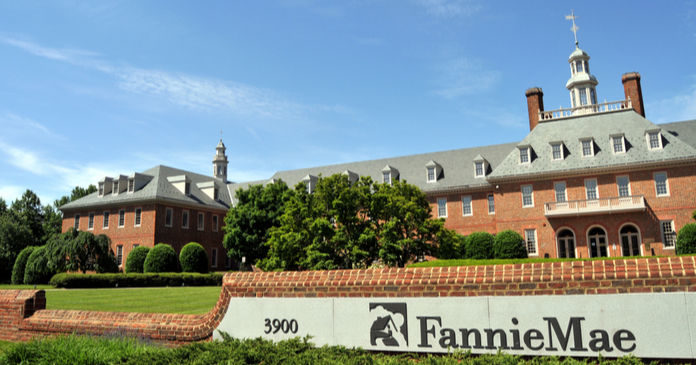 The recently issued Commercial/Multifamily Quarterly Databook from the Mortgage Bankers Association (MBA) shows continued strength in originations of multifamily mortgages and growth in the total level of multifamily mortgage debt outstanding.
MBA looks at the market
The databook contains a lot of information on the past performance of the economy and projections for how it will perform in the next two years. It calls for GDP growth of 2.0 percent in 2019, with growth falling to 1.4 percent in 2020. It expects inflation to remain muted at around 2 percent and for the federal funds rate to stay at the current level of 2.375 percent through the end of 2020. Interestingly, while it says that residential investment fell in 2018 and will continue to fall in Q1 2019, it expects residential investment to rebound starting in Q2 2019 and to be up 2.2 percent for the year. However, it predicts growth in residential investment will drop to only 0.3 percent in 2020.
By the MBA's measure, rent growth in the multifamily market in 2018 was 5.0 percent. However, occupancy in multifamily properties dropped from 95.4 percent at the end of 2018 to 95.1 percent at the end of 2019. Cap rates on multifamily properties fell slightly throughout 2018, reaching 5.4 percent in Q4.
The dollar value of multifamily construction put in place in 2018 was up 12.8 percent from the year before to $65.6 billion. This represented 19 percent of all commercial/multifamily construction for the year. Sales of multifamily properties worth more than $2.5 million were up 12 percent on the year, representing 35.7 percent of all commercial/multifamily real estate sales.
The databook reports that 47 percent of growth in commercial/multifamily mortgage debt outstanding in 2018 was from the multifamily market segment. Two thirds of this increase was due to an increase in mortgages held by Fannie Mae, Freddie Mac and FHA. There were $1.36 trillion in multifamily mortgages outstanding at the end of Q4.
Strong seasonality continues
The first chart, below, plots MBA's origination volume index for both commercial mortgages as-a-whole and for multifamily mortgage originations in particular. In addition to multifamily, commercial includes mortgage originations for office, retail, industrial, hotel and health care properties.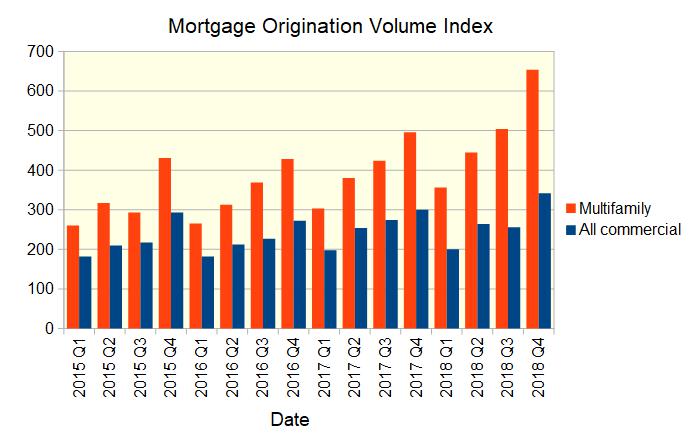 The index represents the volume of originations relative to the average quarterly volume in 2001. Therefore, a multifamily origination index of 500 means that origination volumes for multifamily mortgages are 5 time their levels in 2001. If the commercial origination index is 250, it does not mean that fewer commercial mortgages are being originated than are multifamily mortgages, it just means that the growth of the commercial mortgage market as-a-whole since 2001 has been much slower than that of the multifamily mortgage market segment.
The chart shows the strongly seasonal pattern of mortgage originations for commercial property types tracked by the MBA and also the recent strength of the multifamily mortgage market. For the last 8 quarters, the multifamily mortgage originations have been up at least 14 percent over their year-earlier level, every quarter. In Q4 2019, multifamily mortgage originations were up by 32 percent from their level in Q4 2018, an outstanding performance.
Who holds multifamily mortgages?
Since the early 2000's, the Agency and GSEs (government sponsored entities like Fannie Mae, Freddie Mac) have become the leading supplier of capital to the multifamily mortgage market with Banks and Thrifts also playing a significant role. Between these two classes of lenders, they now hold over 81 percent of multifamily mortgage debt outstanding. The significance of their positions in the market is illustrated in the chart, below.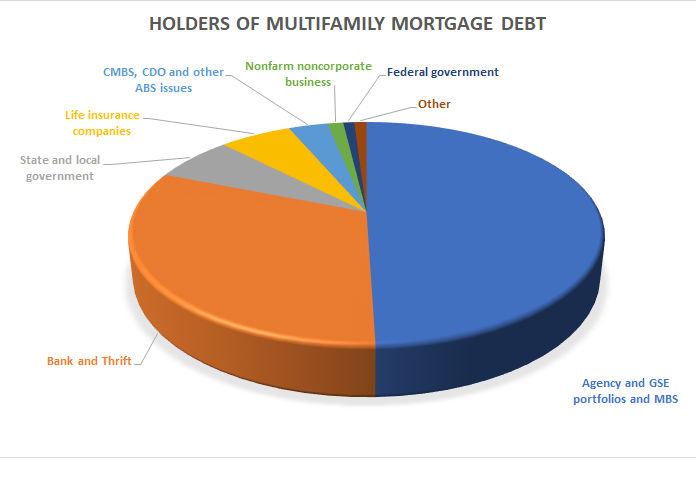 The full report is 88 pages long and includes much more material than can be summarized here, including interesting charts illustrating market statistics back to the 1970s. The full report can be found here.