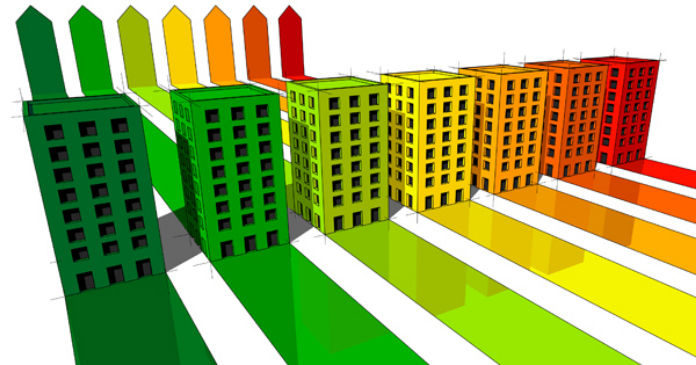 A report by RentCafe examines the extent to which the multifamily housing industry has adopted energy efficiency in its buildings. It uses LEED (Leadership in Energy and Environmental Design) certification as the criterion for determining that a building is energy efficient and counts buildings that have achieved or been proposed for LEED certification in that category. The report looks at buildings with 50 or more units.
Taking our measure
The report looks at statistics on the number of LEED certified multifamily residential buildings in the US. It examines measures for new construction such as how many LEED certified multifamily units being built per year and what percentage of new units are LEED certified by area. It also looks at the existing base of multifamily units to see where LEED certification is most common.
The sort of information presented in the report is illustrated by the chart, below. It shows the fraction of new units which were in LEED certified buildings by year. The highest fraction of new units being LEED certified was in 2014, when it reached 19 percent. Developers have built a lower proportion of LEED certified units since then. However, because the number of apartment units being built increased after 2014, the year in which the highest number of new units were LEED certified was 2016. That year, 50,300 certified units were introduced to the market.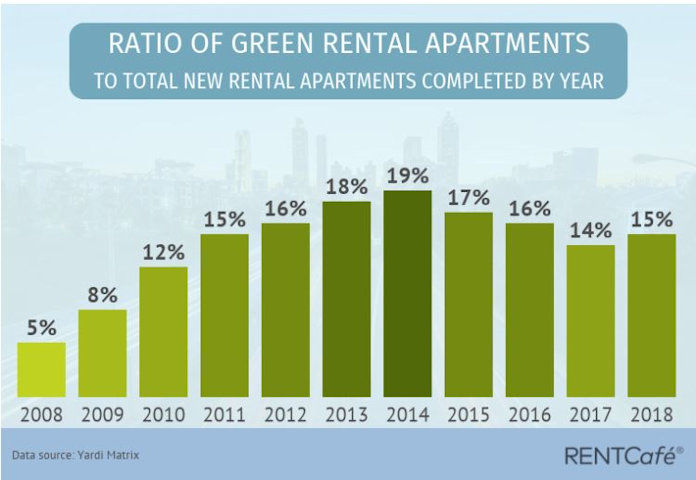 To measure the availability of LEED certified apartment units, the report looks at the ratio of certified units to the numbers of people in the local population. It finds that Silver Spring, Maryland ranks first with one LEED certified apartment for every 18 people. Rounding out the top 5 cities are McLean, Va., College Park, Md., Arlington, Va. and Rockville, Md. If you think you detect a pattern here, you are right. Of the 10 cities with the highest numbers of certified apartments per person, all are either in the Washington, D.C. area or the Seattle, Wash. area. In those areas, it appears, "green" sells.
Not surprisingly, the cities with the highest absolute numbers of LEED certified apartment units are larger cities. Chicago tops the list with 20,600 units. The remainder of the top 5 are Seattle, Wash., Washington, D.C., New York, N.Y. and Portland, Ore.
The report also contains an interactive map where you can view the numbers of LEED certified units in the top 10 cities of the 15 states with the most certified units. The full report is available here.