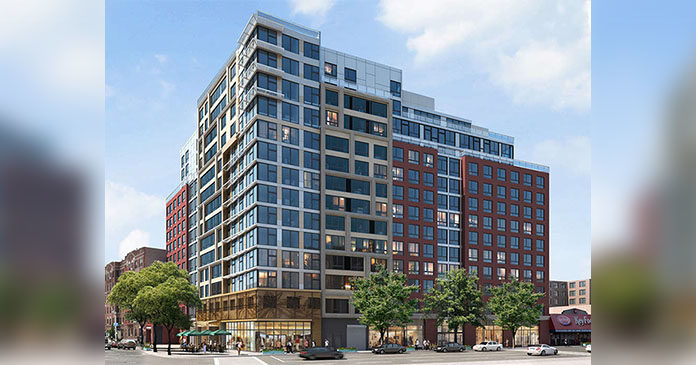 Mortgage banking firm Merchants Capital has secured financing for two affordable housing developments, totaling more than $180.6 million, in the New York City area: MEC 125th Street and Caton Flats.
Both transactions executed a novel risk-share structure between Merchants Capital, Freddie Mac and New York City Housing Development Corporation(NYCHDC) as the local housing finance agency. These risk-share loans are structured as permanent forward commitments to take out the new construction loans.
"The creativity of these two transactions is unparalleled. We are incredibly thankful to our partners at Freddie Mac and NYCHDC for their inventiveness, as well as to our clients for their commitment to ensuring the development of truly transformative projects," said Mathew Wambua, executive vice president at Merchants Capital. "These projects are a testament to our continued mission to provide quality affordable housing to workforce and low-income families."
Located in East Harlem, MEC 125th Street is a 19-story, 404-unit mixed-use, mixed-income complex that will bring much needed affordable and market-rate units to this revitalized neighborhood. In coordination with NYCHDC, New York City Housing Preservation and Development (NYCHPD), New York City Economic Development Corporation (NYC EDC), Freddie Mac, Citi Community Capital, Blank Rome LLP and Sidley Austin LLP, MEC 125th Street is key in providing greater affordability to residents in Manhattan.
The development was financed through a $120 million, 35-year Freddie Mac Forward Commitment loan secured by Merchants Capital on behalf of The Richman Group Development Corporation.
"We are excited to be partners in what will be a remarkable addition to thriving East Harlem and to be part of the community," said Kristin Miller, president of The Richman Group Development Corporation. "This is the culmination of the efforts of many talented people and organizations, as well as over 10 years of hard work and perseverance. It will be amazing to see this project come to fruition."
Fifty percent of the project's apartments will be offered at rents ranging from 37 percent of the area's annual median income (AMI) to 80 percent AMI. An additional 23 percent of units will have rents ranging from 130 percent AMI to 145 percent AMI, and the remaining 27 percent will be market rate. The development site is conveniently located one block from the 125th Street Subway and two blocks from Harlem 125th Metro North Station, providing easy access throughout the city and the greater New York Area.
The second development, Caton Flats, is located in the much-anticipated revitalization of the Flatbush Caton Market (FCM), a destination of Caribbean commerce, entertainment and culture in New York City. The approximately 280,000-square-foot, 255-unit project is being developed by BRP Development, Urbane Development and the Caribbean American Chamber of Commerce and Industry (CACCI) in coordination with the NYCHDC, the NYCHPD, NYC EDC, Freddie Mac, Citi Community Capital, Blank Rome LLP and Sidley Austin LLP.
Loan proceeds will fund the development of mixed-income housing, ground floor retail, space for community groups, a business incubator, and a new home for the Flatbush Caton Market. Merchants Capital secured the loan through the new Freddie Mac Non-LIHTC Forward Commitment on behalf of BRP Development Corporation. Non-LIHTC forwards are unfunded, forward commitments for affordable housing developed by nonprofits and subsidized, rent-restricted affordable housing that for-profit developers can use for their new multifamily construction or substantial rehabilitation projects.
"The financing secures the future of Caton Flats as an incredible source of affordable housing and economic opportunity for community residents and entrepreneurs," said Andy Cohen, director of development for BRP Companies. "In addition to providing the neighborhood with much-needed housing, Caton Flats will also serve as a center of commerce, entrepreneurship and culture for Flatbush and the surrounding community."
Ten percent of the Caton Flats apartments will be priced affordably at 37 percent AMI. Fifteen percent of the units will be set at 57 percent AMI, and another 25 percent set at 90 percent AMI. The other half of the Caton Flats apartments will have rents capped at 130 percent AMI.
---
About Merchants Capital
Merchants Capital, formerly PR Mortgage & Investments (and RICHMAC Funding), is a multifamily, affordable, and healthcare lender offering a direct way to access fixed rate, long-term, non-recourse financing via its bank, Merchants Bank, all with a single point of contact. Merchants Capital strives to provide the best origination and service of its loan products with exceptional customer service, accuracy, creativity, speed and conformance to regulations.