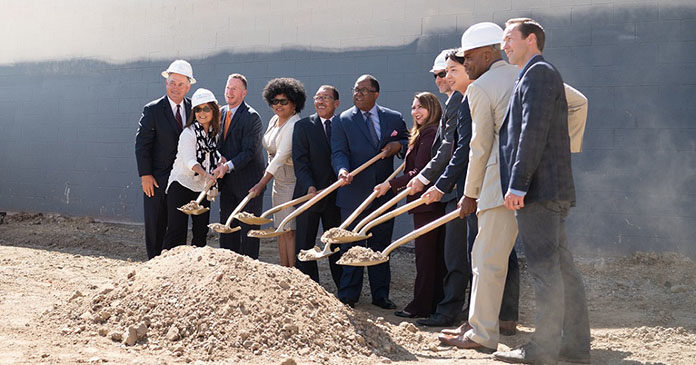 Meta Housing Corporation, a Los Angeles-based developer, in a joint venture partnership with Western Community Housing, a Southern California-based non-profit public benefit corporation, has announced the development of Vermont Corridor Apartments, a six-story, transit-oriented senior and permanent supportive housing multifamily community in the Koreatown neighborhood of Los Angeles, California.
The $51.4 million project will provide affordable housing for seniors aged 62+ earning between 25 and 60 percent of area median income. Of the 72 units to be built at the property, 36 will include supportive services funded through the County of Los Angeles' voter-approved Measure H, and subsidized rents for residents experiencing varying levels of homelessness.  These units were constructed with funding from voter-approved Proposition HHH from the City of Los Angeles and a partnership with the Housing Authority of the City of Los Angeles (HACLA), the Los Angeles Housing and Community Investment Department (HCID) and the County of Los Angeles.
"Affordable senior housing is extremely difficult to find in Los Angeles," says Kasey Burke, President of Meta Housing. "Los Angeles needs more affordable alternatives for older residents, and we are delivering that alternative in this project.  This is a great example of public private partnership working together to improve the community and the lives of our future residents."
In addition, Vermont Corridor Apartments will include a 12,500 square foot community center on the ground-floor dedicated to the YMCA that will provide community services through its local partnerships and service offerings.
"Our partnership with the YMCA provides a cultural center that will serve as a gathering place for the surrounding neighborhood," explains Aaron Mandel, Executive Vice President of Meta Housing. "By offering these services, we are encouraging interaction and well-being among our future residents and their neighbors."
Mandel notes that the new development is a reuse of an underutilized County property that will provide a quality and safe environment for residents at an affordable cost while reducing blight in the area. The development will also generate an estimated 321 construction jobs and seven permanent jobs.
"The Vermont Corridor Apartments project is a promise fulfilled," says City of Los Angeles Supervisor Mark Ridley-Thomas. "For Koreatown residents, it provides not only affordable homes to seniors who need it most, but also a long-awaited community center with a wellness center to be operated by the YMCA. Working with Meta Housing and Western Community Housing, as well as the City of Los Angeles and other partners, we have repurposed an aging Los Angeles County facility and transformed it into a beautiful new asset for the community. That's public-private partnership at its best."
Monique King-Viehland, Executive Director of the Community Development Commission/Housing Authority of the County of Los Angeles, comments, "We look forward to the future of the Vermont Corridor Apartments and its position in the community – a hub that will provide affordable homes for seniors and special needs residents. The addition of the YMCA on the first floor will help to enhance the neighborhood through their commitment to meeting community needs through a strong range of programs."
Vermont Corridor Apartments will feature one- and two-bedroom floorplans for residents and a two-bedroom manager's apartment. The development will offer generous common spaces including open-space courtyards to encourage interaction among residents, according to Mandel.
The 113,061 square-foot apartment community will be constructed to LEED Gold standards and is located 3 blocks from the Metro Purple Line's Wilshire/Vermont station with many other amenities including a grocery store, a pharmacy and medical clinic, public schools, stores and restaurants, and a library in close proximity. The development is also less than a quarter mile from Shatto Recreation Center, which comprises sports fields, facilities for community events.
Meta Housing Corporation and Western Community Housing will serve as co-developers and general partners on the project. Western Community Housing will also coordinate resident services, while The People Concern will coordinate supportive services. Westport Construction, Inc. will serve as the general contractor, with Y&M Architects as architect. AMJ Construction Management will handle construction management, and The John Stewart Company will manage the property.
Vermont Corridor Apartments will be located at 433 S. Vermont Avenue in Los Angeles, California. The project is expected to be completed in March 2021.
---
About Meta Housing Corporation
Since 1993, Meta Housing Corporation has established itself as one of Southern California's most experienced and trusted developers of apartment communities for families and seniors, developing more than 6,400 residential units.