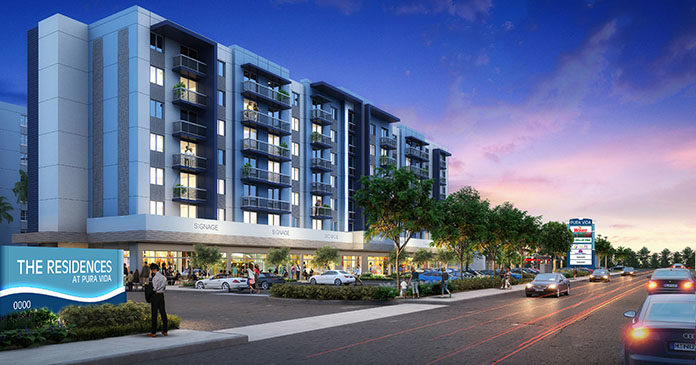 Is Hialeah the next Brooklyn? According to City of Hialeah Mayor Carlos Hernandez it may just be, and a transformative new mixed-use project, Pura Vida Hialeah, is paving the way.
Miami-based Coral Rock Development Group and Arena Capital Holdings recently commemorated the groundbreaking of Pura Vida Hialeah, a nine-acre mixed-use project set to be the first of its kind in Hialeah in more than 20 years.
When complete, the project portends to transform the area's aging retail and residential offerings with the first new sleek contemporary designed vertical towers, and will boast a vibrant mix of popular restaurants, shops and other conveniences while providing an exceptional pedestrian-friendly lifestyle, adding a much-needed benefit to the densely populated community.
Held on April 25th at the future site of Pura Vida Hialeah, the ceremonial groundbreaking was hosted by the project's development team—comprised of industry veterans Stephen A. Blumenthal, David Brown, Victor Brown and Michael Wohl of Coral Rock Development Group, as well as Oscar Rodriguez, Ana Rodriguez and Sebastian Roiter of Arena Capital Holdings. Dozens of industry leaders, project partners, top city officials and numerous other dignitaries were in attendance including City of Hialeah Mayor Carlos Hernandez, Hialeah City Council President Vivian Casals-Munoz and City of Hialeah Councilman Paul Hernandez, who all provided remarks to celebrate this project milestone.
Mayor Carlos Hernandez, addressing the crowd in English and in Spanish, commended the developers for their vision and acknowledged how Pura Vida Hialeah is already sparking other innovative developments in the city.  Known as the City of Progress, Mayor Carlos Hernandez said "Hialeah is the new Brooklyn."
Jointly developed by Coral Rock Development Group and Arena Capital Holdings, the project is poised to become the new epicenter of Hialeah creating a contemporary and convenient new walkable lifestyle for Hialeah residents.
"We're incredibly proud to officially break ground on Pura Vida Hialeah," said Stephen Blumenthal, principal of Coral Rock Development Group. "A new paradigm for living in Hialeah, we're extremely pleased that Pura Vida Hialeah will be a positive catalyst and usher in a new era in the community."
"This is an exciting beginning to what will soon be an extraordinary and vibrant urban environment for Hialeah," said Michael Wohl, principal of Coral Rock Development Group. "We're very grateful to Mayor Carlos Hernandez and the City of Hialeah who have supported us in making this community-driven development a reality."
The visionary project will encompass three eight-story residential towers consisting of 260 apartment units, with one tower offering approximately 11,000 square feet of ground floor retail; as well as three separate outparcels consisting of approximately 40,000 square feet of commercial retail space. Confirmed retail tenants include a Wawa convenience store and gas station – representing one of the first outposts in Miami-Dade County for the rapidly expanding chain, a Taco Bell restaurant, a Dollar Tree store and a two-story YouFit Health Club.
Offering a wide array of floorplans ranging in size from 538 square feet to 1,099 square feet, the market-rate rental residences at Pura Vida Hialeah will include studios, one, two, and three-bedroom units. Featured amenities will include a resort-style pool, state-of-the-art gym, BBQ area, dog park, and 24-hour security staff for the convenience of residents.
Situated on a prime corner at 2901-3099 W 16th Avenue and 1571 W 29th Street, Pura Vida Hialeah boasts a central location just minutes from major thoroughfares including I-75, the Palmetto Expressway, the Florida Turnpike and Okeechobee Road, offering direct access to Greater Miami and the surrounding areas. The project is slated for completion in 2020.
---
About Coral Rock Development Group
Coral Rock Development Group, a newly formed development firm, aligns four of South Florida's leading veteran commercial real estate builders and developers – Stephen A. Blumenthal, David Brown, Victor Brown and Michael Wohl. The partners have earned well-established reputations for high-quality, innovation and value in the related industries of multifamily, commercial, industrial and mini storage. Coral Rock's principals bring their distinct, respective strengths to the firm that will focus on mixed-use developments across the state of Florida.
About Arena Capital Holdings
Led by Oscar Rodriguez, Ana Rodriguez and Sebastian Roiter, Arena Capital Holdings is a Miami-based, commercial real estate investment company that draws from a three-decade lineage of family-owned and operated real estate and banking businesses. Founded in 2002 by the family's "next generation," the company has concentrated on acquiring, repositioning, and adding value to multifamily and retail properties for long-term investment.