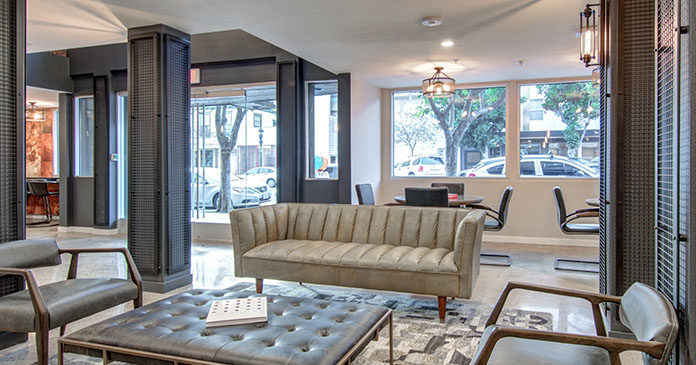 As Studios435 approaches its first anniversary, the community is 90 percent leased, demonstrating a robust market for luxury micro-apartments in downtown San Diego. Located at 435 13th St., the housing community opened in July 2018 and is owned by FPA Multifamily, LLC.
Studios435 was the first development of this type to open in downtown San Diego, offering a lifestyle and amenities not previously available. Subsequent studio housing projects include The Nook and The Continental (opening spring or summer 2019). With rental rates starting at $1,399 per month, Studios435 is one of downtown San Diego's most affordable luxury developments.  Offering six-month leases, a rarity in downtown, it is also one of the region's most flexible lifestyle options. The apartments appeal to Canadian snowbirds, young professionals, service men and women, international students from the UAE, and travel nurses. Eighty (80) percent of residents are from outside California, and approximately half work downtown.
Located in East Village, Studios435 offers fully furnished studios with high-end finishes and all-inclusive utility and Smart Home packages. The apartments feature quartz countertops, subway tile backsplashes, European cabinetry, GE® stainless steel appliances, 43-inch LG® Smart TVs, large closets with built-ins, and hardwood-style flooring. Studios435 also offers an indoor/outdoor gym, business center, lounges, library, courtyard with fire features, and laundry facilities.
Michael Earl, Chief Operating Officer for FPA Multifamily, states, "We're pleased to be the first company to offer studios in downtown San Diego. FPA has been researching this housing product in other markets throughout the country, and we believe San Diego is ready for greater options. We are continuing to look for similar investment opportunities in the San Diego region."
Studios435 was formerly a single room occupancy community by the Alpha Project, originally built in 1990 to offer affordable housing. The property, consisting of two non-contiguous four-story buildings, was acquired by FPA Multifamily in April 2016 from the San Diego Housing Commission. FPA completed its redevelopment between April 2016 and August 2018. The first building opened on July 15, 2018. Redwood Construction, Inc. completed the renovation, SVA Architects and Redwood Construction were the creative force behind the design, and the property is managed by Trinity Property Consultants.
Eric Hawkey, Design Consultant with Redwood Construction, states, "The design of Studios435 was carefully formulated by our team with a balance of aesthetic, function, and location in mind. Of course, it is the uniqueness and synergy created by the individuals that occupy Studios435 that creates its style, personality, and purpose."
---
About FPA Multifamily, LLC
FPA Multifamily, LLC is a private equity real estate firm focused on the acquisition, renovation and management of both core plus and work force housing apartment communities.  Founded in 1985, FPA has owned over 110,000 apartment units valued at over $12.0 billion.  FPA is currently investing through its value-add focused FPA Apartment Opportunity Fund VI which will acquire approximately $1.8 billion of assets and its core plus focused FPA Core Plus Fund IV which will acquire approximately $1.4 billion of assets.  Headquartered in San Francisco, FPA also has offices in Irvine, Chicago, Washington DC, Minneapolis, Dallas and Atlanta.