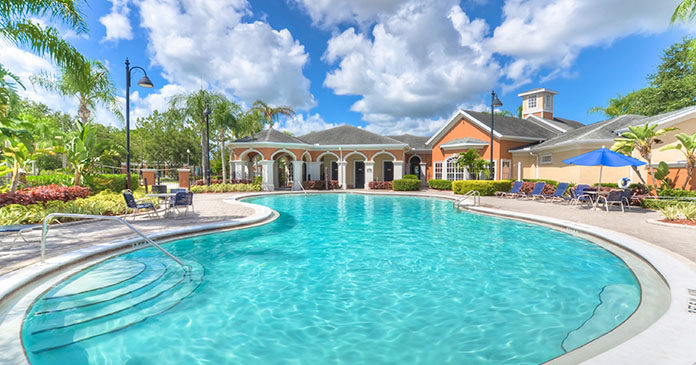 The Park at Via Rosa, a 390-unit multifamily community in Hillsborough County, has been sold for $63 million ($161,538 per unit).
The property was acquired by a joint venture between Chicago-based Providence Real Estate and Aegon Real Assets US (Aegon RA). The seller was Grand Rivage at Brandon Lakes, Ltd., managed by Blue Roc Premier. Luis Elorza, Brad Capas and Michael Mulkern of Cushman & Wakefield's Florida Multifamily Group facilitated the transaction and assisted Providence Real Estate with its equity raise.
The transaction marks Aegon RA's first multifamily acquisition under its recently formed Workforce Housing Investment Program. Aegon RA provides yield-oriented private debt and equity strategies and specialty solutions backed by a full range of in-house support services. Aegon RA's multi-disciplined team of professionals manages and advises over $19 billion in real assets.
The Park at Via Rosa is a 33-building, 400,140-square-foot community developed in 2000 on ±23.95-acre site at 2211 Grand Isle Drive in Brandon. The property features one-, two-, three- and four-bedroom floor plans with an average size of 1,026 square feet and an average market rent of $1,272 ($1.24 per square foot). The garden-style asset was 95% leased at the time of sale.
Units at The Park at Via Rosa feature 9-foot ceilings in lower-level apartments; vaulted ceilings on upper floors; designer tile in kitchens and bathrooms; European light fixtures; full-size washers and dryers; fully equipped kitchens with a breakfast bar, ornamental chair rails, dishwashers, refrigerators, microwaves and designer faucets; plantation blinds; a two-tone interior paint color palette; walk-in closets and additional storage on a private patio or balcony. Select units have detached garages.
The new owners are expected to upgrade units with new appliances, gray wood-plank flooring, new laminate countertops, tiled backsplashes and premium cabinet hardware.
Community amenities include a clubhouse with a state-of-the art fitness center, business center with high-speed internet and WiFi, TV lounge and tanning salon; lake access; a pet play area; a barbecue area; a car care area; gated access; a playground; a pool and spa; tropical landscaping; a volleyball court and a tennis court.
The Park at Via Rosa is situated in the heart of Brandon, approximately one mile from Interstate 75's Selmon Expressway interchange (Exit 93A). This location is surrounded by premier shopping and entertainment destinations as well as major employment centers and offers superb visibility and regional access.
"This transaction leverages our experience and depth of relationships in the multifamily sector and illustrates our strategic goals to acquire and improve workforce housing in select metro areas," said Cameron Jones, Head of Real Estate Equity Acquisitions for Aegon RA. "The Park at Via Rosa is located in Hillsborough County, part of the vibrant Tampa metro area. Our capital improvements will refresh the property and preserve its appeal to the local community."
"Brandon has witnessed unprecedented growth in recent years, which has fostered strong fundamentals in the local multifamily market," said Elorza. "The Park at Via Rosa represents an excellent value-add opportunity given the asset's position within the market and new ownership's planned capital improvements."
Cushman & Wakefield's Florida Multifamily Team, directed by Robert Given, includes Elorza, Capas, Mulkern, Nick Meoli and Mike Donaldson in West-Central Florida; Jay Ballard and Ken Delvillar in Central Florida; Julie Bohn in Jacksonville; and Zachary Sackley, Troy Ballard, Calum Weaver, Errol Blumer, Neal Victor, James Quinn and Perry Synanidis in South Florida. Robert Kaplan, Chris Lentz and Mark Rutherford facilitate debt, equity and structured finance for the team throughout Florida.
---
About Cushman & Wakefield
Cushman & Wakefield is a leading global real estate services firm that delivers exceptional value for real estate occupiers and owners. Cushman & Wakefield is among the largest real estate services firms with approximately 51,000 employees in 400 offices and 70 countries. In 2018, the firm had revenue of $8.2 billion across core services of property, facilities and project management, leasing, capital markets, valuation and other services.