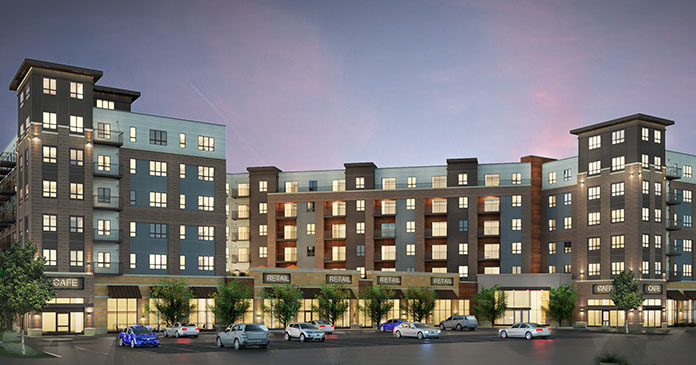 Timberland Partners, a privately-owned real estate investment, development and management firm, has announced that Brick & Bourbon has signed a lease at Elevate at Southwest Station Apartments, a mixed-use project currently under construction in Eden Prairie. Elevate anticipates opening late August, with Brick & Bourbon hoping to open by the end of the year.
This will be the fourth location for the popular "craft bar & eatery". It originally opened for business in Stillwater in 2017, and then launched a second location in Maple Grove the following year. A third location in St. Cloud is slated to open this summer. Branden Warner, Adam Dreher and Gary Sivyer are the visionaries behind the concept. The trio of restauranteurs has 65 years of combined hospitality experience.
Brick & Bourbon features polished comfort foods with a twist and hand-crafted cocktails. The elevated eatery and craft libation venue believes in using the freshest domestic and imported ingredients. Entrees arrive on cast iron-style plates, and are as casual as burgers and mac and cheese or as formal as beef medallions. Unique offerings include the candied bacon flight, chocolate cigars and Reuben soup in a crock, along with more traditional fare such as sandwiches, ribs and wings. The goal is for guests to leave their worries at the door.  The space will include a spacious outdoor patio offering the perfect spot for families and friends to enjoy the summer with views overlooking Purgatory Creek Park. "Our focus is to be a great neighbor to our accompanying business's and a staple anchor for the Elevate project" Warner said. "We will be ambassadors of hospitality and servers to the community of Eden Prairie".
"The town and the community have been more than supportive to us; we are extremely privileged to have the opportunity to work with the City of Eden Prairie and Timberland Partners on a project of this scale and distinguished caliber." Warner said. "We feel very privileged to be part of the community."
Gary Sivyer, who heads the beverage portion of the business, wanted to craft cocktails with a high level of detail and excitement to match the craft food. Brick and Bourbon is making a name for itself on social media with photos of cocktails served to the table under a glass cloche filled with smoke. "On the food and beverage side, they run a parallel" Sivyer said. "You get the drink first and you are excited to get something balanced and fresh followed by polished handcrafted eats that wow the eye and complete the stomach" said Warner. We use only fresh squeezed juices and house made syrups." Sivyer said they wanted to keep guests excited and created the menu that included foods that "wow" – from burgers to brunch to sharable small plates. "We want to keep that energy level going so that guests have an overall elevated and great dining experience with us," Sivyer said.
"Southwest Station is currently lacking a full-service restaurant option. Brick & Bourbon fills this need and will be an exceptional addition to the City of Eden Prairie," said Ryan Sailer, Vice President of Development with Timberland Partners. "In addition, what a great amenity and unique concept to be able to offer our residents."
Elevate offers studio, one-, two-bedroom, and penthouse apartments, located steps away from the SouthWest Station Metro Transit Center and the planned LRT stop for the Green Line extension. The project also includes 13,000 square feet of retail space, offering a variety of restaurants, retailers and services. Elevate features a rooftop courtyard with pool, outdoor kitchen and bocce court. Additional amenities include a community room, yoga studio, fitness center, game room, co-working space, indoor parking with bike storage, dog run, and pet spa. Apartments feature high-end stainless steel appliances, quartz countertops, luxury wood plank flooring, walk-in closets, and full-size washers and dryers.
The $63.7 million, 222-unit mixed-income project was designed by Kaas Wilson Architects and is being constructed by Frana Companies, both based in Minneapolis.
Elevate is located at 12900 Technology Drive in Eden Prairie and will be ready for occupancy in late August 2019.
---
About Timberland Partners
Founded in 1992, Timberland Partners is an award winning real estate investment, management and development firm. They own and manage 73 apartment communities totaling 14,966 units in 15 states.