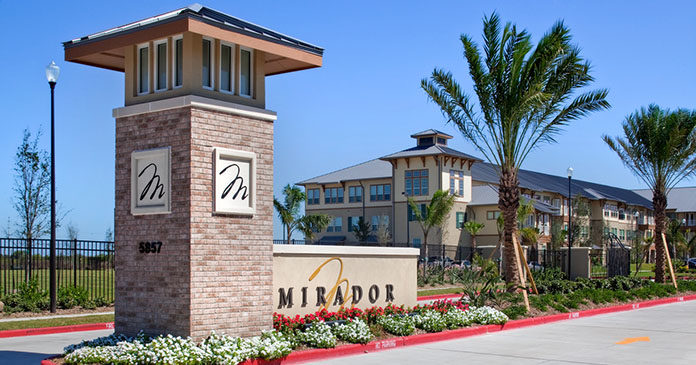 Cushman & Wakefield has negotiated the sale of Mirador, an upscale, 228-unit continuing care retirement community in South Texas.
The Tampa, Florida-based Cushman & Wakefield Senior Housing team of Allen McMurtry, Paul Carr and David Kliewer represented an affiliate of Addison, Texas-based Senior Quality Lifestyles Corporation (SQLC) in the disposition. An affiliate of Methodist Retirement Communities (MRC), based in The Woodlands, Texas, acquired the asset for $20.35 million ($89,254 per unit).
Mirador was developed in 2011 and comprises three interconnected buildings totaling ±271,455 square feet of living, dining and common space. The Class A facility offers a full continuum of care ranging from independent living, assisted living, memory care and skilled nursing.
Mirador houses 125 independent living apartments, 44 assisted living units, 18 memory care units and 41 skilled nursing units. The average independent living unit at Mirador is 1,013 square feet. The property was 82% occupied at the time of sale.
Throughout the sale process, the lifestyle of Mirador's residents was not impacted. Moving forward, they will continue to receive the same high level of care and services that they are accustomed to. As part of the sale, the buyer will honor the obligations of the resident life care contracts.
Mirador is located on a ±17.0-acre site at 5857 Timbergate Drive in Corpus Christi. The campus is efficiently designed with convenient access to common area amenities and parking for residents and families. Mirador's independent living apartments feature wood cabinets, granite countertops, stainless steel appliances, large windows and high ceilings. The community also boasts above-market finishes in assisted living and memory care units and market-leading common areas and dining venues.
"Mirador offered investors the opportunity to acquire Corpus Christi's only life-care, entrance-fee continuing care retirement community," said McMurtry. "The property features an exceptional physical plant, upside potential, a market-leading amenity package and the opportunity for future expansion."
"Our sale process created a competitive bidding environment that ultimately identified MRC as the highest and best bidder," added Carr. "The sale to MRC represents a tremendous outcome for all parties involved."
---
About Cushman & Wakefield
Cushman & Wakefield is a leading global real estate services firm that delivers exceptional value for real estate occupiers and owners. Cushman & Wakefield is among the largest real estate services firms with approximately 51,000 employees in 400 offices and 70 countries. In 2018, the firm had revenue of $8.2 billion across core services of property, facilities and project management, leasing, capital markets, valuation and other services.