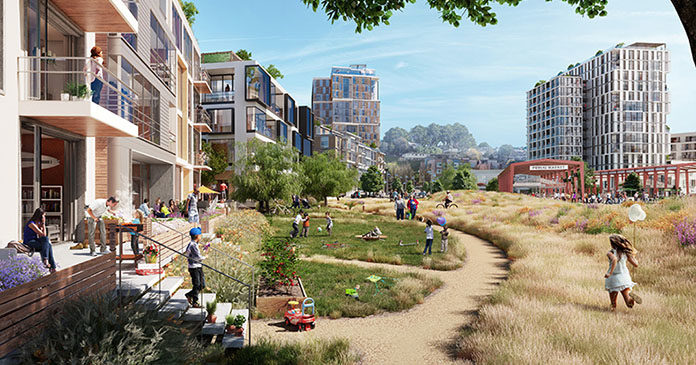 HFF announced today it is working on behalf of BUILD, a San Francisco residential development company, to arrange investment partners for the construction phase of its India Basin development located within a rare opportunity zone in San Francisco, California.
With the City of San Francisco's approvals secured, BUILD's vision will transform the former gravel yard on the San Francisco waterfront into a pedestrian-first, walkable residential village. The development lies within a designated opportunity zone, as established by the Tax Cuts and Jobs Act of 2017, which allows for significant tax benefits to the investment.  Originally 30 independent parcels that have been combined into one master-project, the size of the development and its location in an opportunity zone is particularly noteworthy in San Francisco, a city known for its scarcity of available real estate.
The land is entitled for approximately 3.4 million gross square feet of new development, including approximately 1.5 million gross square feet of residential space. Once constructed, the mixed-use village will include 1,575 residential units, 200,000 square feet of commercial space, expansive open and recreation space, enhanced waterfront access and underground parking.
India Basin is in San Francisco's Eastern Waterfront immediately south of the Dogpatch and Mission Bay neighborhoods and allows for easy access to the major job centers in downtown San Francisco and the peninsula, including burgeoning life science hubs in both Mission Bay and Oyster Point. Nearby, new commercial space and housing are in development at Hunter's Point Shipyard and Candlestick Point to the south. India Basin has a reputation for being one of the sunniest neighborhoods in San Francisco and boasts a storied history and creative scene that complement areas of picturesque landscape and a rich ecology along San Francisco's beautiful shoreline.
"BUILD, in partnership with HFF, is seeking investment partners for the construction phase of this unique development," said Scott Eschelman of BUILD. "We are excited to build this fully entitled parcel in such an incredible neighborhood and look forward to bringing in new partners to make our plans a reality. From the beginning, BUILD has worked closely with neighbors, the city and the broader community to ensure that this project in India Basin is a welcome addition to San Francisco's Eastern Waterfront. BUILD has the local relationships and knowledge to make this project a success."
The HFF equity placement team representing BUILD included senior managing director Charles Halladay, managing director Jordan Angel and senior director Chris Gandy.
Gandy stated that the site's location and size provide a once-in-a-lifetime chance to develop an entire community within San Francisco. "India Basin represents a unique investment prospect in a transformative development on the Eastern Waterfront of San Francisco. The long-term nature of the entitlements and location in an opportunity zone will provide investors with tremendous optionality for value creation over time in one of the most constrained residential real estate markets in the world. This site represents one of the best prospects in the United States to take advantage of the significant tax benefits available through opportunity zone investment."
---
About BUILD
BUILD is a San Francisco residential development company that is rewriting the conventional development story—demonstrating how development done with creativity and collaboration can be a catalyst for positive urban change. Since its founding in 2003, BUILD has entitled over 2,000 residential units and is actively developing several other projects.  This work has included the entitlement, construction or funding of over 700 permanently affordable homes—all in San Francisco. Partnering with neighborhoods, local government and non-profits, BUILD seeks to develop great urban places that benefit the local community.
About HFF
HFF and its affiliates operate out of 26 offices and are a leading provider of commercial real estate and capital markets services to the global commercial real estate industry. HFF, together with its affiliates, offers clients a fully integrated capital markets platform, including debt placement, investment advisory, equity placement, funds marketing, M&A and corporate advisory, loan sales and loan servicing. HFF, HFF Real Estate Limited, HFF Securities L.P. and HFF Securities Limited are owned by HFF, Inc.