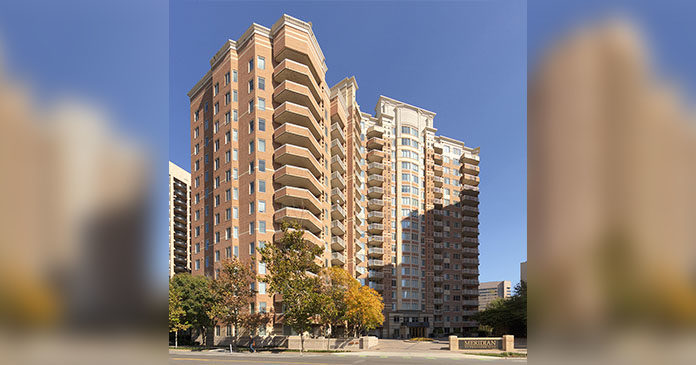 Holliday Fenoglio Fowler, L.P. (HFF) announces it has closed the $228 million sale and $126.9 million financing of Meridian at Pentagon City, a 534-unit, two-tower multi-housing property in Arlington, Virginia.
HFF marketed the property exclusively on behalf of the seller, a joint venture between Paradigm and a fund advised by the UBS Asset Management Real Estate & Private Markets – U.S., and procured the buyer, a joint venture between Polinger Development Co. and an unidentified institutional investor. In addition, HFF worked on the new owner's behalf to arrange fixed-rate acquisition financing through MetLife Investment Management.
Meridian at Pentagon City is located at 1221 and 1331 S. Eads Street adjacent to Amazon's forthcoming 4.1 million-square-foot headquarters office. In addition, the 95-percent-leased property is walkable to metro service and the Pentagon and is across the street from a Whole Foods Market and within a one-mile radius of an additional 1.9 million square feet of retail. The property consists of two high-rise towers encompassing a mix of studio, one- and two-bedroom units averaging 846 square feet as well as two parking garages totaling 524 spaces. In addition to its premier location and spacious units, the property also features two rooftop pools, two expansive outside terraces with grilling areas, an 18th-floor clubroom with views of the Capitol, a fitness facility, dog park, clubroom with gaming area, business center, guest suite accommodations, concierge service and a 24-hour front desk.
The HFF investment advisory team included Walter Coker, Brian Crivella, Stephen Conley and Matthew Lawton.
HFF's debt placement team was led by Jamie Leachman.
---
About Paradigm
Paradigm was formed in 1991 and is headquartered in Arlington, Virginia. Paradigm has developed over 10,000 apartment units and currently manages over 7,000 apartment units with a preponderance of these units being luxury mid- and high-rise units, most of which are in the Metro Washington, D.C. area. Paradigm's business strategy has fundamentally been to provide excellent customer service to its residents while enhancing the value of the assets for its owners/institutions.
About Polinger Development
Polinger Development is an affiliate of Polinger Company, a fully integrated real estate organization that creates exceptional value for its investors and equity partners, while providing high-quality life/work environments for residents and corporate tenants. Polinger Company has 70 years of experience in residential and commercial real estate in the Washington, D.C., Maryland and Virginia area. The company specializes in acquisitions/development, construction services, and residential and commercial management.
About HFF
HFF and its affiliates operate out of 26 offices and are a leading provider of commercial real estate and capital markets services to the global commercial real estate industry. HFF, together with its affiliates, offers clients a fully integrated capital markets platform, including debt placement, investment advisory, equity placement, funds marketing, M&A and corporate advisory, loan sales and loan servicing. HFF, HFF Real Estate Limited, HFF Securities L.P. and HFF Securities Limited are owned by HFF, Inc.